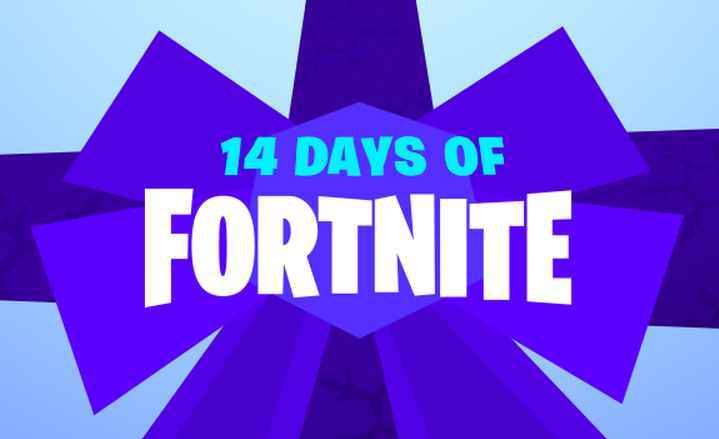 A new event known as the 14 Days of Fortnite commences tomorrow, Epic Games has confirmed.
Designed as a celebration of the last twelve months, various updates and holiday-themed content will be introduced over the next two weeks, in both the Battle Royale and Save the World portions of the game.
14 Days of Fortnight – Battle Royale
On the Battle Royale side of things, players can expect to find everything from a festive Battle Bus and Snowball Launcher, to appropriately decorated Legendary Bushes and numerous Christmas-themed outfits in the Item Shop throughout the promotion.
Additionally, a brand-new challenge, complete with its own unique reward, will appear every single day of the two week event. Along with new and returning Limited-Time Game Modes, details of which will be revealed at 09:00 ET every morning.
14 Days of Fortnite – Save the World
Save the World, on the other hand, will see new and returning enemies pop up around the wintery map in festive garb for the next fourteen days.
While, similar to the Battle Royale offering, an additional holiday quest will appear on each and every day of the promotion. Rewarding those that complete them with Snowflake Tickets, which can then be redeemed in-store.
Finally, Epic will be giving away a free Upgrade Llama Pinata every day for the next fortnight, along with a free Smorgasbord Llama sometime around the 25th.
Fortnite Patch 7.10

14 Days of Fortnite isn't the only thing to hit the game this week: Fortnite patch 7.10 has also just been released on all major platforms.
Despite the proximity to Christmas, the latest update is relatively sizeable and covers all three major game modes. Rather than regurgitating the whole thing, however, we've compiled a list of some of the highlights below.
Battle Royale
Reduced effectiveness of Heavy Assault Rifles when not aiming down sights
Improved Balloon controls
Damage reduced 50% on Stormwings when colliding with objects
Ground vehicles now slide correctly on icy surfaces
Sundry bug fixes
Creative
Four new winter-themed islands added (selected from the starter island)
Six new Winter Village Prefabs, Holiday prop packs, cube colours, obstacles etc. added
Number of "Total Block" islands increased from one to two for all players
Glider redeploy island setting added
New device (Gunner) added
Various bug fixes
Save the World
New experience: Frostnite
Down Tier crafting added
Cloak Shadow Ninja added to Event Store
Medieval Weapon Set added (available in Winter Llamas)
Holiday-themed enemies added
Miscellaneous bug fixes and tweaks
To reiterate, this is only a brief synopsis of some of the major changes implemented in the latest patch. For a comprehensive breakdown, head over to the official website.