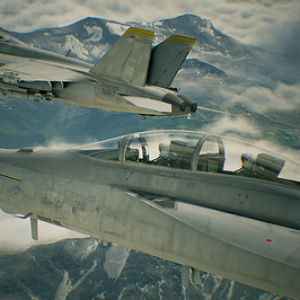 At GamesCom 2018, Bandai Namco has revealed the Ace Combat 7 Skies Unknown release date, alongside a new trailer. Players will be able to take off into the skies on January 18, 2019 on PS4 and Xbox One. The PC version will launch February 1, 2019.
Ace Combat 7 Skies Unknown takes players back to Usean,the continent from Ace Combat 3 and Ace Combat 4. The action is set in the midst of the second Usean Continental War.
As part of a criminal military force called the Penitentiary Unit, you'll be defending the skies in a variety of planes equipped with the latest weapons. These include the A-10C Thunderbolt II and the F-35C fighter.
Ace Combat 7 Flight Sticks Revealed
At launch, you'll also be able to pick up two new Ace Combat flight sticks. The first is being created by Thrustmaster and is called the T.Flight Hotas 4 Ace Combat 7 Skies Unknown Edition. This will be available for PS4 and Xbox One.
Second up is the Ace Combat 7 HOTAS Flight Stick, which is being developer by Hori exclusively for the PS4.
Check out the Ace Combat 7 GamesCom trailer.
For more details on the features and story of Ace Combat 7, check out the official Bandai Namco website.