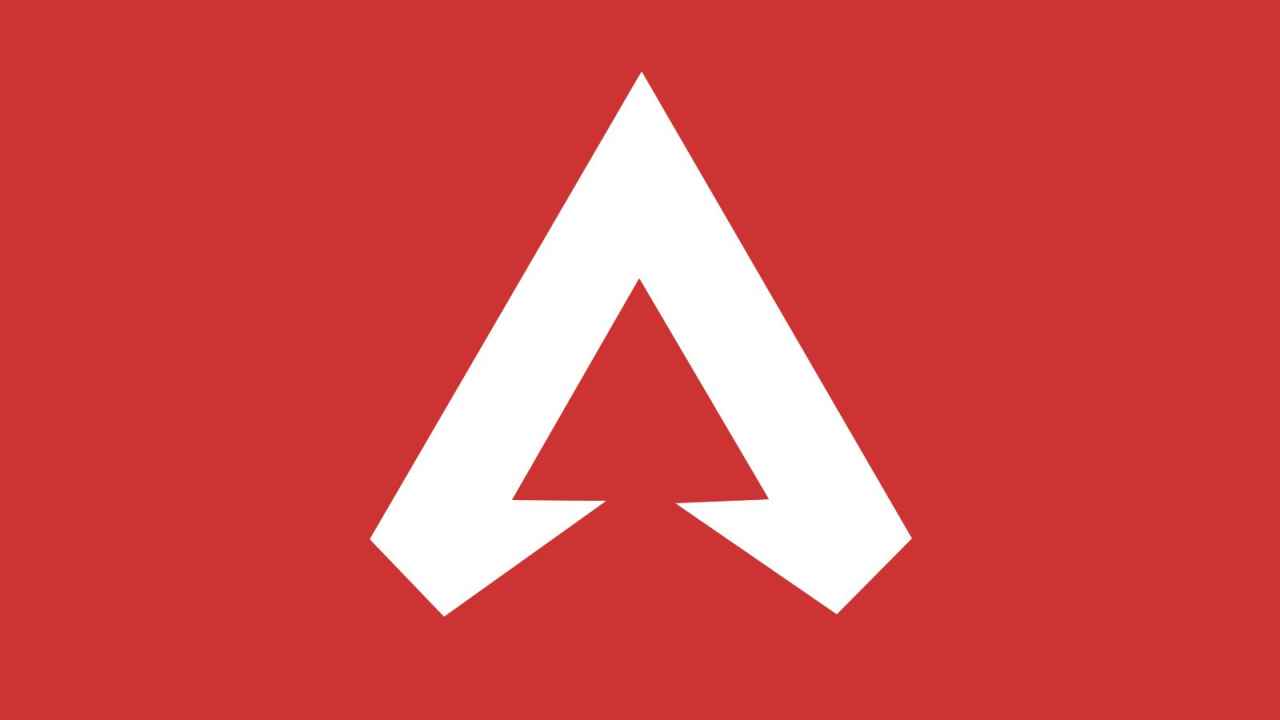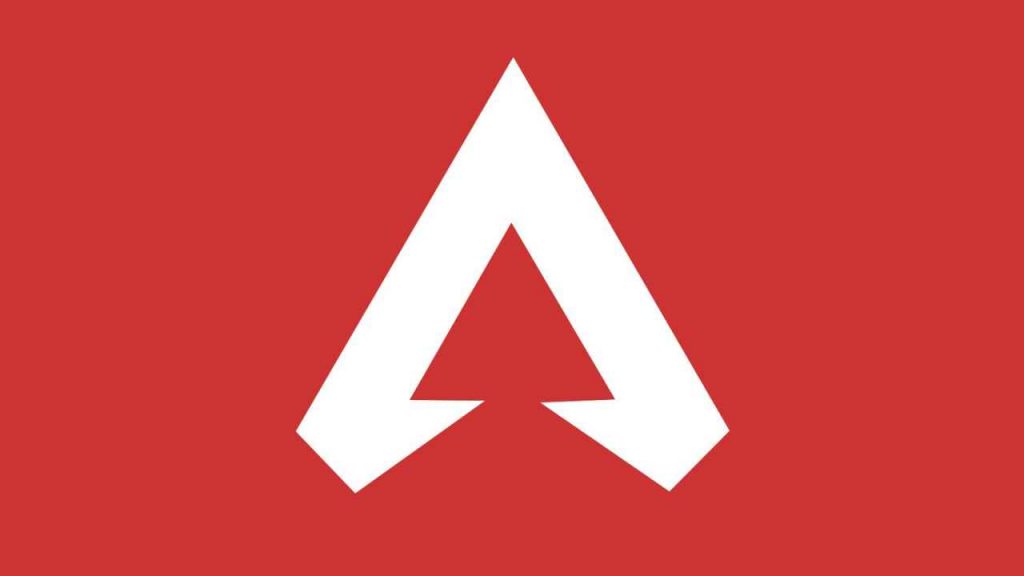 Apex Legends, the Battlefield Royale free to play game set in the Titanfall universe, has been officially confirmed by Respawn Entertainment. The game was unveiled with the following gameplay trailer.
Though it's free-to-play, and there's a PS Plus pack that you download right now, there are some other options. These include the Founder's Pack priced $29.99 and the Starter Pack priced $4.99.
According to the press release:
"Apex Legends delivers a squad-based battle royale experience with a uniquely Respawn flavor. Players will select from one of eight Legends – each with their own unique abilities and playstyles – and the last team standing wins. Combatants can choose from unique characters like Bloodhound, the tracker who can see recent enemy activity on the map, or Lifeline, a battlefield medic who can shield teammates and bring them back from the brink of death. Balanced squads and teamwork are critical, as each Legend is easy to pick up and learn, but challenging to master."
Respawn Entertainment have also released a roadmap for content, with Season 1 starting in March.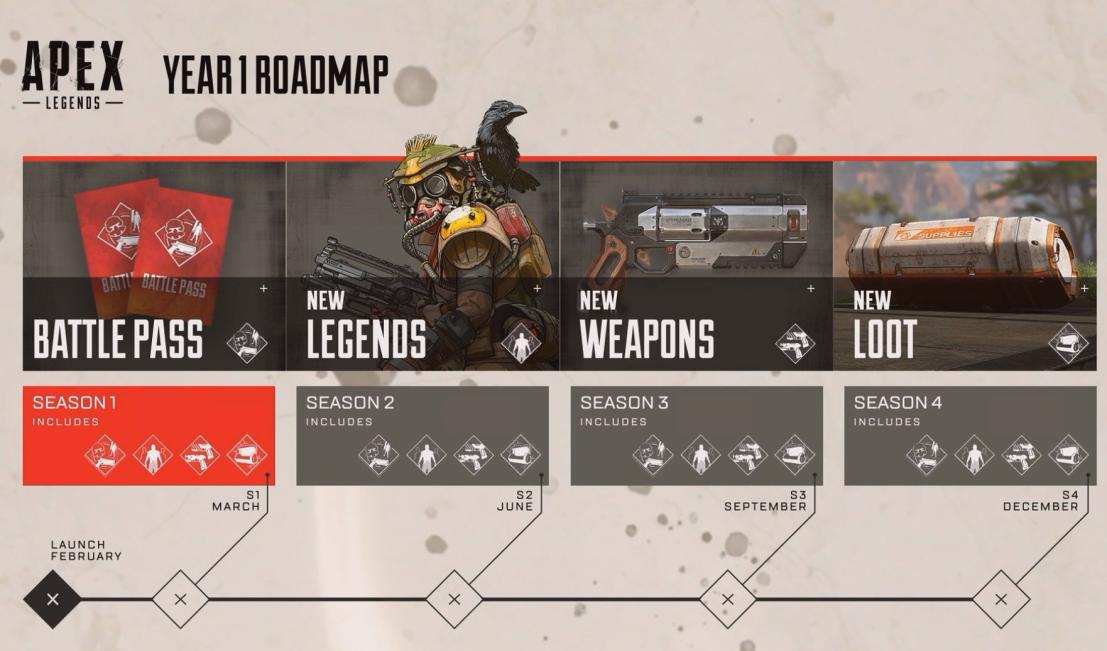 It's worth noting that all micro-transaction are cosmetic. If you buy the Founder's Pack, you'll get the following content.
2000 Apex Coins
Exclusive Legendary Demon Hemlok Weapon Skin
3 Exclusive Roughneck Character Skins (1 each for Wraith, Bloodhound, and Gibraltar)
3 Exclusive Banner Frames (1 each for Wraith, Bloodhound, and Gibraltar)
1 Exclusive Founder's Badge
Apex Legends Currency Explained
Apex Coins are an in-game currency that can be used to purchase new customization items for characters and weapons in the shop, to purchase cosmetic Apex Packs, or to unlock new characters through the in-game store.
There are other currencies too!
Apex Coins are a premium currency that can be used to purchase Apex Packs, cosmetic items in the Rotating Shop, and new Legends.
Crafting Metals are dropped in Apex Packs and can be used to craft specific cosmetic items such as Legend skins, weapon skins, and more.
Legend Tokens are earned by increasing your Player Level. Legend Tokens can be earned even after reaching max Player Level by gathering enough match XP. They can be used in the Rotating Shop to unlock exclusive recolors of Legendary weapon and Legend skins, or to unlock new Legends.
There are also eight different kinds of cosmetics in the game and they span across four tiers from Common to Legendary.
These include:
Weapon skins
Legend skins
Legend Finishers
Banner Frames
Banner Poses
Banner stat trackers
Intro quips
Kill quips
You'll get an Apex pack each time you level up your character. You can also purchase them with Apex coins. In each Apex pack is a mixture from three items from those above.
Apex Legends Classes
There are eight classes to choose from:
Bloodhound – The tracker
Lifeline – The medic
Banaglore – Solider with an artillery attack and other special moves
Pathfinder – A robot with scouting abilities
Caustic – Has poison gas and booby trap ability
Mirage – Can create holographs to confuse enemies
Gibraltar – Can shield you with a dome
Wraith – Creates portals
Apex Legends Finishers
Check out all the finishing moves of each of the classes.
It looks great, judging by early gameplay footage, though we're not the only ones who are going to disappointed that Titanfall 3 is not happening any time soon. As confirmed by Eurogamer, Apex Legends is Respawn's focus moving forward. Respawn says:
"We hope one day we find ourselves working on our 2027 feature roadmap! Our goal is to keep bringing you more exciting changes and gameplay evolutions."
Apex Legends CrossPlay?
Cross-play between console or PC players isn't available.
"We currently don't support cross-platform play, but are always working on new features and improvements we can add to our game," replied the Apex Legends community manager when asked on the official forums.
We'll update you with more news as we get it, and once we've played! See you online!
Original Story
Showcased via a Twitch stream, Respawn Entertainment's off-shoot of its popular shooter started with the tag-line: "We achieve victory Is it's the will of the Gods."
So far there's just been a few teasers, but we got to see what looks like a base, which looks like a reworked level from Titanfall 2.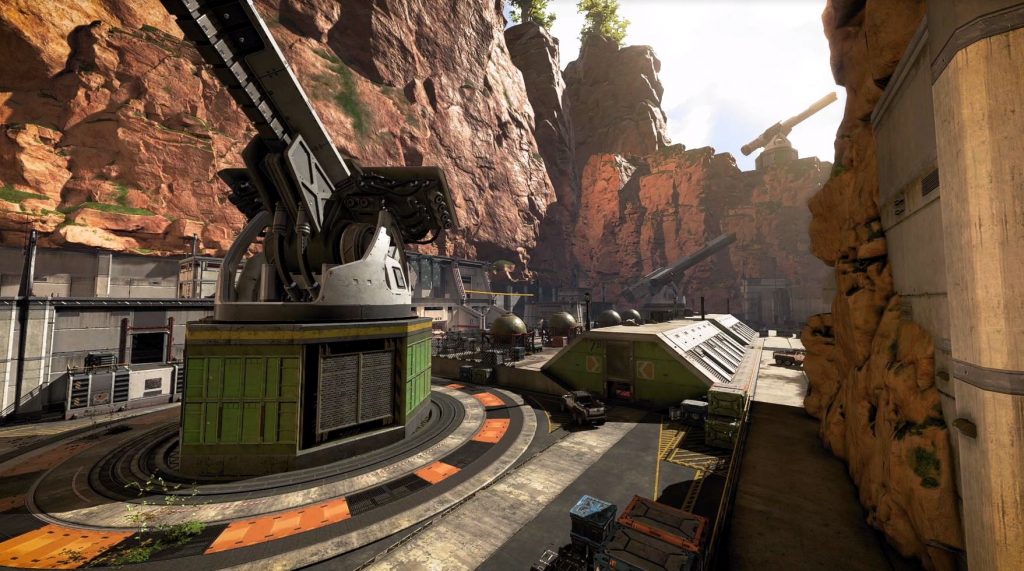 There was also the first glimpse of one of the characters, who carries out a melee attack, but then leaves the weapon with the person that he assaulted.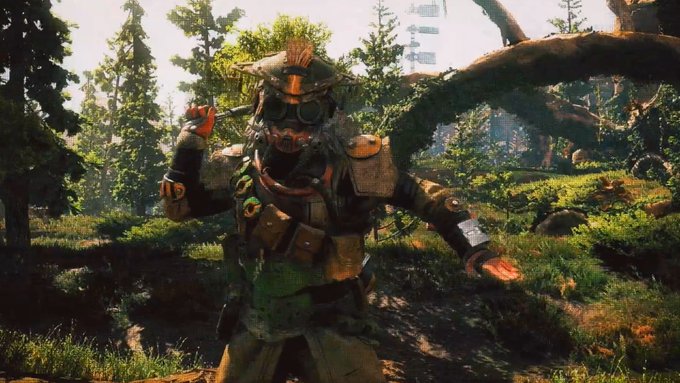 Further details will be revealed throughout the day, with a full reveal expected around 8pm GMT.
Apex Legends Map
Prior to the stream, the map below has also appeared. Apparently, journalists who were invited to a behind-closed-door events will be revealing this map and more details later today. It looks legit, and features some of the best maps from the first Titanfall game, including Airbase and Runoff.
We'll confirm if this is legit later on today.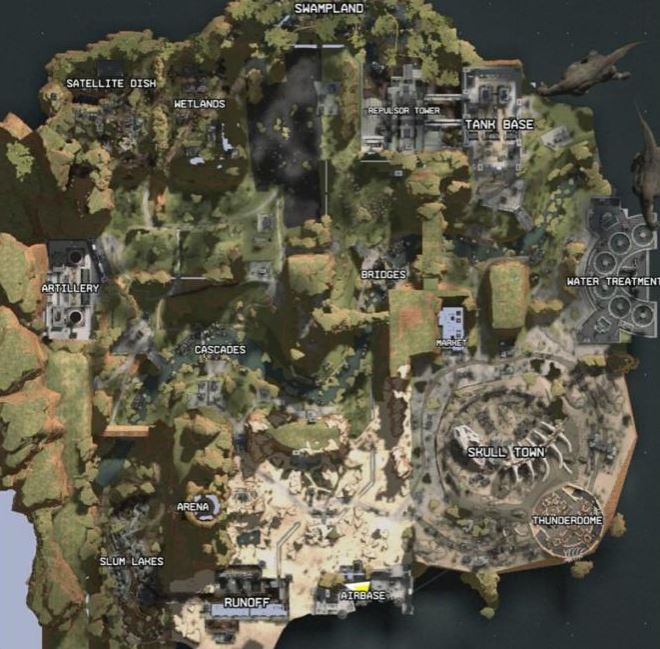 Apex Legends Brings Battle Royale To The Titanfall Universe
Throughout the weekend rumors of a super secret ,Titanfall Battle Royale game began to surface. Apparently several high profile streamers and content creators were flown out to Los Angeles and given the opportunity to playtest the game. It's thought that a few of them may have then leaked information about the game a little early. Or did they? Respawn CEO tweeted a video of a bucket catching rain drops from a leaky roof, but I'm now convinced it alluded to the Apex Legends leaks being real and possibly a calculated PR move. Well played Respawn, well played.
One thing that did not turn out to be true was that Apex Legends would be getting a reveal trailer to be shown during the Super Bowl. Instead, we got Geoff Keighley tweeting out a poorly worded announcement that stated Respawn would be revealing Apex Legends "tomorrow after the super bowl." Which was then followed by a flood of tweets featuring #ApexPartner with pictures from the content creators who attend the event.
Respawn Entertainment will officially show off Apex Legends Monday Morning starting with a teaser stream at 8:00 AM PST with the full game reveal followed at Noon. Watch the announcement live at twitch.tv/playapex.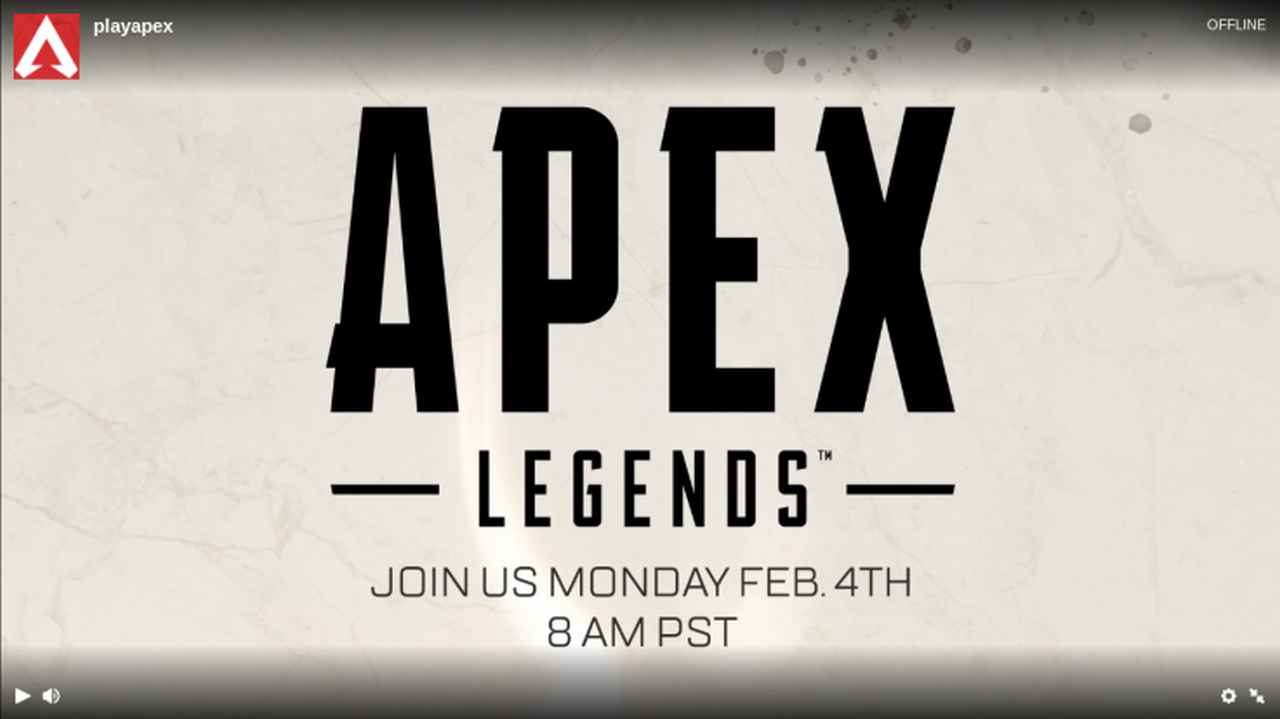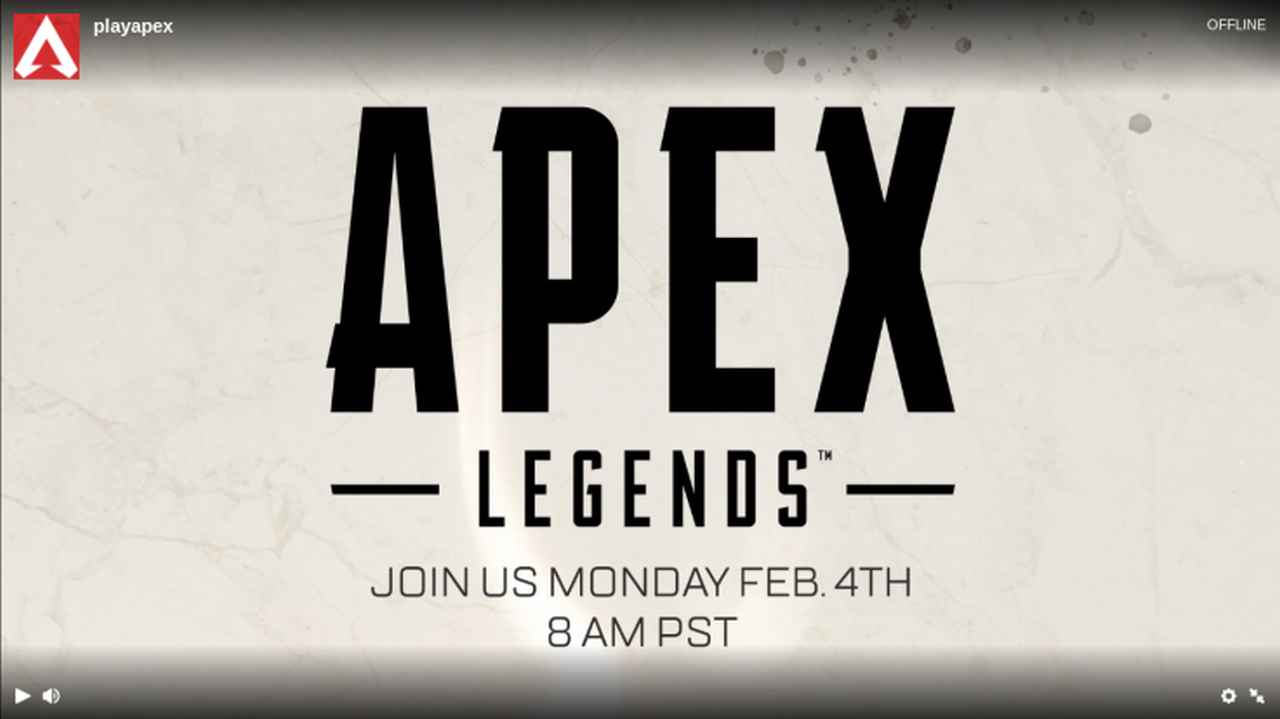 I'm not going to lie, I don't get the whole Battle Royale craze, but I'm willing to see what Apex Legends has to offer. How about you, do you love Battle Royale, or would you like to see the trend die already? We'd love to hear your thoughts.