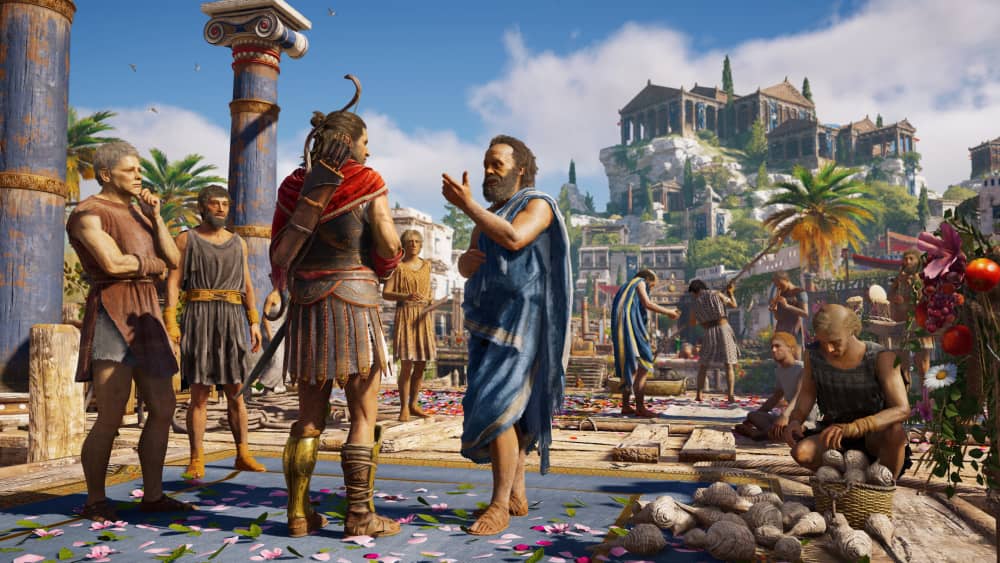 Ubisoft has now confirmed that the Story Creator mode for Assassin's Creed Odyssey is a thing and allows players to create their own questlines, written narratives NPC placements, rewards and more.
You can catch the trailer for it below:
ORIGINAL STORY
Ubisoft is reportedly looking to unveil an Assassin's Creed Odyssey story creator mode at E3 2019. Nothing has been confirmed yet, but numerous hints have been dropping since April that suggest the French publisher is planning something for the critically acclaimed Greek opus. It's not surprising either; Odyssey has been supported extensively following its release in October with numerous story-based expansions.
Assassin's Creed Odyssey Story Creator Mode Set For E3 2019?
Chatter on an Assassin's Creed Odyssey story creator mode can be traced back to April, when a Reddit user screen-grabbed a post from Dominik Voigt, a community manager for Ubisoft. This specifically mentions a 'Story Mode Creator' for the sprawling open-world title, with an update allowing players to cobble together their own stages and levels.
The notion of a story creator mode isn't that hard to believe; Ubisoft has already implemented it into one of their other games, Far Cry 5. Anyway, Ubisoft hasn't said anything about it since, but it's definitely something that would extend the game's lifespan considerably (not that it wasn't already a huge game, mind you).
That's not all, though. A fan page on Facebook, AccessTheAnimus, posted up a Twitter message reading: "E3 is approaching and we can finally mention that we were kindly invited to test an upcoming community oriented tool for #Assassin'sCreedOdyssey!"
"We can't say much more for now, but we suggest you checking the #UbiE3 Pre-Show for more details!" Could this be the Story Creator Mode? It's very possible.
Finally, Assassin's Creed Odyssey players have reported seeing a "My Stories" messages during the game's loading screens following the release of its latest DLC, Torment of Hades. It all definitely points towards the aforementioned creator mode being more than just murmurs.
For the record, Ubisoft's E3 2019 press conference takes place on Monday, June 10, so we won't have long to wait to see if it's actually happening.
Assassin's Creed Odyssey was released on PS4, PC, and Xbox One in October. Read our review of the game here.