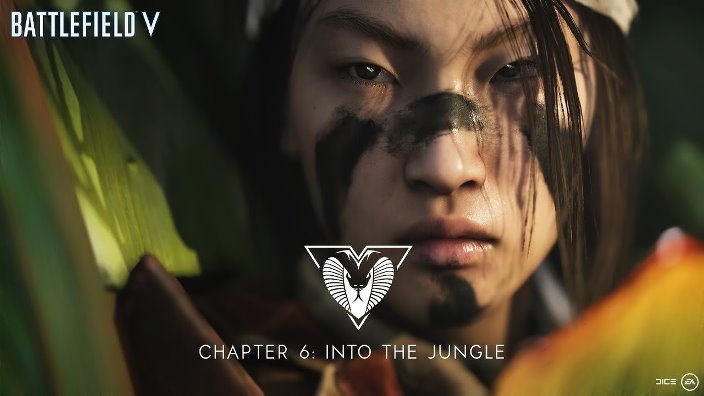 EA DICE has confirmed details on the much-anticipated Battlefield 5 Chapter 6 Into The Jungle, confirming the next chapter in the Tides of War will launch on February 6. Into the Jungle will allow players to see 'another side' to the War in the Pacific.
Battlefield Chapter 5 Chapter 6 Into The Jungle
First up, there's a new close-quarters map called Solomon Islands, which sees players battling through a jungle environment around riverbeds, mangroves, and hidden bunkers.
Here's the lowdown:
Rivers and marshes block the path for infantry and tanks, but savvy soldiers can make the bottlenecks work for them. You'll charge through narrow paths winding through dense jungle and fight over covered strongholds.

We've designed Solomon Islands for intimate jungle infantry combat combined with land and sea vehicle warfare. You'll notice how a mode like Breakthrough shines when played on this map. Defenders can stay hidden and use the terrain to hold the line, but attackers will have several options: flanking, sending in infantry, or utilizing landing boats for a frontal assault.
Elsewhere, players will be able to get their hands on a variety of new weapons including Type 11 LMG, the Model 37 Shotgun, and M2 Carbine, while gadgets such as the M1A1 Bazooka and Lunge Mine are also up for grabs.
Chapter 6 also includes new Elites such as Misaki Yamashiro, Steve Fisher, Akira Sakamoto.
DICE also revealed details on progress and earning rewards, with 40 ranks to rise through simply by playing the game. Along the way, you'll hoover up emblems, weapon skins, and uniforms, while Weekly Challenges are on offer to bring in even more rewards.
Get some more info on Battlefield 5 Chapter 6 here.
Battlefield 5 was released in November 2018 for PlayStation 4, PC, and Xbox One, and takes place during World War II. Check out our review of the first-person shooter here.