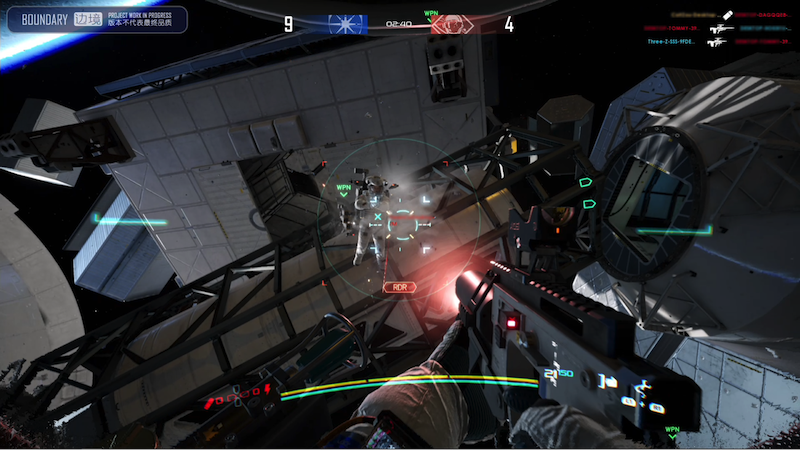 Boundary is an upcoming sci-fi space FPS hitting PS4 later this year. Developed by Chinese independent studio, Surgical Scalpels, the game brings the arcade FPS genre to space, with you fighting and floating in the endless void.
This 5v5 multiplayer shooter takes place in a world where Governments, pirates, mercenaries and more plunder the universe to valuable items and materials, hoping to sell them on the black market.
Boundary has a wide variety of customisation options, from machine pistols to fully kitted out assault rifles. Weapons can be customised with attachments that improve their attributes or add new visual designs. The game also allows you to choose a class allowing you to switch from light to medium to heavy.
Each of those classes features a EVA Mobility Unit which can be equipped with radar-guided rockets, EMP grenades, and defensive countermeasures. Ammunition types further increase the customisation and add a tactical element, offering equipment disrupting EMP bullets and explosive rounds.
You can check out the first trailer below:
Boundary looks interesting and I would be excited to play something that reminds me of the simpler Call of Duty titles. The change of setting to space also appears to add in some unique gameplay mechanics.
Surgical Scalpels' Boundary is one of the first games to release under the banner of the China Hero Project. This is a Chinese based program that PlayStation runs that helps to fund games developed in China. The core goal is to fund games that appeal to Chinese audiences, as well as a global market.
We are likely to see more titles release in the next few months as the program has been running for a few years.
Boundary releases for PlayStation 4 later this year.
What are your thoughts on Boundary? Intrigued to see more of what the sci-fi space FPS has to offer?