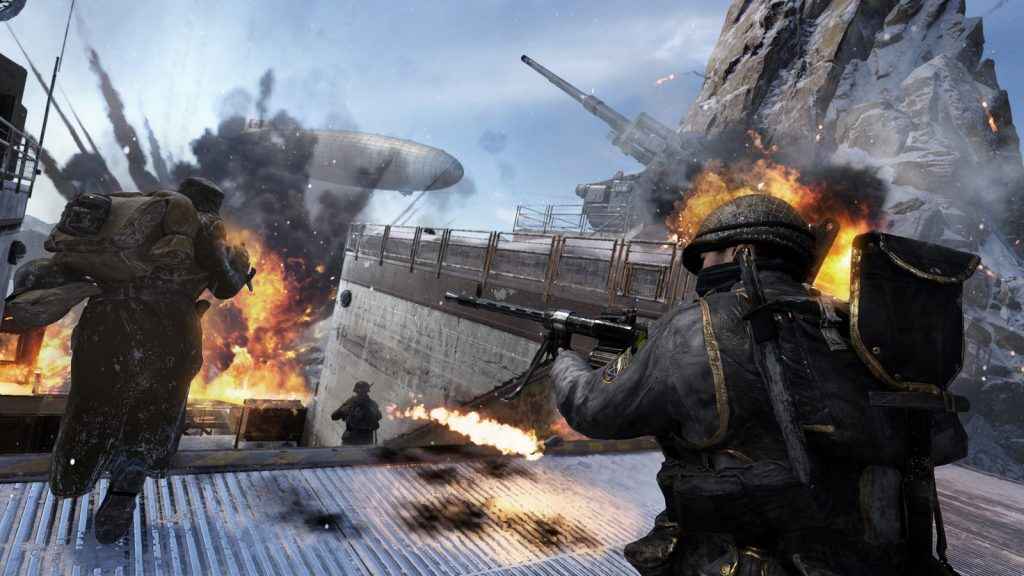 Activision has provided some initial details ahead of the release of Call of Duty: WWII Shadow War. The game's fourth DLC expansion which releases on the 28th August – first on PS4.
Introducing three additional multiplayer maps, a new War Mode Mission, and the final chapter of the game's Zombies offering, Shadow War adds a hefty chunk of content to Sledgehammer's latest shooter.
Call of Duty: WWII Shadow War – Multiplayer Maps
The three new multiplayer maps in question are Airship, Chancellery, and Excavation.
Airship is set in a secret enemy base located high in the snow-capped alps. Wherein players fight for control of a docked Zeppelin whilst being careful not to take an unfortunate tumble down the precipitous mountain side.
Chancellery, meanwhile, takes place in a, well, chancellery. One that just so happens to be overrun with enemy forces. The building's main courtyard functions as the focal point of this map, however, various adjacent pathways provide plenty of opportunities for sneaky flanking manoeuvres.
Multiplayer Creative Director Greg Reisdorf, who provided some early tips on the new maps along with Multiplayer Development Director Adam Iscove, emphasised the importance of occupying these adjoining buildings.
It's all about the windows. Being able to hold those two buildings across the courtyard is a lot of fun if you can get up there with a buddy, or plant a deployable, to watch your back.
Finally, Excavation moves the action to an Algerian mine in, which enemy forces have stockpiled a huge supply of priceless art and gold obtained during their European conquests. With combat taking place amidst these rare artefacts, as well as a rather evocative tank graveyard and a series of rocky outcrops.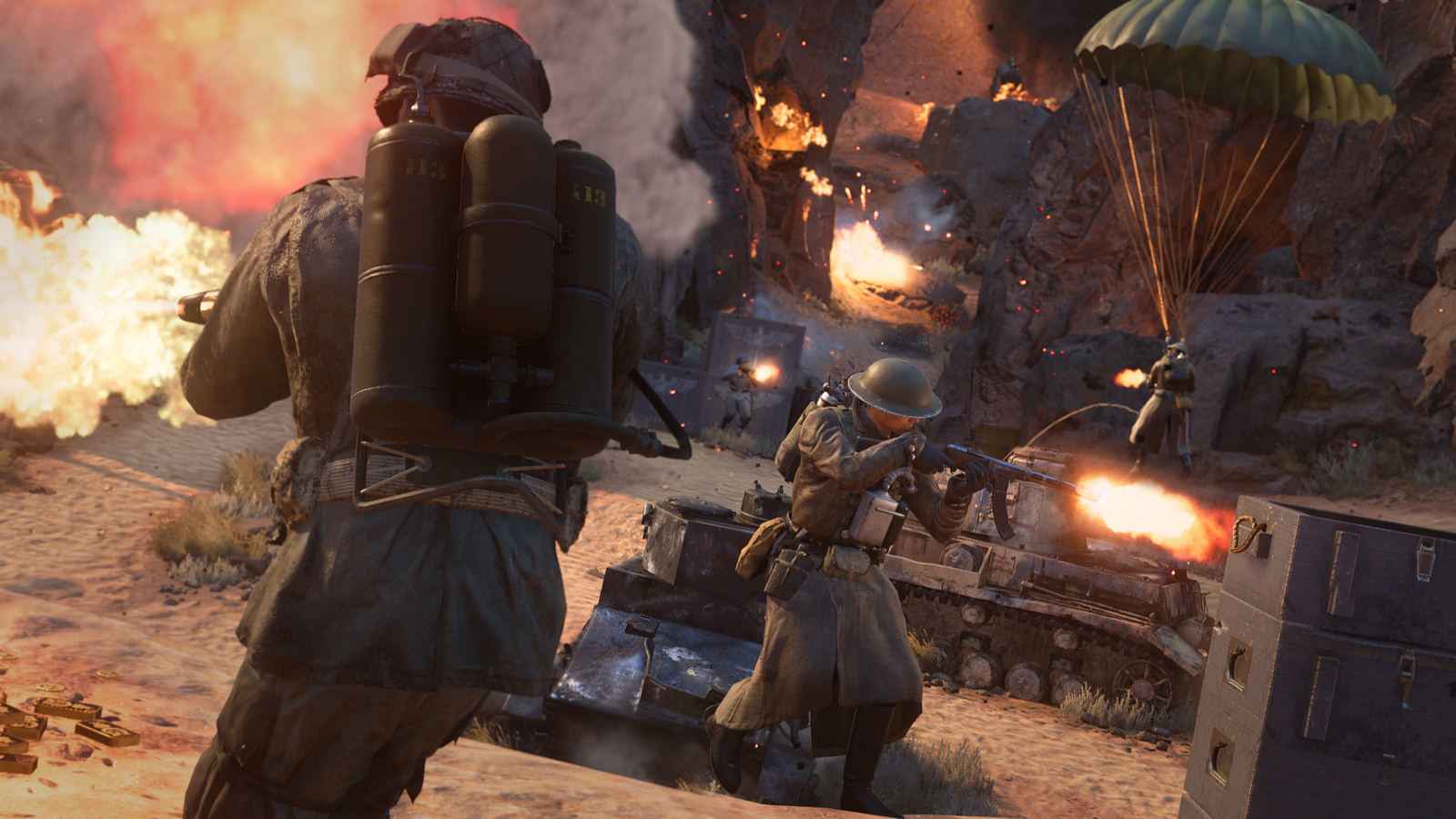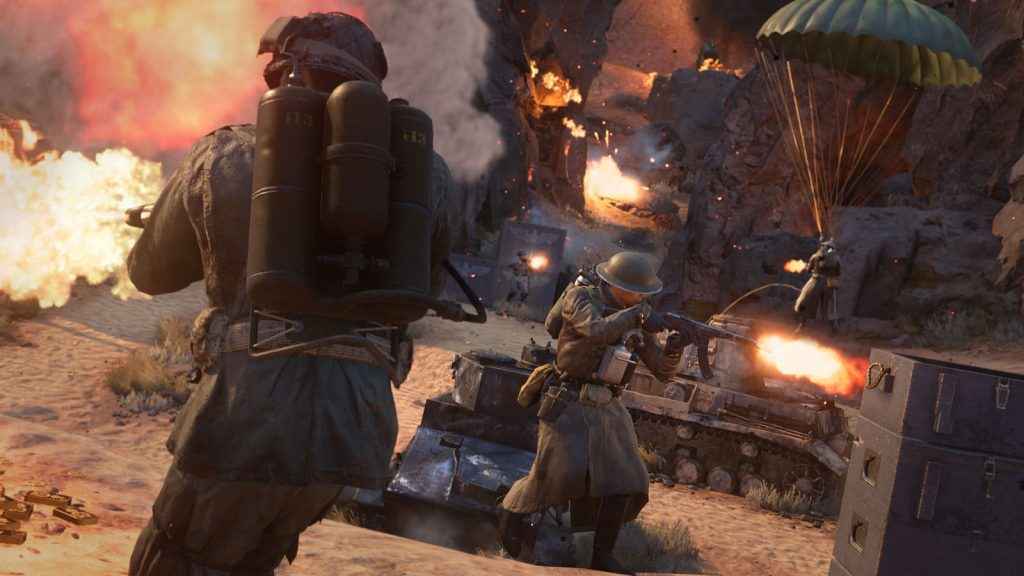 Operation Arcane and Zombies
Alongside this trio of supplementary multiplayer maps is the new War Mode Mission, Operation Arcane. Which, this time around, takes players deep within a top secret research facility in the Austrian mountains.
Allied Forces players will be tasked with infiltrating this lab, stealing enemy secrets and schematics and finally destroying whatever classified technology remains in a hanger full of UFOs.

Of course, being that it is a research facility, there are a few clandestine weapons, such as the Tesla Gun, and mysterious super soldier serums that players can use to help turn the tide of battle.
Elsewhere, The Frozen Dawn marks the final chapter of Call of Duty: WWII's popular Zombies mode.
Focusing on an insidious threat hidden deep within the avenues of a lost city, The Frozen Dawn also introduces some of the game's most powerful weapons to date. Weapons which, according to Sledgehammer Games, have a potentially transformative impact on gameplay.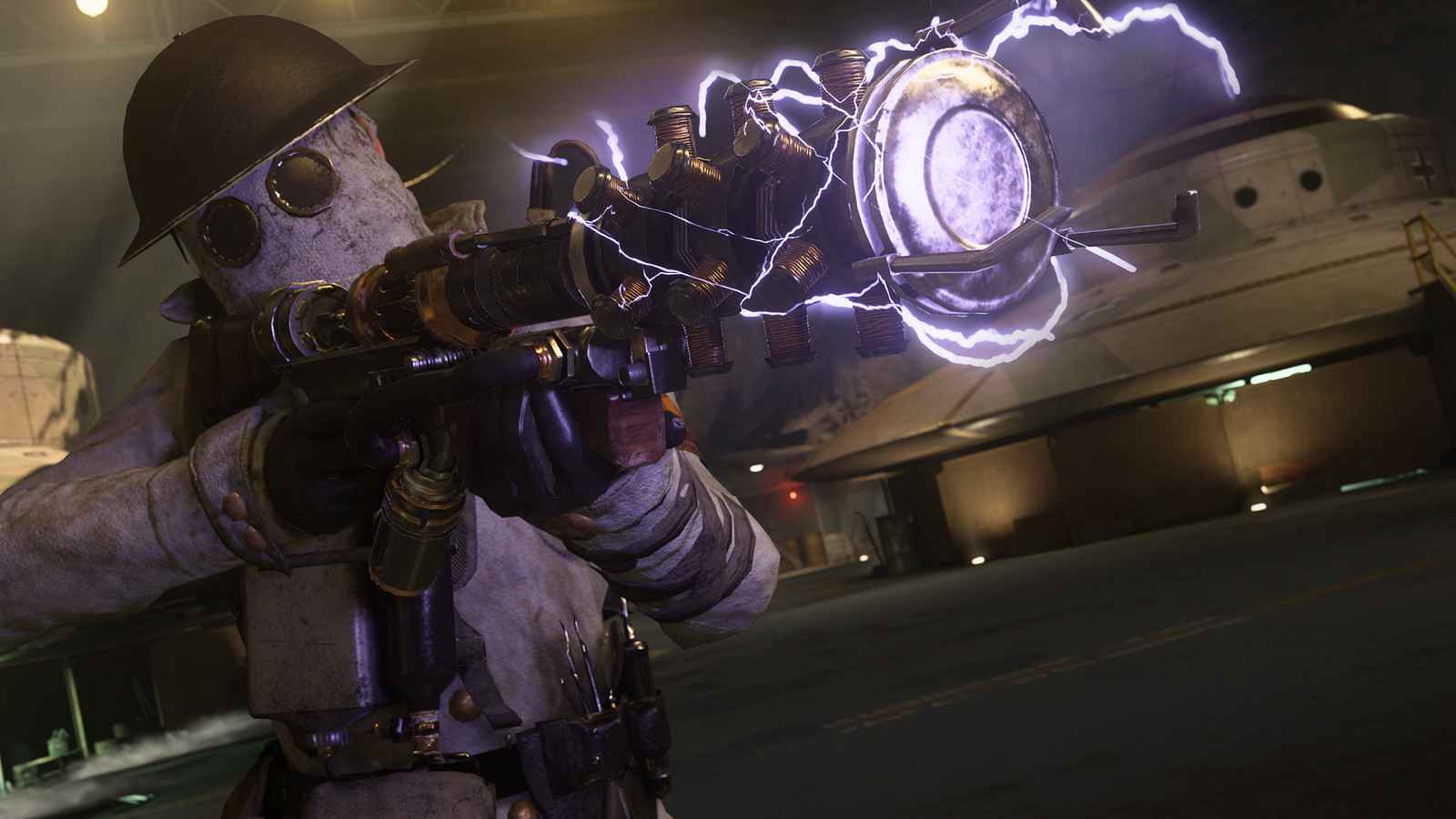 Party Up
Those who don't currently own the Call of Duty: WWII Season Pass or are still undecided as to whether or not they should pick up Shadow War when it releases in a few days' time will have the opportunity to try the new maps and modes for free via the Party Up system.
Functioning like Battlefield 1's Premium Friends, the Party Up system (which concludes on or before the 28th October it's important to note) lets non-Season Pass owners piggyback on those that do. Assuming they know someone who has made that initial outlay, of course.
The Season Pass will set you back a cool £39.99/$49.99. However, price points for the Call of Duty: WWII Shadow War expansion itself have yet to be provided.