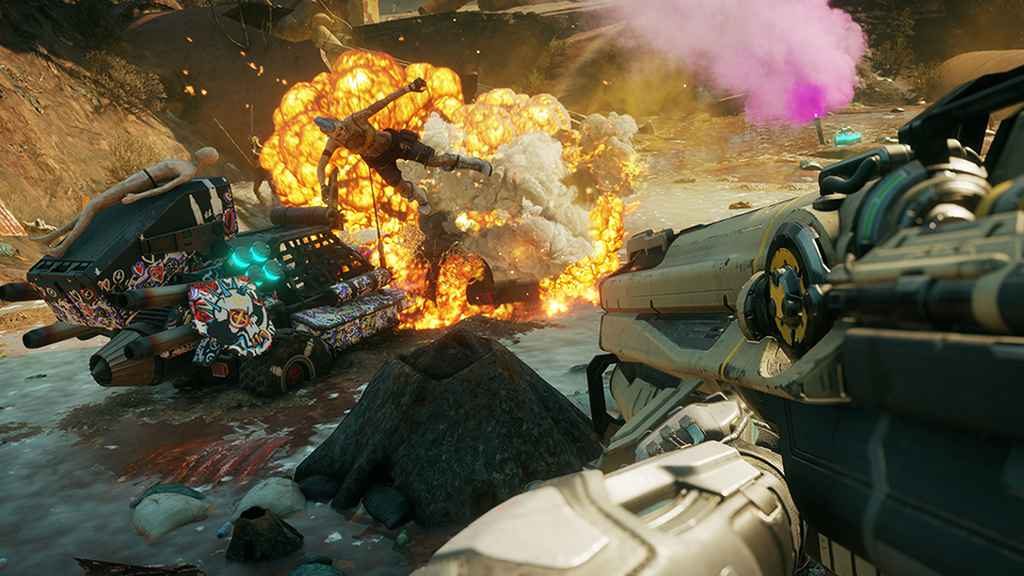 Thanks to a special cheat code, players who prefer their mentors to have a bit of cockney swagger will be able call upon the services of Danny Dyer in upcoming post-apocalyptic first-person shooter, RAGE 2.
The surprise reveal was made earlier today via a rather foul-mouthed trailer (embedded below, for your convenience); accompanied by an equally amusing blurb:
National treasure and direct descendant to the British Royal Family, Mr. Dyer has produced a special voice-over which is accessible to all RAGE 2 users. The 'cockney' actor's dulcet tones will act as mentor to the player when activating the Diamond Geezer cheat code, offering advice on the 'motors', 'shooters' and 'mobs' that can be found in this post-post-apocalyptic epic.

The special voice-pack follows the recently-announced He's On Fire cheat code, but is considerably more 'colourful' and makes greater use of the words 'proper', 'naughty' and 'melt'.
Sounds delightful.
Danny Dyer and Other RAGE 2 Cheat Codes
The Diamond Geezer cheat code is, however, but one of a number of cheats Avalanche Studios has included in RAGE 2. Each of which designed to add "an old school layer of over-the-top fun" to proceedings.
Along with the aforementioned He's On Fire code, which adds voiceover from the legendary Tim Kitzrow, RAGE 2's arsenal of cheats can make it so that enemies can be brought down with a single shot, imbue the player with electricity, and even cause exploding red barrels to rain from the sky.
With others set to arrive in the weeks following the game's release on the 14th May.
Cheats are included in all versions of RAGE 2 at no extra cost. However, only those who either pre-order the game or purchase the Deluxe Edition will have access to (some) of them right off the bat. Those who don't will have to track down the Wasteland Wizard and purchase them with their hard-earned in-game credit.
For more info, head over to the Bethesda website.