Alongside news of the release date for Dark Souls Remastered for PS4, comes this epic trilogy!
Bandai Namco will be releasing the Dark Souls Trilogy, which has appeared in a listing on the official Dark Souls Japanese website.
In the Dark Souls Trilogy box, it looks like there's all sorts of goodies, including soundtracks, and a bookend to prop up a couple of books about the game's lore. There's also some postcards.
The trilogy includes Dark Souls Remastered, Dark Souls II Scholar of the First Sin and Dark Souls III The Fire Fades Edition.
All we need now is that Demons Soul Remaster!
Here's what's in the box:
Original Book End
Bookend "Waka Fire"
Bookend "Senior Knight"
Dark soul item dictionary
Item Encycropedia Ⅰ
Item Encycropedia Ⅱ
Item Encycropedia Ⅲ
Memorial art set
Special art × 10 sheets
Dedicated frame
Check it out.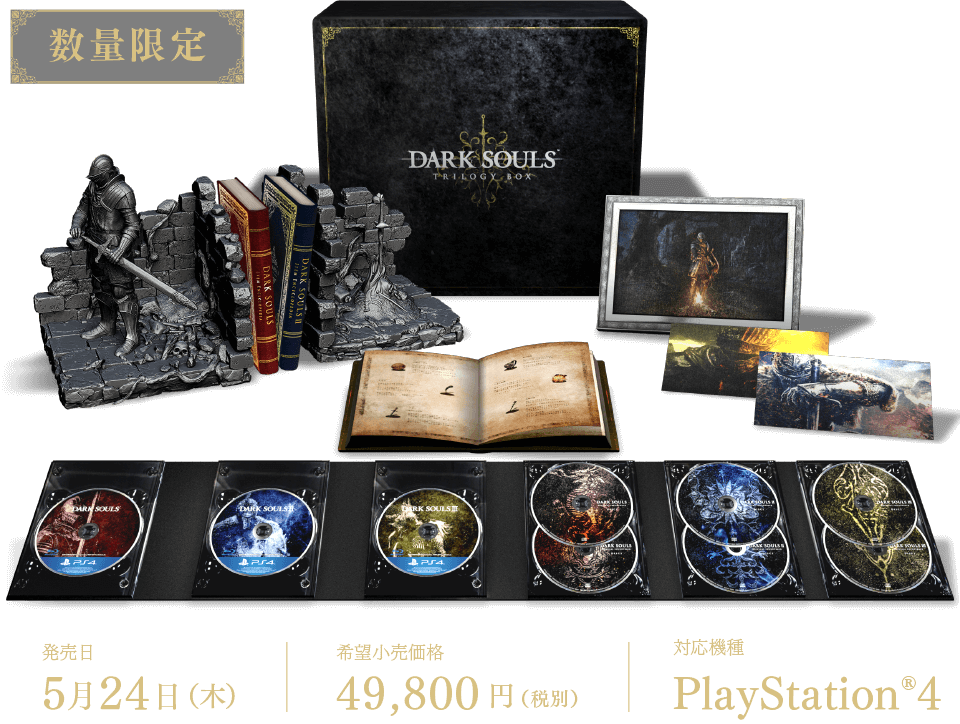 The encyclopedias are a complete collection of illustrations of all the items in the game, including accessories and magic. The measurements of the book-end are 34x20cm.
Currently, we don't know whether the Dark Souls Trilogy is due to release in North America and Europe, but if you fancy nabbing this from Japan it will cost you 49,000 Yen, that's around $445!
Source: Dark Souls website