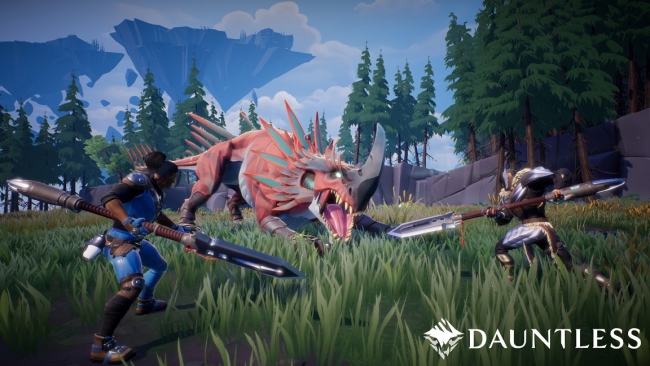 Phoenix Labs has finally now confirmed the Dauntless PS4 release date, with the Monster Hunter-style RPG hitting PlayStation 4, PC, and Xbox One on May 21.
Dauntless PS4 Release Date Due This Month
The Dauntless release date for consoles comes just over a year after the game launched in open beta form for PC, where it it arrived as a free-to-play title. It proved a big success, too; over one million players had sampled the game in a coupe of weeks, and by July 2018, that figure had reached two million.
For launch, Phoenix Labs will be supporting cross-platform play between PC and Xbox One users, although PS4 is expected to include the feature at some point, as discussions are ongoing between the developer and Sony.
Dauntless' gameplay is, as mentioned, very similar to Capcom's Monster Hunter franchise. You party up, go hunting for elusive beasts, and craft new weapons and gear to allow you to take on more powerful enemies. Dauntless' hulking baddies are known as Behemoths, and populate a fantasy-themed world where humans are on the bottom of the food chain.
While you can play solo if you fancy it, Dauntless is tailored more towards cooperative gameplay. It's just as well, as some hunts can last around 20 minutes in length, so you'll want all the help you can get.
With developer Phoenix Labs including staffers from other famed developers such as Riot Games, Blizzard, Bioware and Capcom to name just a few, it should come as little surprise that Dauntless embraces a synergy of inspiration from titles such as Dark Souls and World of Warcraft as rigidly as it adheres to the Monster Hunter template.
What do you guys think of Dauntless? Have you been playing the game on PC and are excited for the Dauntless PS4 release, or, is this your first encounter with the game?
Let us know in the comments!