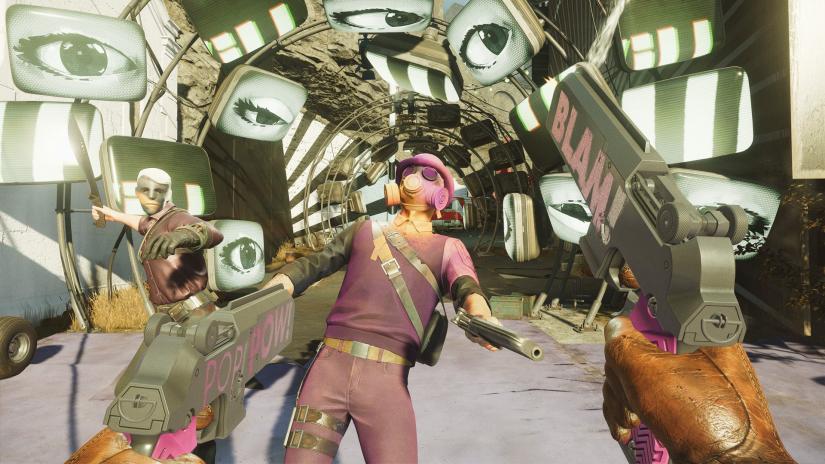 The latest Deathloop previews have gone live, with Arkane's stylish shooter attracting some solid write-ups ahead of its release later this year on PS5. In case you missed it, the game was recently delayed to September.
We've complied some quotes from a few of the Deathloop previews below to give you an idea of how the game is shaping up. First off, IGN's Matt Purslow leads with quite a striking statement, describing the game as something of a supernatural Hitman.
The idea of a Hitman game where you jump into a level not to kill the target, but to discover how you can force them to move to a different location so that you can blow them up at the same time as someone else, is undeniably attractive.

But mixing that with Dishonored's supernatural assassin gameplay and top-tier level design quickly makes Deathloop one of the most exciting propositions of the year. Folding all that into a time loop system, though – even one that doesn't exert actual time pressure – also makes it potentially one of 2021's most complex games.
Elsewhere, Gamer Informer's Ben Reeves took note of the Residuum system, which is a vital component to your progress.
When Colt dies, he loses all the weapons and powers he acquired during that loop. However, players don't have to start each day off from square one. Throughout Colt's journey, he'll also acquire a material called Residuum, and Colt can spend Residuum on his favorite weapons and powers, allowing him to retain those tools from one loop to the next. Residuum is a rare resource so players might have to think twice before they use it.
Related Content – Sony PS5 Complete Guide – A Total Resource On PlayStation 5
Video Game Chronicle's Andy Robinson meanwhile noted that Colt's enemy, Julianna, can be controlled by a human player for a memorable twist.
Deathloop's biggest twist, however, is that Colt's worst enemy is also stuck in the loop with him. Julianna is an assassin whose goal is to eliminate Colt. But while players will always navigate the main story as Colt, Julianna too can be operated by another player.

It's completely optional – you get to choose whether or not you want a human or an AI Julianna hunting you down – but it's a fantastic twist that will almost certainly result in some memorable encounters.
Deathloop is pencilled in for a September 14, 2021 release on PS5 and PC.