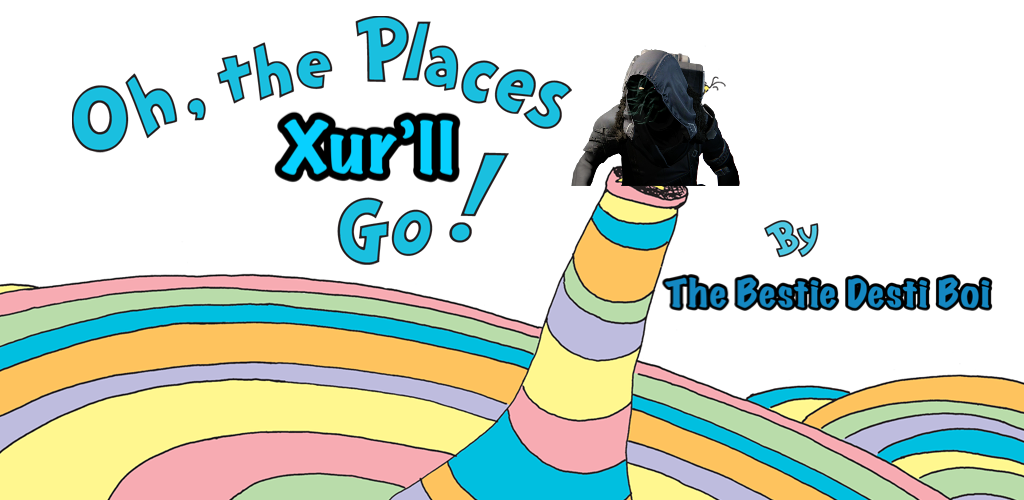 If you're on the hunt for the Agent of Nine, you've come to the right place. Discover the Destiny 2 Xur location this week, and find out which items the mysterious vendor has in stock.
Each week, Xur plonks himself down in a landing zone in a secret area on the Destiny 2 map. By visiting him, you can exchange your Legendary Shards for a host of exotic items.
What Time Does Xur Arrive In Destiny 2?
The hooded figure is available every Friday, and he always arrives at the same time at 5 pm GMT/12 Central. Bungie removed his location from the map, so you'll now have to search to find his location.
Destiny 2 Xur Location this week
**IMPORTANT** Xûr has moved slightly. With the Season of Opulence, a gold ship has arrived for Guardians near the tree Xûr used to reside in. Now Xûr is on the gold Cabal ship.
Nessus – From the directory head on over to the Vex filled planet of Nessus. From here select the spawn point closest to Watcher's Grave up in the north-east corner of the map. Ones you spawn in head straight ahead toward Chamber of Water. You can use your sparrow if you would like but the ride will be short. As you head forward you will see a path emerging heading to the right of the map slightly. There will be a large red tree growing out of the wall on the right with its branches stretching over the path. This tree is the tree you need. Just passed the tree you will notice a ledge connected to the wall the tree is growing out from. Jump on the ledge and you should be facing the direction you just came. Straight ahead in the tree, you will see Xûr waiting for you in front of a shiny gold dead Vex. His will is not his own, and neither are the Exotics he brings.
Xur's Location On The Destiny 2 Map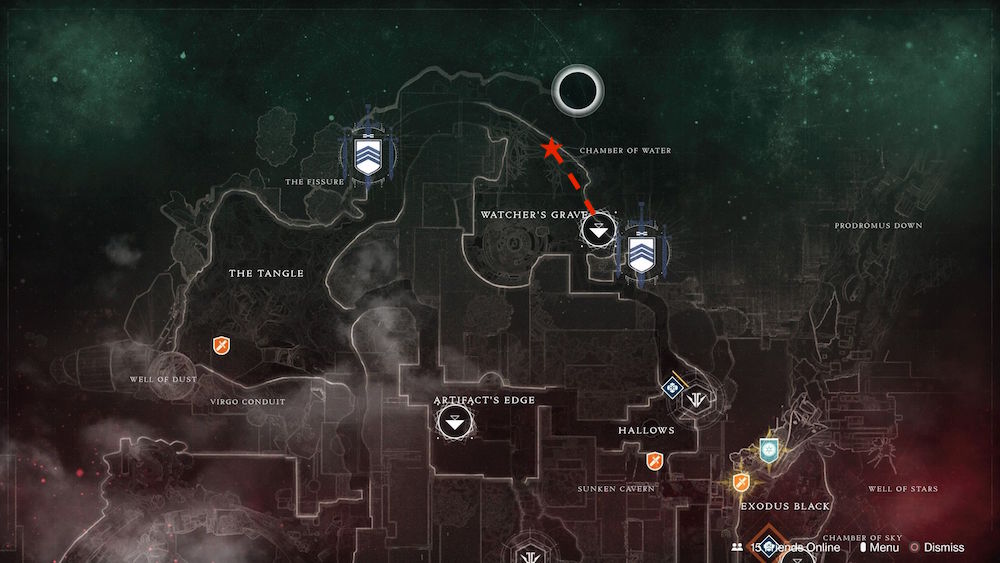 What Gear Does Xur Have This Week?
Hunter
Shinobu's Vow
Intrinsic Perk:
Titan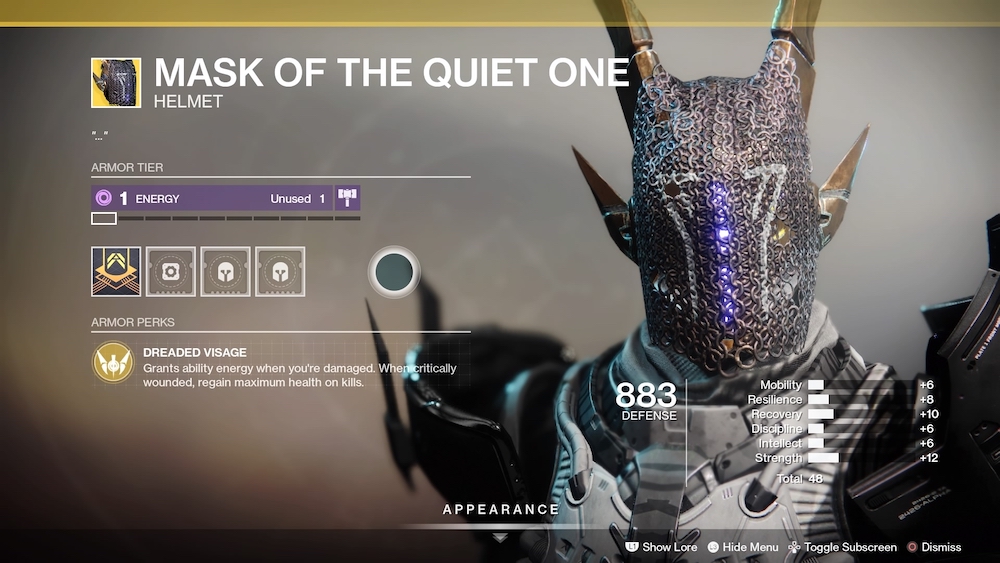 Mask of the Quiet One
Intrinsic Perk
Dreaded Visage

Gain ability energy when you're damaged. When critical, heal on kills.
Warlock
Lunafaction Boots
Intrinsic Perk
Alchemical Etchings

Rifts reload weapons. Empowering Rift increases range.
Which Weapon Does Xur Have This Week?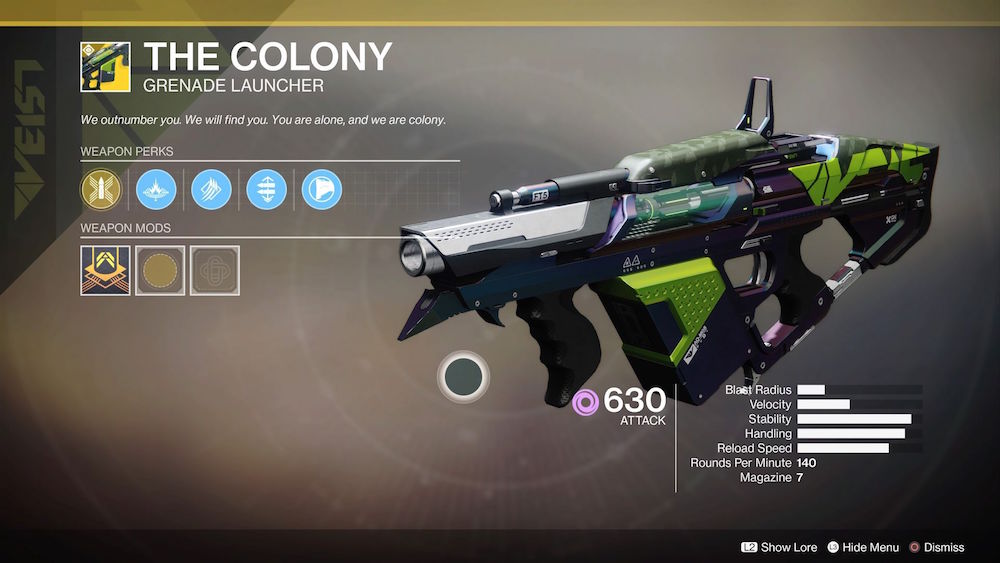 The Colony
Grenade Launcher
Insectoid Robot Grenades

Fires insectoid robot grenades that chase targets and explode in close proximity.

Linear Compensator

Slightly Increases Projectile

Slightly Increases Blast Radius

Slightly Increases Stability

High-Velocity Rounds

Increases Projectiles Speed

Increased Reload Speed

Serve The Colony

Insectoid robot grenades quickly repopulate the magazine from reserves while the Colony is unequipped.

Composite Stock

Slightly Increases Stability

Slightly Increased Handling Speed
Fated Engrams and Five of Swords
Fated Engram
The Fated Engrams are exotic engrams that award you exotics that Xûr has the ability to sell. However, you haven't acquired yet.
The best strategy for these is to buy any exotics you have not yet acquired from Xûr is he is selling them. This is to eliminate the chance of the Fated Engram giving you something that you could have just purchased.
Once you have all the Exotics that Xûr can sell then these engrams are no longer worth the purchase.
Fated Engrams will now also have a chance to be Forsaken Exotics.
Five of Swords
Five of Swords are used for Nightfalls. You only need to purchase them once unless you accidentally dismantle it.
Five of Swords allows you to set modifiers to the Nightfall to make it easier with a lower Nightfall score or to make it harder with a multiplier to the Nightfall score. There are many different combinations and the modifiers can be changed endlessly.
Invitation of the Nine
We have moved the Invitations to a new location. Click here to find them.
So, that's the Destiny 2 Xur location this week. We hope you manage to swag some decent loot! Stay tuned to PSU each week, where we'll help you find Xur every Friday.
In the meantime, check out some of our other great Destiny 2 content.
Destiny 2 News