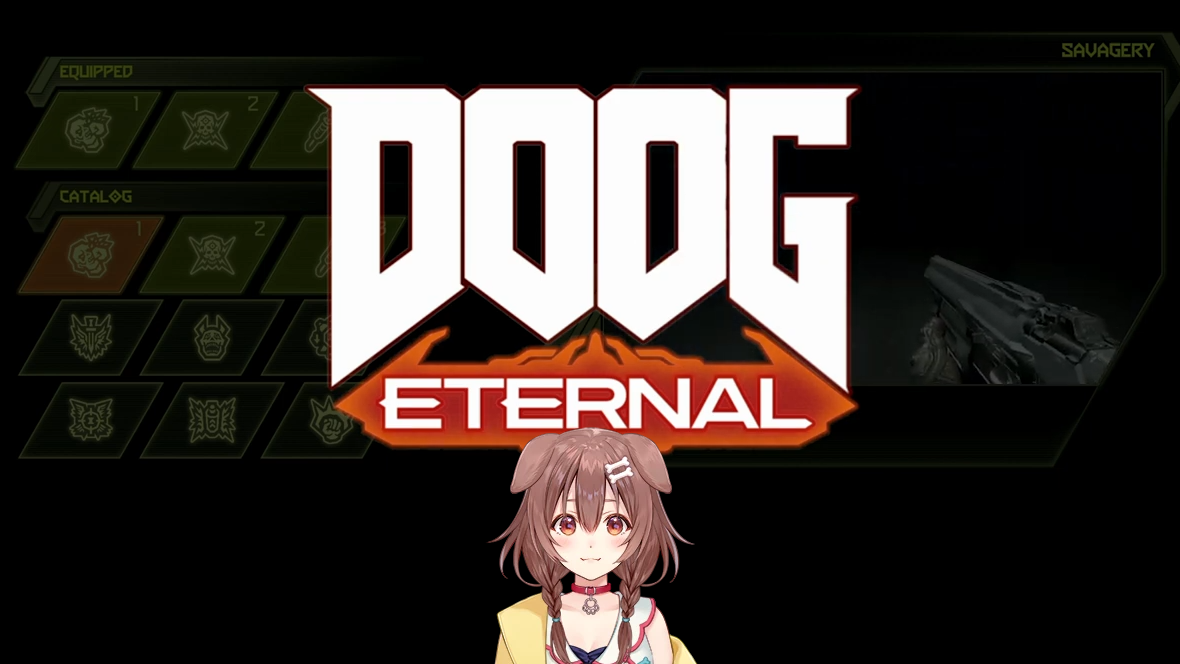 Virtual YouTubers (Vtubers) are so hot right now. Seven of the top ten YouTube Superchat earners in the world are Vtubers. Earlier this month, a few Vtubers were among the first outside of Sony and developers to go hands-on with the PlayStation 5 and post video of their gameplay and impressions. Now even developers are showing their appreciation, as evidenced by a special Easter egg in Doom Eternal honoring good doggo girl and (my favorite) Vtuber Inugami Korone.
Discovered by Reddit user Every-Mercy-Main, the Korone Easter egg is triggered by By hitting the X button on Xbox (or the square button on PlayStation) three times in the menus, a "DOOG Eternal" parody logo pops up with a chainsaw sound playing. In the recent Doom games, the Xbox X button/PlayStation square button brings out the chainsaw, a weapon that Korone has a special affinity for.
The reference comes from the time Korone was suggested by fans to play Doom (2016) back in April. Korone and her fans adopted the "DOOG" name, and she even labeled her now infamous streams of Doom games and their thumbnails with "DOOG." And what a good doog she is!
Debuting in April 2019, Korone is a member of Hololive Gamers, a gaming-focused Vtuber group from major Japanese Vtuber agency Hololive. She's well-known for her (usually weekend) marathon gaming streams, meme-worthy quirkiness and usage of English, and being a darn adorable doggo.
Hololive launched a unit of English-speaking Vtubers last month: Gawr Gura, Mori Calliope, Ninomae Ina'nis, Takanashi Kiara, and Watson Amelia. The group has found popular success, especially shark girl Gawr Gura, who has racked up nearly 1 million subscribers.
Source: Siliconera, Polygon