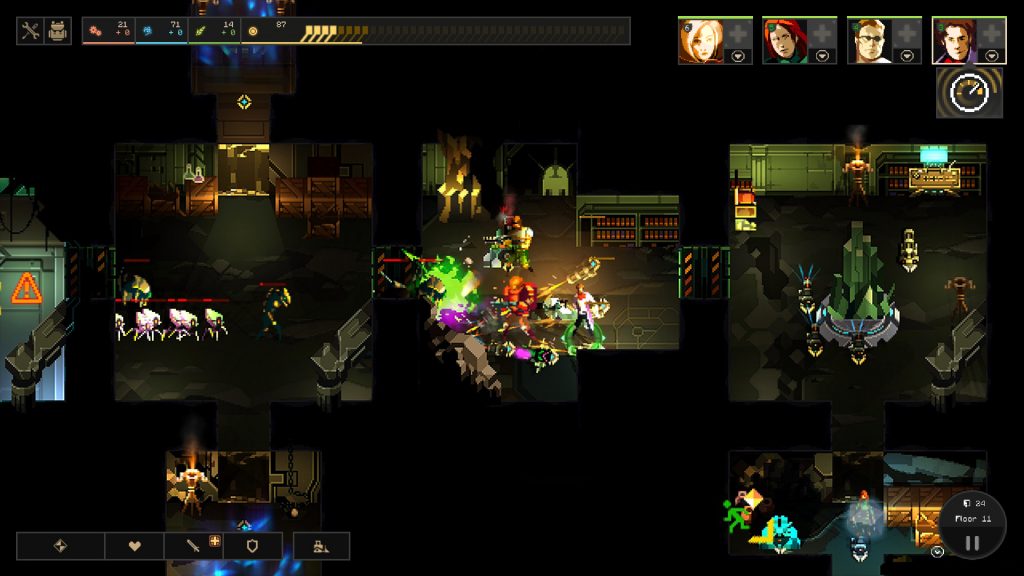 Dungeon Of The Endless, a roguelike, dungeon defence game that originally launched on PC, has been announced for the PS4.
The game is developed by Amplitude Studios and published by Playdiginous and SEGA. No official release date has been given, but the game is set to arrive 'soon'.
The premise of the game is that a few hundred condemned criminals have been shipped to the Auriga System onboard the prison ship "Success". All they know of the Planet is that it has water, temperate zones, plant life, and plenty of metals in the crust. The planet Auriga once hosted a major settlement of the galaxy-travelling precursors known as the Endless and is still orbited by a functioning (and well-cloaked) defensive system.
Luckily, each holding pod for the Prisoners acted as an escape pod, allowing them to fall to the planet and bypass the security measures. Unfortunately, they ended up crashing into an Endless facility, all the way down in a basement so deep and ancient, you could call it a Dungeon.
The game boasts the ability to form a team of heroes, deploy them, and gain mastery of unique abilities. Dust can be gathered to power the rooms you visit and you have to utilise your resources to keep your team alive and hold off the waves of monsters. Each new door offers a new layout and level as you continue along the path to discovering the truth about Auriga.
You can check out the console announcement trailer below:
Dungeon of the Endless has been out on PC since 2014. But now it is finally making the jump to console and during those five years, it has received a number of updates and improvements. It is currently sitting at 'Very Positive' reviews on Steam. Amplitude Studios are most known for developing the Endless Space titles.
Dungeon of the Endless is coming to PS4.
Source – [Gematsu]