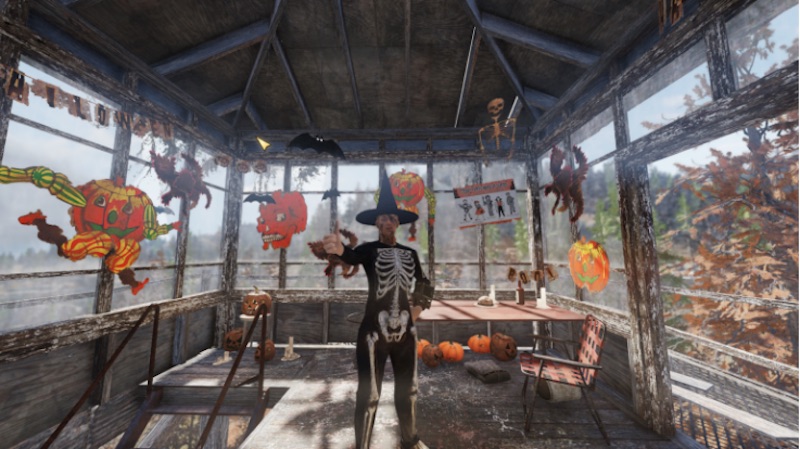 Bethesda has braved the radioactive wastelands to bring you a list of Fallout 76 update 1.68 patch notes, which adds the Halloween-themed Spooky Scorched event to the post-apocalyptic MMORPG as well as a series of bug fixes.
Related Content – Sony PS5 Complete Guide – Everything Explained On PlayStation 5 For New Users
---
BUG FIXES & IMPROVEMENTS:
ART
Atomic Shop: Various adjustments to icon placements and item previews in the Atomic Shop.
Power Armor: Players no longer appear headless after entering Power Armor with a helmet equipped.
ARMOR
Durability: Crafted Legendary Weapons and Secret Service armor now correctly use the Intelligence Stat when determining durability.
AUDIO
Vendors: Selling a Legendary Item to caps to any NPC Vendor no longer plays the Scrip Exchange Sound effects.
C.A.M.P.S & WORKSHOP
Allies: Fixed an issue that could cause companions to be killed on exiting a server.
C.A.M.P. Items: The Wavy Willard Camping Canoes are craftable again.
C.A.M.P. Items: Made adjustments to the Arm-Wrestling Machine animation.
C.A.M.P. Items: The Resonator Guitar can now be interacted with.
Concrete Building Set: Wall items no longer clip into walls with windows in the Concrete Building Set.
CHALLENGES
Daily Ops: Addressed an issue where Blood Eagles in Ops did not count towards Daily and Weekly Challenges.
World: Updated various headwear to count towards the "Scrap Headwear" challenge.
EXPEDITIONS
Enemies: The Fanatic Foreman can no longer destroy the Foreman's Terminal during the Boss Encounter.
Rewards: Expeditions Weekly rewards now reset correctly.
ITEMS
Clothing: The Jack-O-Lantern Pant Suit and Short Suit can now be sold at robot vendors.
Food: Fried Radtoad Legs and Firecap Tasty Souffle have been moved to the appropriate crafting categories.
Food: Added descriptions to the Coffee and Sunshine Oil to describe their effects.
Weapon Rack: The Auto-Axe now displays on the Gravitronic Weapon Rack.
LOCALIZATION
Achievements: The Troglodiced achievement no longer displays the wrong number in Polish.
UI: Various localization fixes.
QUESTS
Dailies: Addressed an issue causing some players to be unable to receive Refuge Daily Quests.
Division of Wealth: The objective marker to "Deal with the Highjack" now correctly points to the right floor.
Recruitment Blues: The quest target will no longer disappear when the player gets close to Master Sergeant Gutsy at Camp McClintock.
Responder's Reborn: Skippy will no longer have his back to the player after teleporting during a scene in Responder Reborn.
Mountainside Bed & Breakfast: Fixed an issue where players could not start the Mountainside Bed & Breakfast quest appropriately.
Ounce of Prevention: Updated text to no longer incorrectly refer to multiple blood samples.
Pass the Buck: Fixed an issue that prevented Pass the Buck from starting.
Patrol Duty: The Penitentiary Guard can no longer be crippled by enemies.
Secrets Revealed: Fixed an issue where Vault 79 may become inaccessible after completing "Secrets Revealed".
Secrets Revealed: Radcliff now correctly refers to Digger's fate in player dialogue.
Steel Reign: Addressed a pathing issue with Paladin Rahmani during the quest "Out of the Blue".
Steel Dawn: Addressed an issue that could cause the optional weapons dialogue with Knight Shin to repeat after relog.
Steel Dawn: Addressed a dialogue condition issue with Scribe Valdez.
Tea Time: Fixed an issue where players could fail the event by not starting the boilers in time but receive no in-game message of failure.
UI
Icons: Fixed an issue causing Vendor, Shelter and Spooky Icons to not remain greyed out on inactive C.A.M.P.s
Map: Players with Teammates over level 1023 will now accurately see their Teammates level when displayed on the minimap.
WEAPONS
Ammo: Ultracite 2mm Ammo now correctly weighs the same as its non-Ultracite Variant.
Crusader Pistol: Adjusted the Reflex Sight to be in the correct spot.
Mods: Addressed an issue that could cause Magazine/Clip Capacity to not correctly reset after swapping mods.
Mods: Addressed an issue that caused weapons with multiple projectile mods to fill VATS crit meter twice.
Shotgun: Fixed an issue causing the Pump-Action Shotgun name to not dynamically change after applying the Enclave Skin.
Skins: The Fixer can no longer be traded, dropped, or sold with the Jack – O – Lantern Skin applied.
Weapons: Charged weapons will no longer lose charge when exiting sneak.
WORLD
Whitespring Resort: Fixed an invisible collision spot on the WhiteSpring roof.