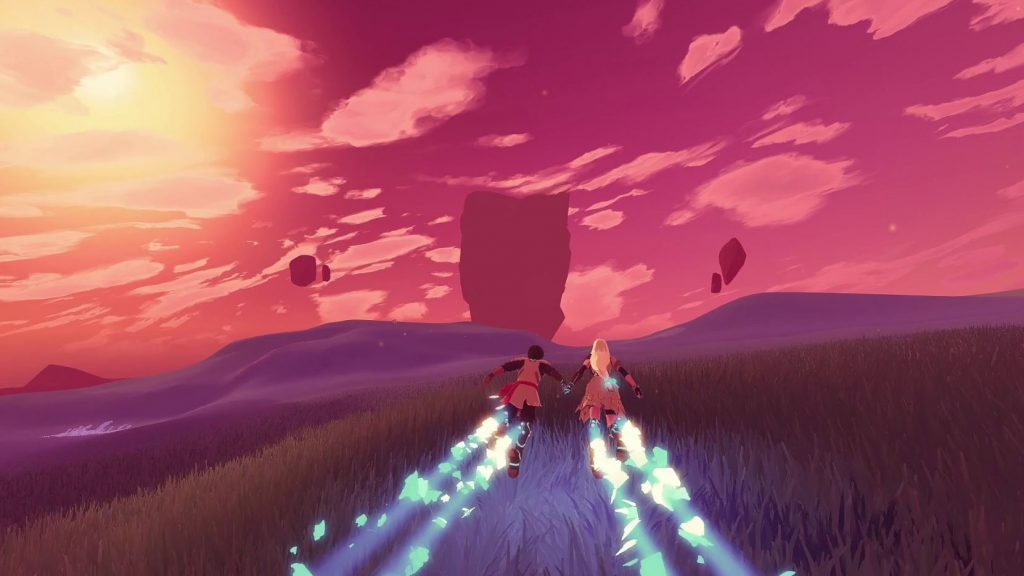 The first gameplay for Haven has been officially revealed by TheGameBakers. This JRPG, action-adventure should be on your radar if it isn't already.
The gameplay trailer for Haven showcases some gorgeous environments, from red sunsets to open fields. The game's Creative Director, Emeric Thoa, dubs the game an "accessible RPG." They are also looking to make a game you have never seen before, much like they did with Furi.
A press release gives us a good summary of the premise of Haven.
In Haven, you share the journey of two lovers escaped to a lost planet. You play as Yu and Kay, gliding over the grasslands of a shattered world, unravelling its mysteries looking for a way to stay together.
The game also features an innovative combat system, where you play as both Yu and Kay, chaining actions together with tactics and timing. Your journey is scored to an original electro soundtrack by the artist Danger. Whilst the game is a single-player adventure at its heart, a second player can hop in at any time and take control of the other person.
You can check out the gameplay trailer below:
Thoa explained in a blog post just how Haven will differ to Furi:
It's a completely different pace. It's a game that aims at making you feel relaxed, making you laugh, making you fall in love with Yu and Kay. It feels good for all types of players, skilled and less skilled. It's a solo game that's welcoming for another player to tag along, so you can explore and progress together.

Exploration is designed to create thrill, serenity and satisfaction. Gliding feels like going down a beautiful ski track, leaving a trail, cleaning the rust that covers Source's landscape.
Haven is set to release for PS4 sometime in 2020.
What are your thoughts on Haven? What stands out to you most in this trailer?