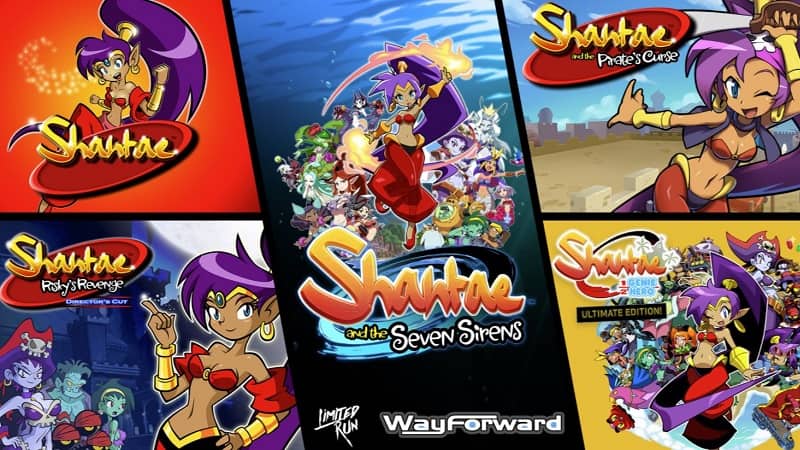 Good news! All five Shantae games have been confirmed for a PS5 release and even better still, owners of the PS4 versions of each game, will receive free upgrades to PS5 versions at no extra cost.
Though no additional details were provided regarding the PS5 enhancements, you can catch the press release and trailer from WayForward which chronicles each of the five Shantae games, below.
Having sold more than three million copies worldwide since its debut in 2002, the acclaimed Shantae series tells the story of Shantae, the hair-whipping, belly-dancing, shape-shifting, Half-Genie guardian of Scuttle Town. Along with friends such as Bolo, Sky, and Rottytops the zombie, she protects the land from nefarious pirates and other dastardly threats. The line-up of action-adventure-platformers consists of five titles, each sold separately:
Shantae — The one that started it all! Experience Shantae's classic original adventure and stop the self-proclaimed Queen of the Seven Seas, Risky Boots, from finding four powerful elemental stones! Now with trophies for the first time!

Shantae: Risky's Revenge – Director's Cut — Risky Boots is back with another sinister scheme! Put an end to her plans by acquiring three Magic Seals from the devious Barons of Sequin Land.

Shantae and the Pirate's Curse — Shantae sets sail for swashbuckling action as she gains new Pirate Gear abilities and teams up with her nemesis to face an even greater threat!

Shantae: Half-Genie Hero Ultimate Edition — In Shantae's first full HD adventure, she must thwart a number of villainous plots perpetrated by her greatest foes! Several extra modes are included, offering new play mechanics and modified levels.

Shantae and the Seven Sirens — New Half-Genie friends, new transformations, and new enemies await as Shantae travels to tropical Paradise Island where a mysterious sunken city lies beneath the waves. Featuring a new collectible Monster Card system and an animated intro by Studio TRIGGER!
The Shantae games currently do not have a PS5 release date.