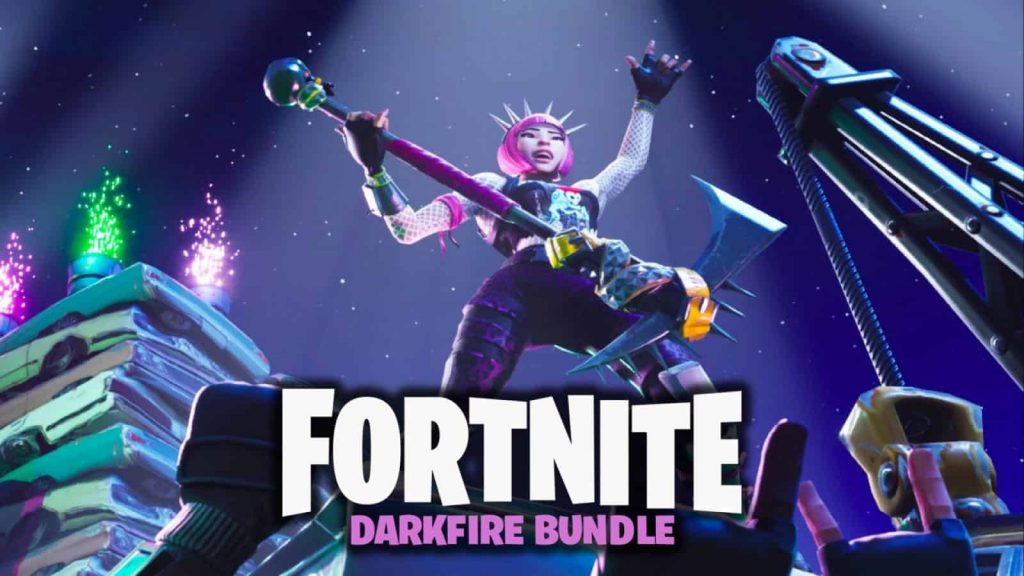 Epic Games and Warner Bros. Interactive Entertainment have pumped out a new retail version of Fortnite on PlayStation 4, Nintendo Switch, and Xbox One, with the Fortnite: Darkfire bundle now available to grab for $29.99.
Fornite: Darkfire Bundle Hits PS4
If you haven't yet picked up the perpetually popular battle royale title, then this latest bundle will probably be a good place to start. Epic's saying it includes $80 worth of DLC, including 13 new items. Here's the full lineup:
Dark Power Chord Outfit
Shadow Ark Outfit
Molten Omen Outfit
Dark Angular Shift Wrap
Molten Angular Shift Wrap
Shadow Angular Shift Wrap
Dark Six String Back Bling
Molten Battle Shroud Back Bling
Shadow Ark Wings Back Bling
Dark Strikers Dual-Wielding Pickaxe
Molten Strikers Dual-Wielding Pickaxe
Shadow Strikers Dual-Wielding Pickaxe
Unification Emote
Fortnite Battle Royale has been a mammoth success since it rolled out for PC, PlayStation 4, and Xbox One back in 2017. The premise is decidedly simple, but it's proven to be immensely popular and has managed to fend off competition from the likes of PlayerUnknown's Battlegrounds among other titles.
There's also a paid version of the game called Fortnite: Save the World, which sees players teaming up against zombie-like enemies while completing various objectives. However, Battle Royale is by far the most popular incarnation of Epic Games' shooter.
Fortnite Battle Royale amassed over 125 million users during its first year on the market, and has expanded to iOS and Nintendo Switch platforms. The game has also pulled in hundreds of millions of dollars on a monthly basis.
Epic Games is the original creator behind the Gears of War franchise, which is still going strong to this day after being handed over to The Coalition.
Fortnite is currently in its Chapter 2 phase, which offers a ton of new content and a brand new map to explore, plus activities including fishing and swimming to take part in.
Stay tuned to PSU.com for more Fortnite updates as we get them.