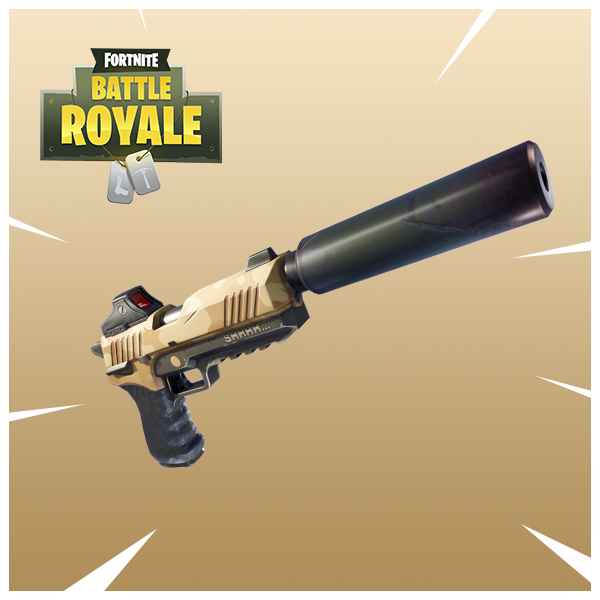 The Fortnite Silenced Pistol update goes live today on PS4 and Xbox One. Introducing the first Battle Royale event of 2018, players will be able to get their hands on the silenced pistol and use it in a brand-new Sneaky Silencer Limited Time Mode.
When does the Fortnite Silenced Pistol update go live?
You'll be able to get the new update at 8am EST (1pm GMT), and the event will run from January 5 to January 8, 2018. There is no download required.
How does the Sneaky Silencer mode work?
As well as traps being totally disabled, players will only be able to use suppressed pistols and the suppressed SMG. Additionally, they'll be an increase to the rate drop of the Bush - a potion which turns you into a shrub!
How to get the Fortnite Silenced Pistol?
It shouldn't be hard to get your hands on the new weapon, which will appear in supply drops and in treasure chests. You'll also be able to just pick up lying around on the floor.
This latest update arrives following the release of the Boogie Bomb on PS4, Xbox One and PC. Also obtained from supply drops and treasure chests, the Boogie Bomb is a new hand grenade weapon that makes those in its blast radius dance! Last week also saw the launch of a limited time mode.
Epic Games and fans aren't entirely happy about the Boogie Bomb, and the developer plans to make changes to it this week. This will include allowing players to build while dancing and allow the bomb to bounce before it detonates.
Among the most recent patches, Epic Games released Fortnite update 1.81 which allowed players to boost the PS4 and PS4 Pro frame-rate.