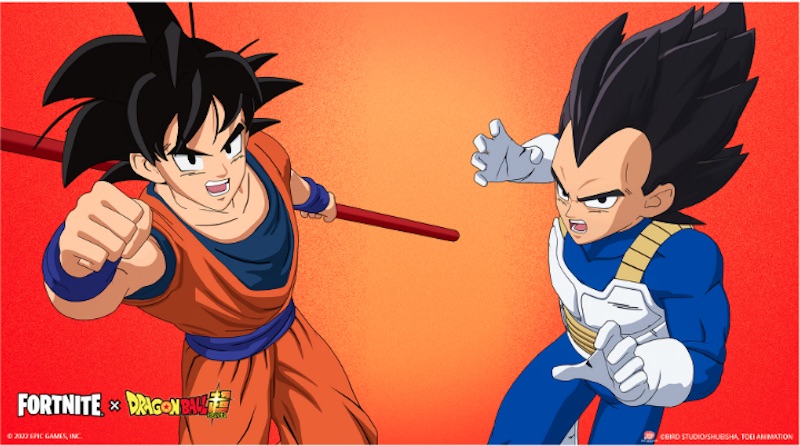 Epic Games has announced the Fortnite update 3.65 patch notes for you to digest, which as previously leaked, brings Dragon Ball content to the battle royale title. Read up on the latest Fortnite patch notes below.
Related Content – Sony PS5 Complete Guide – Everything Explained On PlayStation 5 For New Users
---
The world of Fortnite has never seen such power! Four powerful and iconic Dragon Ball Super characters, Son Goku, Vegeta, Bulma, and Beerus, have arrived in-game…
ETERNAL SHENRON! BY YOUR NAME, I SUMMON YOU FORTH!
A new "Power Unleashed!" tab has arrived in-game, full of Quests and rewards. Available to all players, this new event page tracks your rising Power Level as you complete new limited-time Dragon Ball Quests in Battle Royale and Dragon Ball Adventure Island experiences.
Seven sets of Quests will test your skills in strength, agility, focus, and more. With each training set you complete, you'll earn a Dragon Ball and raise your Power Level, unlocking awesome rewards like the Dragon Radar Back Bling, Emotes, Sprays, and Battle Pass levels.
Complete your training, collect all seven Dragon Balls and you'll score the Shenron Glider!
The Power Unleashed Quests and their rewards will be available until August 30, 2022, at 4 AM ET.
Please note that the in-game rewards Dragon Radar Back Bling and Shenron Glider are not exclusive to Power Unleashed and may be available later in the Item Shop for purchase.
BATTLE WITH VERSUS BOARDS
The strongest fighters are always testing themselves — introducing Versus Boards!
Versus Boards pit you and a rival player against one another in a fight to be the Island's strongest! Both players must opt into a battle by interacting with a Board on the Island, and when your opponent is chosen, you each will be revealed on the other's map. You'll then have just five minutes to defeat your opponent and claim victory!
Versus Boards have temporarily taken the place of Bounty Boards, and they can be found where Bounty Boards were previously.
GO EVEN FURTHER BEYOND IN BATTLE ROYALE
Wield the powers of Son Goku with the Kamehameha and Nimbus Cloud (Kintoun) items in Battle Royale!
Falling from the sky in deliveries invented by Capsule Corp throughout each match, pick up the Kamehameha and launch a devastating energy beam at anyone who crosses your path, or call on the Nimbus Cloud (Kintoun) to take flight around the Island. More capsules will appear as the Storm closes, so watch out for epic showdowns and tests of your power!
Note: The Kamehameha and Nimbus Cloud (Kintoun) items are not in Competitive (Arena or Tournament) playlists, with the exception of the Tournament of Power.
FIND BULMA!
On a very small island off the coast of the mainland Island, you will now find the Kame house
! Check out the iconic Dragon Ball location, and — if you are ready to part with some of your Bars — chat with Bulma who is wandering around, ready to provide some very powerful items.
DRAGON BALL SUPER EPISODE FESTIVAL
TOURNAMENT OF POWER
Harness your power and unleash it in the Tournament of Power taking place in all regions on August 18, 2022 in the Competitive playlist! Compete in this Battle Royale Duos tournament for a chance to earn the following prizes:
PRIZES
Top 50% on Main Leaderboard: Angry Vegeta Emoticon
8 Points Earned on Main Leaderboard: Goku's Kanji Banner Icon
3 Points Earned from Eliminations with a Kamehameha: Beerus Eating Spray
BACK BLINGS
Power Pole (Nyoibo): A mysterious staff given to Goku by Grandpa Gohan.
The Seer Fish: Beerus's forgetful prophet fish.
Kamesennin's Shell: Worn by Kamesennin himself.
PICKAXES, GLIDERS, AND EMOTES
Power Pole (Nyoibo) Pickaxe: A mysterious staff given to Goku by Grandpa Gohan.
Kamesennin's Staff Pickaxe: Used by Kamesennin himself.
Nimbus Cloud (Kintoun) Glider: A mysterious nimbus cloud given to Goku by Kamesennin.
Space Pod Glider: Used mostly for the purpose of invading planets.
Charging Up Emote: Show 'em what you're made of.
Fusion! Hah!!! Emote: Do you remember the dance steps?
Boosting Ki Emote: Show off your power.