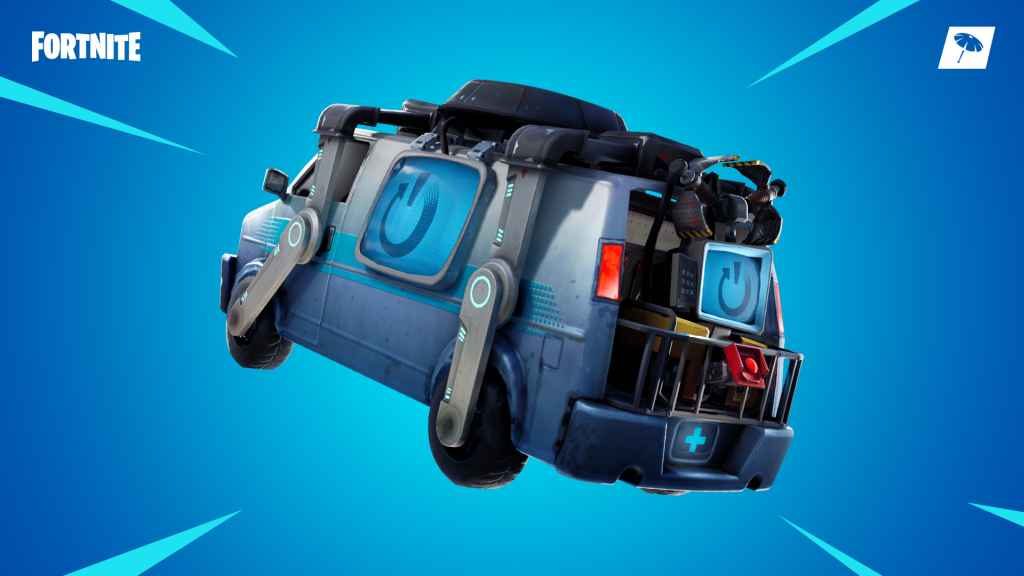 The patch notes for the Fortnite v8.30 update have just been released on the Epic Games website, revealing the usual cavalcade of changes and gameplay tweaks.
It's a particularly busy week for Battle Royale, however, which, alongside yet another LTM, receives a brand-new and somewhat familiar respawn mechanic.
Fortnite v8.30 Update Patch Notes – Battle Royale
Known as the "Reboot Van", the mechanic in question extends the period available to those playing in Duos or Squads during which they can revive their fallen teammates. This is done by collecting the downed player's Reboot Card and delivering it to any nearby Reboot Van, something which should sound pretty familiar to anyone who's played Apex Legends.
To be fair to Fortnite, Reboot Cards only hang around for 90 seconds, which is slightly shorter than the Apex. Additionally, revived players will also spawn with a common pistol, some ammo, and 100 units of wood in their possession, giving them a bit of a leg up.
Battle Royale's new LTM, meanwhile, is called Fly Explosives and promises to combine the "explosive fun of the High Explosives LTM with the Jetpack".
Fly Explosives is joined by the loot-heavy Buccaneer's Bounty Event from the 10-15th April, and the prestigious Fortnite World Cup Online Open – Week 1 of which commences this very weekend and is open to anyone who has reached Champion Level in the Arena.
Fortnite v8.30 Update Patch Notes – Creative
A similarly useful new mechanic arrives in Fortnite Creative in the form of the MultiSelect Tool. It does exactly what it says on the tin, really: i.e. let players select multiple assets at the same time, making the process of re-organising any existing creations that that much easier.
Creative also receives a number of new military-style buildings in the V8.30 update, along with a new Tropical and Rivers Edge island, the aforementioned Jetpack, sundry other consumables, and a Capture Area Device.
The last of which having been designed to facilitate Capture the Flag-style games.
Fortnite v8.30 Update Patch Notes – Save the World
As far as Save the World is concerned, it's pretty much business as usual.
First and foremost, there's a brand-new hero in town who goes by the name of Bombsquad Kyle. A heavily-armoured, legendary constructor perfectly suited for dealing with hordes of enemies.
Accompanying him is the Lost in Transit Beta Storm, the object of which is to locate and rescue five beleaguered trucks within a 15-minute time limit. And the Double Boiler Steampunk Shotgun.
While another notable change sees Eliminate and Collect included in the standard mission rotation.
Anyone looking for a more comprehensive breakdown of this week's patch would, as with the previous 36,000, be well advised to head over to the game's official website.