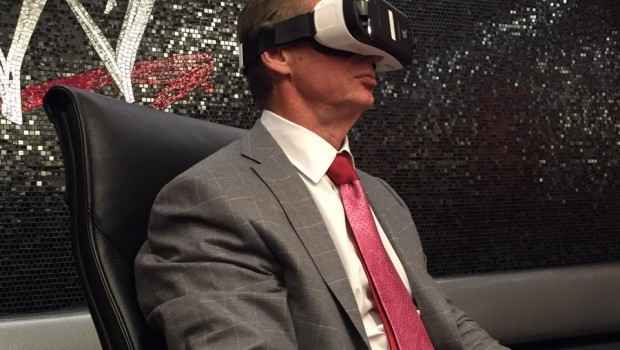 Who wants to walk with Elias in VR? Well, it's about to get a lot closer to reality. WWE is coming to PSVR.
One of the most exciting things about VR's potential has been the idea of being places you normally can't. Or would otherwise cost thousands of pounds. Live shows are one such thing, and wrestling giant WWE is embracing VR at its shows. With PSVR, you can have a taste of being at ringside from the comfort of your own chair.
WWE announced a partnership with NextVR to show short, special WWE experiences in virtual reality. Special cameras had been spotted at several WWE PPV's recently, and it turns out this is what they were for.
WWE and Next VR released the following statement:
NEWPORT BEACH, Calif., AND Stamford, Conn. - NextVR, the leader in broadcasting live events in virtual reality, and WWE have announced a new partnership to bring fans unique WWE experiences in virtual reality, featuring highlights from select 2018 WWE special events.

The virtual reality experiences will be approximately 10 minutes and available for free to the WWE Universe globally on a new WWE channel within the NextVR app following each event. The content will provide fans with a completely new experience, featuring highlights from WWE's biggest events, including the excitement of the fans, athleticism of WWE's larger-than-life Superstars, pivotal moments, epic showdowns and surprise appearances, giving them the opportunity to see the action as if they were there live.

"WWE is amazing in VR, and we know fans are going to love it," said David Cole, NextVR CEO. "Our patented VR broadcasting pipeline will bring fans ringside with WWE Superstars to experience the electrifying energy and spectacle firsthand."

"We are always looking to create compelling content across platforms, and we are excited to partner with NextVR to bring our fans closer to the action than ever before," said Michelle Wilson, WWE Chief Revenue & Marketing Officer. "As the technology behind virtual reality continues to evolve, this is a unique opportunity for us to partner with NextVR, a leader in this space, to provide new experiences to our passionate fans around the world."

For each production, NextVR will work alongside WWE's award-winning TV and production team to position NextVR's custom virtual reality cameras throughout each event to capture the most immersive views of WWE action.

Fans with a Samsung GearVR headset or Google Daydream View, along with a compatible smartphone, PlayStation VR, or Windows Mixed Reality can download the free NextVR app from the corresponding platform store to access the free highlights.
The NextVR app is available for PSVR, among other headsets. So PlayStation fans with a wrestling bent can really feel like they're booing Roman Reigns right to his face.
This is hopefully the first step towards full PPV's in VR. For now, this is an appealing taster. Safe to say the continued inclusion of VR cameras at events means there's going to be plenty of experiences.
Just think, you can actually feel like you're at WrestleMania, being disappointed by poor booking without the cost.