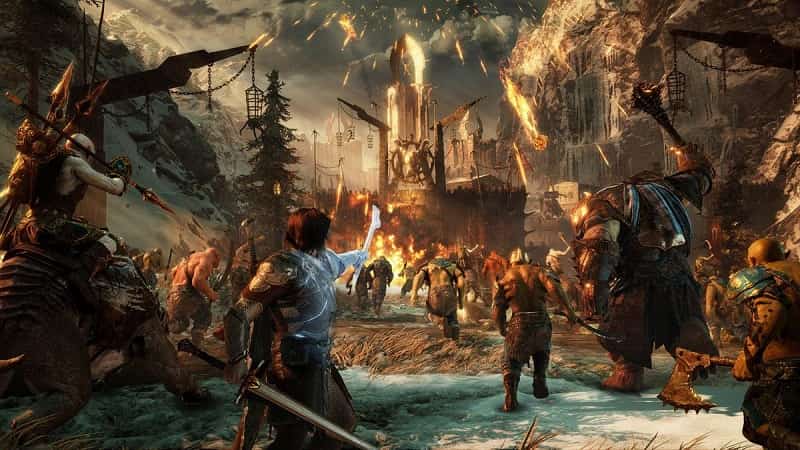 Middle-Earth: Shadow of War developer Monolith Productions has hinted that it's next project will be the 'next big gaming innovation'.
Spotted in a series of job posts by industry analyst 'MauroNL' on Twitter, it seems that the WB Games owned developer is staffing heavily for its next project.
There are no less than five posts that are being advertised at Monolith Productions:
Having been silent its release of Middle-Earth: Shadow of War three years ago, Monolith Productions next offering has been shrouded in mystery.
These job posts however, help to provide us with some clue about what to expect regarding the studio's PS5 debut title.
Monolith Productions Next Game Will Boast In-House Developed Tech
The first role of associate UI designer is pretty much what you would expect, with tasks that include "helping create menus, icons, stats/inventory screens, in-game HUD elements, and animated motion graphics". However it's really the overarching studio statement that draws the most interest, stating "Monolith Productions, a division of WB Games Inc. and developers of Middle Earth Shadow of Mordor and Middle Earth Shadow of War, are seeking passionate and talented game developers to join us in creating our next big gaming innovation."
The next role, associate software engineer on the other hand, seems very much focused on developing and fostering custom, in-house technologies for Monolith Productions next project. The advert reads thus – "As a member of our studio's Tools team you will work closely with Technical Artists, content development leads and the rest of your peers on the Core Technology Team to develop state-of-the-art tools technology."
Again, the overarching job description is revealing stating "Monolith Productions, a division of WB Games Inc., seeks an Associate Software Engineer – Pipeline to work closely with the award-winning technology team behind the Middle Earth: Shadow of Mordor franchise, building cutting-edge technology and powering the development of Monolith's next generation of console and PC games.".
It'll Be Open World With Complex AI Behaviors And Narrative Systems – Nemesis System 2.0 Seems Likely
The advanced designer and senior designer for character systems roles gives us our biggest indication about the sort of game that we can expect. In the 'essentials' skills sections, it is stated that 'experience with 3D open world action games preferred'. So yep, we're looking at another open-world actioner that likely will boast a number of similarities to the previously released Middle-Earth games.
Speaking of which, consider another essential required skill – 'experience with player behavior, AI, or narrative systems preferred'. This sounds very much like the innovative 'Nemesis' system which governed the Middle-Earth games, allowing enemies to remember you, take revenge on you and advance themselves through a militaristic hierarchy.
Could we be looking at the next iteration of the Nemesis system? It certainly seems plausible.
The Next Project Requires Writing Talent With A 'Love Of Mythology And Science Fiction' – Expect The Story To Unfold From Multiple Perspectives
Whatever Monolith Productions next project ends up being, we can now be sure that it won't be especially grounded. We know this because the fourth job posting for a senior writer, requires 'a deep literacy in games, film, literature, and television, and a love of mythology and science fiction.'
If the job listing is accurate, we should also expect that the narrative contained within Monolith Productions next game will unfold from multiple perspectives too, as the senior writer role calls for 'narrative design experience, especially with procedural narrative'.
Monolith Productions next offering certainly sounds ambitious then. With three years of silence on the clock, here's hoping that we won't have to wait too much longer to see what the Kirkland based studio has been cooking up.