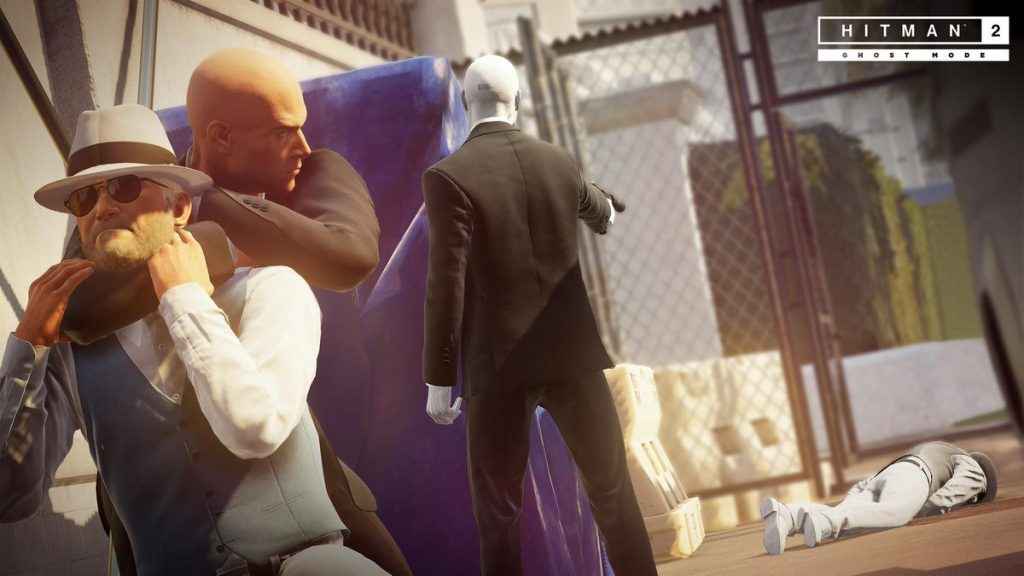 A brand-new 1-v-1 competitive multiplayer challenge, titled Hitman 2 Ghost mode, has been announced for IO Interactive's upcoming professional murder sim.
Ghost mode will be available on launch day alongside the standard single player campaign and the popular Sniper Assassin online co-op mode.
Hitman 2 Ghost Mode – First Details
A first for the series, Ghost mode pits two players against one another in a race to assassinate the same targets in a series of nerve-jangling rounds. Each kill is worth a single point, with the first player to score five claiming ultimate victory.
There's a slight twist, however: in Ghost mode, each player hunts targets in a separate reality. Meaning that, although both players will be confined to the same location (Miami, Colombia etc.) and tasked with killing the same individuals in their game world, one player's actions won't affect the other.
In other words, players won't simply be able to take a few minutes out from stalking their unfortunate target to off their opponent.
That's not to say competitors are entirely separated from one another. Silhouettes will appear in either player's game world showing them what disguise and weapons they're opponent is currently using, as well as their proximity to the target.
Speed Isn't Everything
It's equally important to remember that speed isn't everything in Hitman 2 Ghost mode.
First and foremost, each player will have a short window in which to kill their target and equalise the score, should their opponent land the fatal blow first.
Additionally, players will only receive points if they kill their target unobserved; will lose them if they take out guards, civilians, or anyone else who stands between them and their mark; and begin each round with a severely limited loadout (although supplementary weapons, tools, and the like. can be acquired from various Ghost Crates that are scattered throughout the map).
I have to say, though I find any kind of competitive play stressful, Ghost mode sounds really quite alluring.
IO Interactive's Hitman 2 releases on the 13th November 2018. It can be pre-ordered now on PS4, Xbox One, and PC for £54.99 (that's $59.99 in the US) – which is worth doing if you're interested in gaining early access to the aforementioned Sniper Assassin online mode.