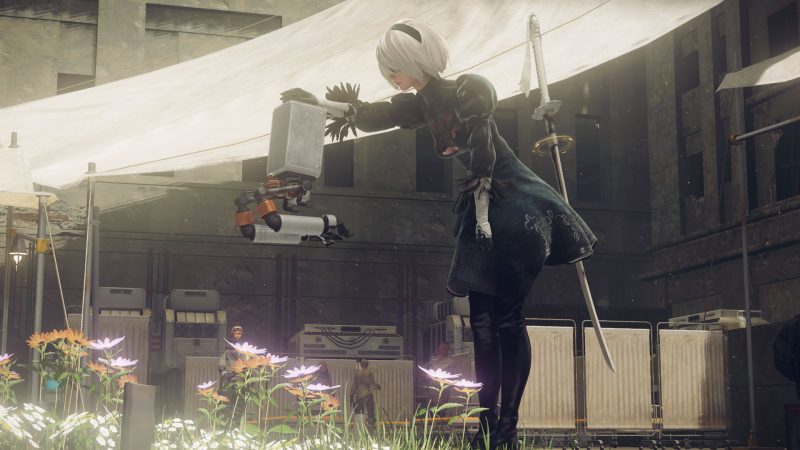 Games like Nier: Automata invite players to dig through and discover every secret involved, and that's a process that can, in some cases, take years for a community to do.
Recently, video footage of someone playing on PS4 was uploaded to the game's Reddit page that shows one potential secret which has thrown the community for a loop. A secret door seems to have been found in the Copied City.
What's particularly odd about this door, is that no one seems to have found it before, and the chances of the video being fake are slim, because according to the game's own modding community, no one knows how to mod the game in this way.
"This is modding that nobody else can do at the moment, so if it's fake it would be things the rest of us would consider close to impossible." said one user claiming to be a part of the modding community.
They explained what mods are currently known, saying "We can add new geometry (with some limitations from what I remember) but a custom door, animated towers retracting as the players get close, nothing we know how to do."
Popular YouTuber Lance McDonald highlighted the video as well, saying "Literally 1 person on earth has accessed this room and we [the community] are uttered mind blown."
McDonald went further to say that this has been a community puzzlement for more than a month, after a previous text post from the user who posted the video asking for help accessing an area.
He also added what other modders have said, that "It's not yet possible to mod Nier: Automata in this way."
For now, it looks like the user who posted the video may have found this door and the area behind it by accident, though it is unclear how it would have been triggered.
Multiple users have tried to access the door since the video's publishing, to no avail.
Until someone else is able to figure out the video as a fake, or find this secret door, it seems this new secret has just opened up one of the game's biggest mysteries.
What's perhaps most interesting though, is that this comes months after according to the game's official Twitter confirmed that "the last secret" in the game had been found.