Following a series of tweets (shown below) from Boss Key Productions about a new game, we now know that it's Radical Heights. Described as a Battle Royale shooter, the official description on STEAM reads:
"Partake in high-stakes gunplay as you loot for weapons, gadgets, cosmetics, and CASH! Survive to the end or risk it all in this irreverent action game show where everyone wants to be rich and famous!"
Quite an interesting choice from the Lawbreakers studio, who pointed some blame towards the success of PlayerUnknown's Battlegrounds (which has great Battle Royale mode) for the failure of its online shooter. If you can't beat them, join them, we guess!
We're currently awaiting further information on Radical Heights, but so far Boss Key has this to say:
"Only in Radical Heights does in-game cash you find carry over into future matches. Play matches, collect cash, kill contestants, interact with game show elements and more to buy cosmetics from your personal prize room, or put some of that sweet cash in your bank to help buy a weapon next match quicker than your opponents. The choice is yours."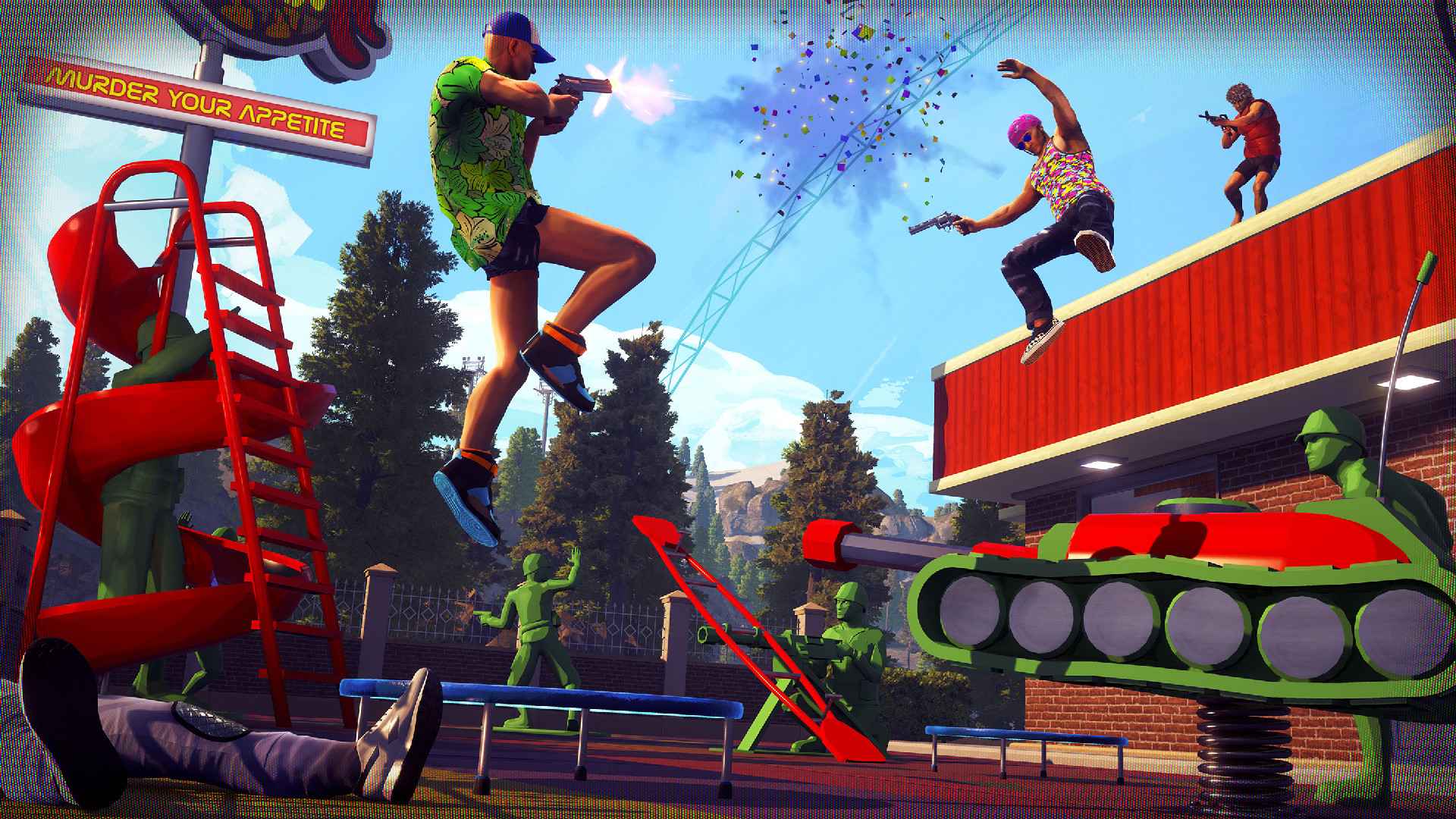 There's currently no indication whether Radical Heights will be coming to PS4. It's about to start Early Access on Steam on April 10, 2018.
Original Story
Lawbreakers developer Boss Key Productions is up to something, but we're not sure what! Having recently released a statement on the downward spiral of Lawbreakers, the studio said back in April that it's working on something new.
Over the last three days, they've been posting some weird stuff on Twitter, which may be teasing their new project. First up, is some artwork for a game called Double Dudes 2 with the tag-line 'Quadruple the Dudes". It shows four muscly guys with Rambo-style bandanas armed with bazookas. Judging by the screenshots in the image, it's a retro arcade-style game.
— Boss Key Productions (@BossKey) April 6, 2018
Initially, there was some confusion over whether it was an actual joke, or a real game. However, it now appears to be is part of set of images, possibly teasing what they're working on next, with two more funny game posters (depending on what you find funny) appearing over the last couple of days.
The second image is for a game called The Next to The Last Starfighter, which comes with an amusing description.
— Boss Key Productions (@BossKey) April 7, 2018
Finally, an image today shows a game called Sweat N Guns with tagline "Gameplay so real you'll be sweating bullets." By this point, it's crystal clear that the images are all a joke, but may contain some hints about what the team are working on next.
— Boss Key Productions (@BossKey) April 8, 2018
Whatever they're up to, the team at Boss Key will be hoping that their next venture performs way better than Lawbreakers. The online shooter turned out to be a disaster in terms of sales according to its publisher, Nexon, which it blamed on the success of PlayerUnknown's Battlegrounds.
Though the studio says it will continue to support the game "in its current state", they won't be going down the free-to-play route due to the costs, and largely seem to have abandoned it. In the latest statement from April, it reads:
We will continue to support the game in its current state, but we also need to focus on other projects with fresh creative leaders. We have been working on something new and we can't wait to share more about it! It's a passion project that we're in complete control of.
It will be interesting to see whether Boss Key Productions keeps up with the retro game-styled images in the coming week, or if anything will be revealed on their new game.