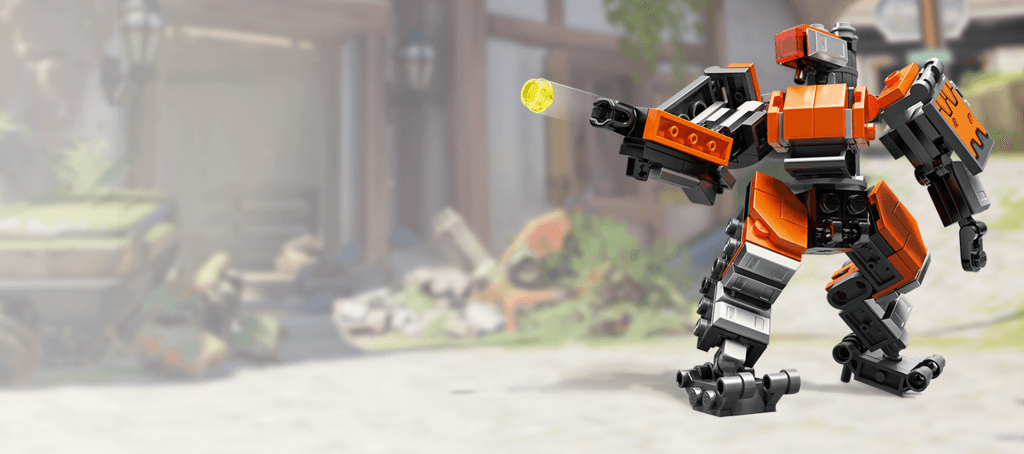 Ahead of the release of a full set of Overwatch-themed Lego building sets, developer Blizzard and the globally famous Danish toy maker have announced the release of a limited-edition Lego Bastion.
Rather excitingly, the new model is available for purchase right now through the Blizzard Gear Store and throughout Blizzcon 2018 (which runs from the 2-3rd November). Although, at 22.50, it's not exactly cheap.
Lego Bastion is an "Ideal Collector's Item"
A Blizzard-exclusive display model, Lego Bastion comes clad in his vibrant orange Omnic Crisis skin and stands atop a display plate built entirely from Lego bricks; with his trusty bird companion Ganymede perched lovingly on his shoulder, of course.
Lego Bastion is described as the "ideal collector's item" in the official press release. However, featuring a "swivelling upper body, moveable arms, and a weapon built into the right arm", it's far more than a simple display model.
Lego Tracer and Halloween Terror
Everyone's favourite nature-loving combat robot isn't the only Overwatch hero to receive a blocky makeover.
Just over a week ago, a short video was released on the game's official Twitter account revealing a diminutive Lego Tracer in all her faux-cockney glory. The first in a potentially long line of Overwatch building sets to be revealed since the Blizzard-Lego collaboration was announced back in May.
Elsewhere, Overwatch has just kicked-off its annual Halloween Terror event. Which sees the return of the tried and tested Junkenstein's Revenge game mode (available in both Classic and Endless Night versions), alongside the usual collection of spooky character skins.