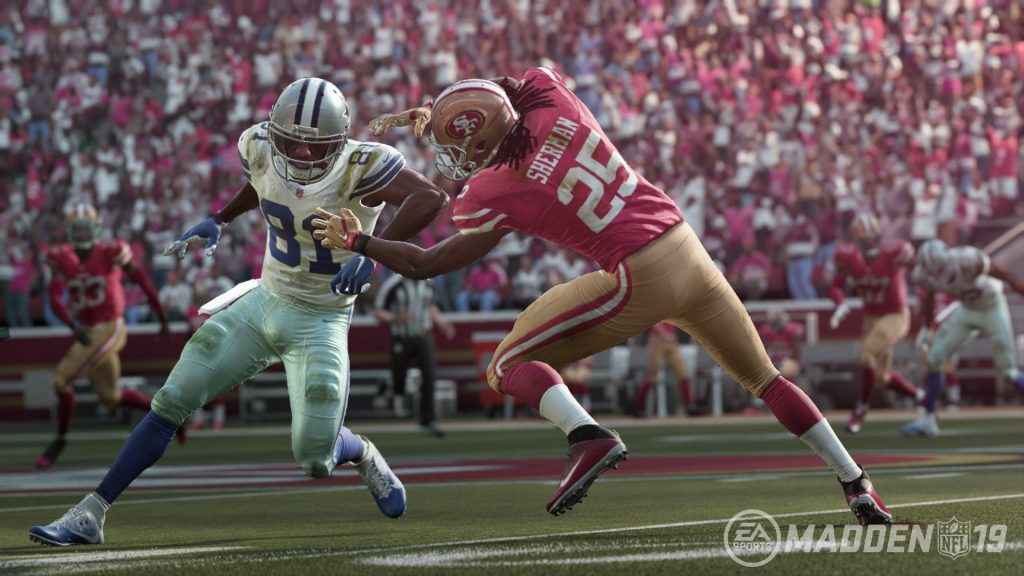 The Madden 19 player ratings are finally out. EA announced NFL players rating on their website ahead of the release of Madden 19 on August 10. The next entry in the series is available on almost all gaming platforms, including Xbox One, PlayStation 4, Android or iOS and PC.
The latest Super Bowl champion Philadelphia Eagles is by far the strongest team shown in the Madden 19 Player Ratings. They take nine spots of players with 90 plus ratings. And they have 26 players with 80 and above ratings. The Saints, Patriots, Falcons, and Jaguars compete closely with Eagles when it comes to the overall team rating. However, Jets, Colts, and Cardinals get players with lowest ratings.
Here is Madden 19 Player Ratings- 10 Best Quarter Backs list:
Tom Brady (Patriots)- 99 rating
Aaron Rodgers (Packers)- 99 rating
Russel Wilson (Seahawks) – 92 rating
Drew Brees (Saints)- 91 rating
Matt Ryan (Falcons)- 89 rating
Cam Newton (Panthers)- 88 rating
Ben Roethlisberger (Steelers)- 88 rating
Andrew Luck (Colts)- 87 rating
Philip Rivers (Chargers)- 87 rating
Carson Wentz (Eagles)- 86 rating
Tom Brady from Patriots is among the seven players with 99 overall rating. Antonio Brown (Steelers), Aaron Donald (Rams), Rob Gronkowski (Patriots), Luke Kuechly (Panthers), Von Miller (Broncos) and Aaron Rodgers (Packers) join Brady in the 99 circle respectively.
EA Sports rates players according to their awareness, speed, acceleration, and strength. As expected, NFL players had different reactions to their rating. Some accepted it. but some were not happy.
One example is Leonard Fournette (Jacksonville Jaguars). EA Sports Madden NFL responded to Madden 19 Player Ratings issues regarding their rating. They said players need to give factual evidence like a video for them to review their ratings. Then, they will review NFL players' performance. Finally, they will decide whether their ratings should be higher.
Madden 19 promises an authentic NFL experience for players. Whether it be in team management or career mode as a player. They've also enhanced the control of the game to include real player motion. EA has also included hyper-realistic animations like fan favorite celebrations, push the pile and one cut.
Do you agree with the Madden 19 Player Ratings?