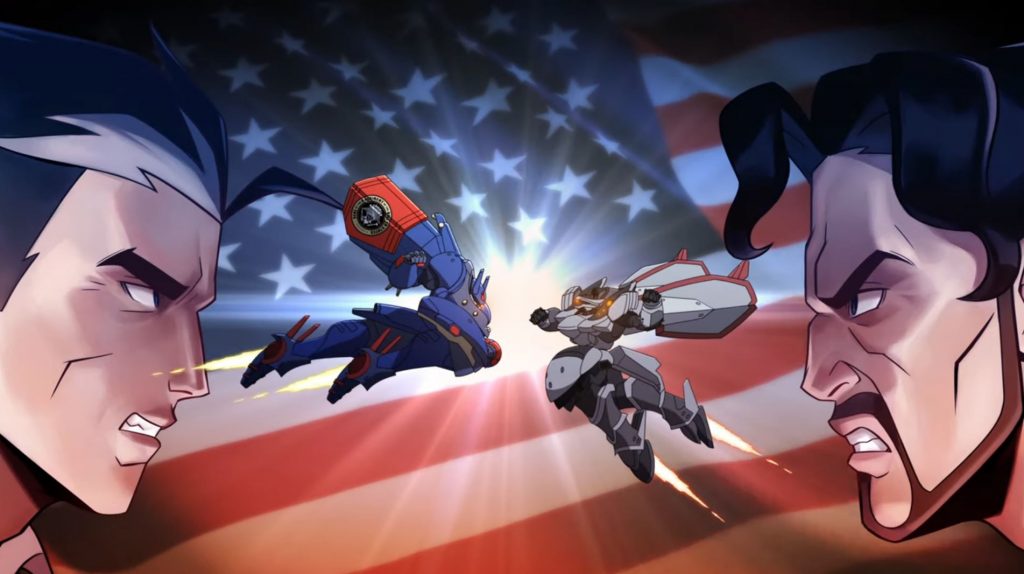 Devolver Digital has released the Metal Wolf Chaos XD 'Let's Party' Launch Trailer to celebrate the game's release tomorrow, August 6.
The launch trailer showcases President Michael Wilson fighting to protect America's liberties as he learns of a coup led by Vice-President Richard Hawk. There's explosions, bullets, and of course the sweet taste of American freedom.
The trailer doesn't showcase any gameplay from Metal Wolf Chaos XD, instead opting for an animation that is gorgeous. You can watch the 'Let's Party' launch trailer below:
Metal Wolf Chaos is a classic FromSoftware title that released back in 2004. It became notoriously hard to find in Japan, and even harder to buy in the West. Now Devolver Digital are bringing it back on modern consoles. The game was originally announced at E3 2018 but skipped E3 this year. However, a few weeks after the event, Devolver Digital announced that the game will be releasing in August.
Devolver Digital and FromSoftware have partnered with General Arcade to modernize Metal Wolf Chaos with updates to the game including upgraded visual fidelity, refined controls and gameplay, a new save system, and 4K plus 16:9 support for modern displays.
If you don't know what Metal Wolf Chaos XD is, here is a quick description:
The country is in peril as President Michael Wilson defends the nation against a full-scale rebellion led by Vice-President Richard Hawk and the mechanized legions he commands. As the 47th President of the United States, it is your sworn duty to take your country back by any means necessary and end this unjust coup d'etat! Battle in your advanced mech—armed to the teeth—across iconic American landscapes including the Brooklyn Bridge, the Grand Canyon, and the front steps of the White House.
Metal Wolf Choas XD releases for PS4 on August 6, 2019.
What are your thoughts on this trailer? Will you be picking up Metal Wolf Chaos XD? Did you play the original game?