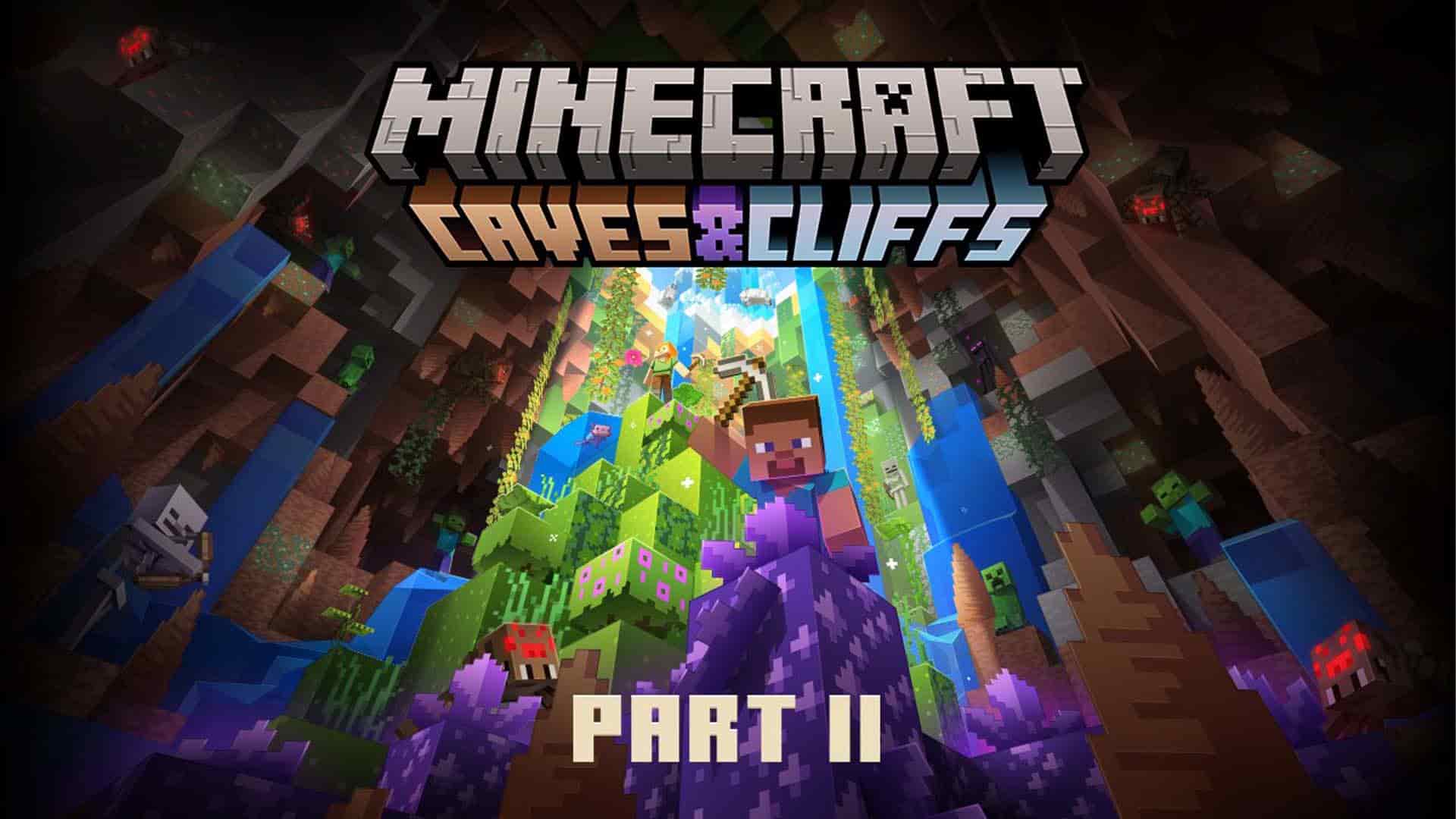 The Minecraft update 2.34 patch notes have been announced by Mojang today, which is a major update bringing with it the Caves & Cliffs Part 2 content to PS4 (and every other platform, for that matter). It's also known as Minecraft 1.18.0.
Read up on the latest Minecraft patch notes below.
Related Content – Sony PS5 Complete Guide – A Total Resource On PlayStation 5
---
New features:
World Height and Depth Increasing.
Overworld height and depth for new and existing worlds has been expanded to y320 and y-64. This opens up more space to explore and build in new and existing worlds.
World Blending
Players can now update existing worlds so they can add the new dimension of the world and the new world generation features. Read our world-grade-wide FAQ for more details.
The bedrock layer at y0 below saved chunks will be replaced by Deepslate and feature a new cave generation underneath.
The biomes and the surface, which generate a cross granular structure, will seamlessly blend, creating natural-looking environmental transitions.
New Terrains and New Mountaineers.
In fact, the soil shape and elevation isn't always determined by biome, so that biome will give me new biome places such as deserts on top of hills, opportune places like deserts on the surface of earth.
The mountains are taller than ever and now can generate up to 256 blocks of height.
Molecular biomagnetics, 3D-boston regeneration, and biomagnetic distribution.
3D biomes can save a little time consuming biomes.
The original cave and mountain biomes include juggle Peaks, Meadows, Lush Caves and Dripstone Caves.
New Cave Generation takes place tomorrow.
Two of the three most common noise caves are open and open Cheese Caves, large, tilmored Spaghetti and narrow, windy Noodle Caves.
Acquifers add to them create local lakes such as flooded caves or a laketops.
Ore Distribution and Large Ore Veins.
The large ore veins, which extend through cave systs and contain some major deposits of ore than the clusters usually found underground, usually contain.
The mine is sorted accordingly.
Mob Spawning
Monsters will spawn only in darkness. Players can create spawn-proof dark areas such as caves using light sources.
New Music
A new musical by Lena Raine and Kumi Tanioka has been released.
The new music band Lena Raine called Other Side added. This can be found rarely in the Stronghold corridor chests and rarely in the Dungeon area.
The updated Minecraft original music pack is free on the marketplace.
New opportunities and achievements are common.
Caves andamp; cliffs free are derived from the top of the world (build limit) to the bottom of the world and survive.
Is home Like Home Take a leap from the sea to another lush ride.
Sound of Music Help the Meadows get started by playing music from a jukebox.
He can trade with an urban villager at the height of a single hectare.
Look at the article of the FAQ for a deep dive of the new features of Caves & Cliffs: Part II.
Changes:
Vanilla Experiments
The Vanilla Experiments experiment toggle has already been removed, and contains some block and items from the Wild Update, coming in 2022.

Goat Horn
Sculk
Sculk Vein
Sculk Catalyst
Sculk Shrieker
Sculk Sensor

Do not worry about a virtual reality account before making use of new modes. If you can not detect one, see ourhow to enable Experiments.
Old World Types of Types:
Removed Old World type from the world creation screen.
Relatively designed Old Worlds to BaseGameVersion 1.17.40.
Old worlds are still playable, but they won't be updated with 1,18 features.
For more information on the modern world, see the FAQ.
Menu Panorama
The new main menu pantries show the beautiful cliffs of the overworld.
Android's external storage console.
The players with internal storage may be moved to new locations at the start of the project, a due to storage changes required by Google. The result opens the result window without warning, so you can play the game.
As soon as the external storage is migrated to its new location in preparation for Google's new API requirements, your data will be lost by uninstalling Minecraft, if you don't stop checking the box that states that you want to keep your data. If you want to keep your worlds in this box, please take any other option.
For more details on the changing rate of storage, please read theFAQ article.
Known issues:
This release for the new world is incompatible with the experimental change in the customs. Worlds with custom biome generation will likely be unstable, and custom biomes only exist in remote regions currently wiped out.
World Generation for Minecraft Overworld has completely changed with this release. This means that old seeds aren't allowed to spawn players in the same position when players play 1.18. The seeds of the game will produce the same world they were before 1.18.
Fixes:
Performance and Stabilization are the key aspects.
A lot of crashes are coming through the gameplay.
Fixed a crash that could happen when loading a few worlds (MCPE-138139).
Fixed a shiver, causing a bad wind to happen when you travel through a portal shabby-snaking pets.
Optimised the time it takes to put Vines in the Overworld during the World-generation.
General
Changed the status that has not been mentioned in world settings (MCPE-137790) instead.
Players with better parameters like the meter are now required to change those values to the meter – a rate that is above the recommended value.
Replication distance default and max settings were changed for better performance, with the slider enhancements in video settings.
A prompt warns players that they are on course to be redirected to the main menu if they sign-in while they play.
Add the timeout of Realm up and download to 15 minutes.
Gameplay
The newer version of the newer version has been fixed. The newer version of the newer version has been updated.
Hero of the Village effect now applies to all the players who contributed to the killing of a raider once a raid is defeated, and the effect continues to be on the players, even though they are traveling outside the village (MCPE-53384).
Fixed an issue where we could see a terrain through the bridge.
Fixed player hitbox without resetting after gliding with Elytra (MCPE-109925) (not resetting) on any player slapped with a key.
Fixed player flight with Elytra being forced to cancel when you hit a wall and you taken the damage (MCPE-54031).
Mobs
Mobs may also be able to pass through Trapdoors.
I fixed problems with people disappearing from cliffs (MCPE-144208).
Mobs don't walk through Campfires (MCPE-2014-2054) anymore.
Axolotls will fly correctly when airborne (MCPE-131322) was borne.
The sweet fruit can damage mobs, with the exception of the foxes, as well as the mobs (MCPE-56142, MCPE-140012).
Mobs aren't doing anything like wandering through Sweet Berry bushes.
Llamas has a no longer tamed position (MCPE-143006).
If the player moves too far, the mobs despawn after a raid.
Isotopes have no clumsylettos in the Illager Patrols.
Lightning bolts have no shadows.
Fish now try to prevent Axolotls from killing their axolotls.
Magma Cubes are now correctly able to influence the effects of Iron and Slimes are not able to concentrate on Snow and Swallow Golems (MCPE-51162).
Phantoms should be able to free themselves in the end after they are stuck in the mountain (MCPE-119773).
Villagers will keep following their schedules in worlds that have been ticking so long. If game time isn't for a purpose, please return to worlds that have ceased.
Education Edition: NPCs don't have any new sounds (MCPE-141856).
Blocks
Breaking a fire block isn't no longer a visible fire block when a doFireTick gamerule is lost (MCPE-101371).
Players once again keep their breaths on the water, lava and powdered snow with the tap (MCPE-139671) down the place button.
Light blocks will no longer support block that are necessary, such as Beds and Paintings (MCPE-144311).
Light blocks survive the TNT or Creeper explosion (MCM-1417).
The forest vegetation can be placed in Mycelium (MCPE-125928) now.
The shallow water turns brighter when the axes are shifted towards the large leaf MCPE123373 (submerged slicks) (M.E. 123373).
Tall flowers now only drop one item in time for one break when water is placed in the upper half of the flower (MCPE-142799).
Campfires don't drop one Charcoal when broken by a Piston or an explosion; instead, they drop two units as expected (MCPE-139467).
In the Stonecutter, a Copper Block can now be built into a copper block (MCPE-144067).
Gold Ore drops 2-5 (from 2-3), Raw Copper items (MCPE-144071)
The NetherSprouts can, once again, generate when using Bone Meal on Warped Nylium (MCPE-139672) (also called MPR-139672).
Snow Grass Block and any Snowblocks have similar colors now (MCPE-57022).
Fixed leaf blocks aren't transparent when surrounded with partial blocks such as buttons or Slabs (MCPE-139213,MCPE-53731).
Fixed face culling of a leaf block, fixing an x-ray effect.
Items
A simple but simple motion adjustment was required for improved TNT, Lingering and Splash Potions, and Bottle o Enchanting when players go to the other side (MCPE-101102)
Fire Charges aren't consumed when it's used to lit candles, candles, a table, and a barrister, or on other already on fire buildings.
The items for multiple education classes no longer show craftingScreen.tab.none toolstip (MCPE-102444).
Ender Pearls can not reproduce as Glow Sticks in Woodland Mansion-Cafe (MCPE-137440)
Accessibility
The screen reader on the controller's lost connection prompt has been Added.
Graphical
The Carved Pumpkin enchantment glint now only covers the item rather than the whole slot.
Fixed a bug that could occur on older planets, where looking up in a miningcart showed the inside of the minecart, blocking the players' views.
Updated items that were so enchanted don't no longer be invisible in the nether (MCPE-116880).
A visual glitch had detected that removing plants from a flower pot would render the plant still be restored (MCPE-143661)
Water rips, which create splashes.
The switch block animation works perfectly (MCPE-125951).
User Interface
Bye of the Java Edition when you stand up in multiplayer game. A message will now show how many players lie to bed as long as they are awaiting all players to sleep.
The message is clearer when a device isn't stored, so that it can save newworlds.
The colour of the raid boss is red and purple. The Java Edition (MCPE-46047) matched the raid d'ordne (tournal-tunnel) approach.
Raid boss bars now drop when a raider takes a damage.
Construction blockers can be saved and loaded properly within the actual size height limits (MCPE-122643).
After all, it's time to turn out new people and look and feel like changing their worlds.
By changing the user interface to more accurate, certain standards have been applied to the user interface.
The store update prompt didn't appear a few months ago, hence the instantiation of its Internet connection or its start without running any new services.
Redacted the error message to the Play screen when the user permissions for Microsoft Accounts were set to block multiplayer.
Fixed a problem where search for not-existent content brought up an incorrect result message.
Fixed overlapping text on the Marketplace offering in 4:3, reducing time and productivity.
The coloration of the icons in text regenerated, making it impossible for them to be corrected.