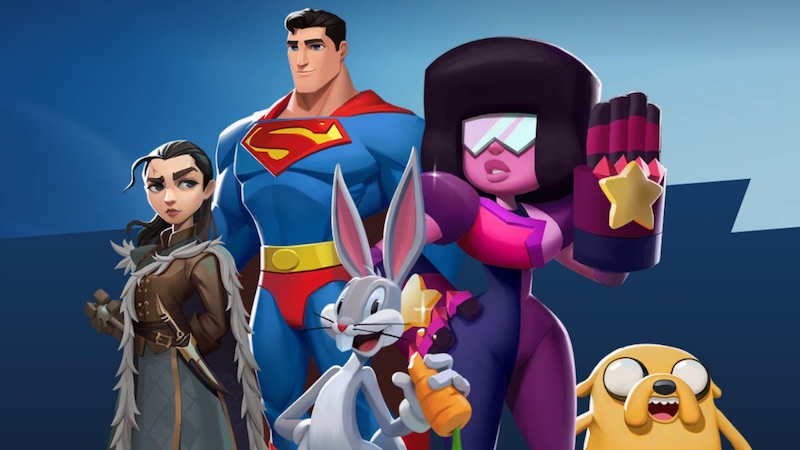 It's official: Warner Bros. Games is working on a free-to-play brawler known as Multiversus, which sees characters from franchises including Batman, Superman, Scooby-Doo, and more coming together in one Super Smash Bros.-style game of fisticuffs.
The game was leaked some time ago and is confirmed to be a two-versus-two brawler coming to PS5, PS4, PC, Xbox Series X/S, and Xbox One. And yes, Cross-Play is supported. Furthermore, the game will support Rollback Netcode.
Here's a list of characters that have been confirmed so far.
Batman (DC Comics)
Superman (DC Comics)
Wonder Woman (DC Comics)
Harley Quinn (DC Comics)
Shaggy (Scooby-Doo)
Bugs Bunny (Looney Tunes)
Arya Stark (Game of Thrones)
Tom and Jerry (Tom and Jerry)
Jake the Dog (Adventure Time)
Finn the Human (Adventure Time)
Steven Universe (Steven Universe)
Garnet (Steven Universe)
Reindog (an original character)
While the core emphasis is on two-versus-two battles, Multiverses will feature 1-on-one battles and a four-player free-for-all punch-up. Each character will have special abilities much like in Super Smash Bros, with Shaggy's seeing him lob sandwiches at people — Zoinks!
Multiversus is coming out in 2022 for PS5, PS4, PC, Xbox Series X/S, and Xbox One.