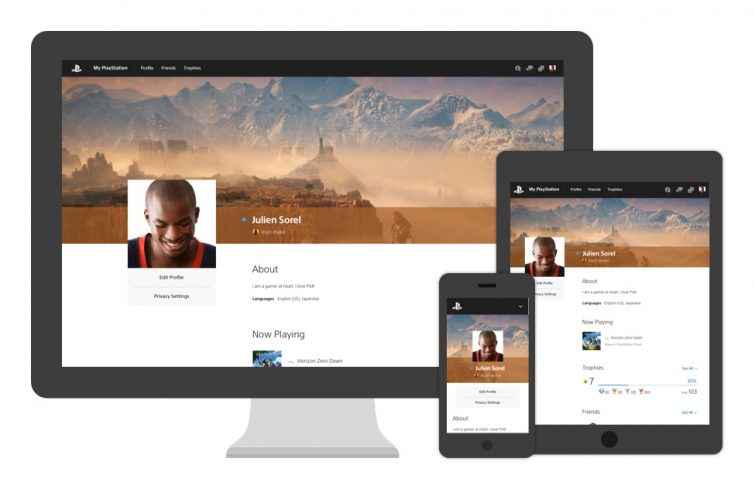 Sony have expanded the PlayStation's social range by creating a new social destination on web called 'My PlayStation'. The web social hub allows you to conveniently access and engage with key PlayStation Network features on PC, Mac, mobile, and tablet. It's meant to be a different way to interact with your friends and the PlayStation community while you're away from your PlayStation 4.
Here are some things you can do on web with My PlayStation, according to the PlayStation Blog post.
Find Friends
Edit your Profile
View you and your Friends' Trophies
Send and manage Friend requests
Send Messages
And you can access the new service in multiple ways:
Click on the My PlayStation link in the navigation bar at the top right of playstation.com
Sign In to playstation.com, click on your profile image in the navigation bar, and click on your name in the dropdown menu
My PlayStation works with most major web browsers on Windows 10, MacOS 10, iOS 10 or above, Android 5 or above.
Brian Dunn, the Senior Product Marketing Manager at SIEA posted the above, and added the following,
The website is already up and running, so go check it out! Our goal is to bring you a compelling social experience even when you're away from your console. We'll continue to enhance and add more features to My PlayStation on a regular basis, so make sure to keep checking in.
This is the social age, so any extra outlets for our PlayStation gaming experience are always welcome. This is a small addition in many regards, but still one that was worth doing. It compliments the console's own social features, as well as those of the PlayStation mobile App.
PlayStation Plus Predictions February 2018
My PlayStation is available now, so go check it out. Or don't. I'm not your Mother.