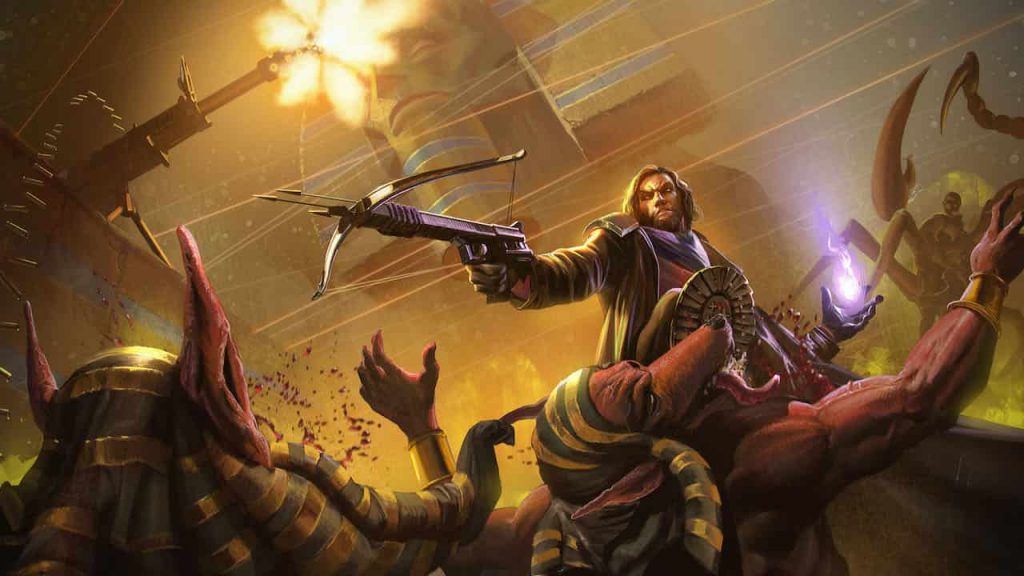 Another week is here and we have collected the new PS4 games coming soon from June 8-14. Highlights this week include the underwater exploration game, Beyond Blue and an old school, retro FPS known as Project Warlock.
New PS4 Games Coming Soon – June 8-14
All of these games will be releasing this coming week according to the PlayStation Blog and the descriptions (if there is one) are from the game's official store pages.
1971 Project Helios – June 9
1971 Project Helios is a turn-based strategy game which combines modern warfare military tactics and close combat. Firearms and vehicles are scarce, conflicts and hostilities have no end, and the terrible freezing cold annihilates friends and foes in its path.
Beyond Blue – June 11
Beyond Blue is a single-player narrative adventure that takes you deep into our planet's beating blue heart. Explore the awesome wonder and unbounded mystery that exists within the world's ocean.
Demon's Tier + – June 9
Enter the dungeons of King Thosgar and destroy his demonic minions! Combining the best elements from Xenon Valkyrie+ and Riddled Corpses EX, this is the latest game in the Diabolical Mind trilogy!
Depth of Extinction – June 11 (US and Canada)
Explore a flooded world and save humanity from a terrible threat in this turn-based, tactical RPG with roguelike elements.
Epic Dumpster Bear 2 – June 9 (US and Canada)
His forest was destroyed by corporate greed, now it's Dumpster Bear's turn for vengeance. Epic Dumpster Bear 2 is an action packed platformer with gameplay that harkens back to the glory days of 16-bit platformers.
Evan's Remains – June 11 (US and Canada)
Years after a boy genius named Evan disappears, a bizarre letter arrives. Evan wants a girl named Dysis to come find him. As Dysis, you'll need to solve an intricate series of puzzles to unravel the entire mystery—and bring Evan home.
Fault – Milestone 1 – June 9 (EU)
Fault is a series of Science Fantasy Cinematic Novels using a unique 3D Camera system for a visually immersive reading experience. Follow Selphine, the bubbly Princess and her sharp-witted Royal Guardian, Ritona, on their journey of a lifetime back to their homeland of Rughzenhaide.
Firechief – June 10 (US and Canada)
Firefighters – Airport Heroes – June 11
Jump King – June 9
Take up the challenge and face true high-stakes platforming in Jump King! Struggle upwards in search of the Smoking Hot Babe of legend, but explore with care; a single missed jump could lead to a long fall back down…
Pity Pit – June 9 (US and Canada), June 10 (EU)
Dig Dug meets Downwell! Dig your doom, save Gwendoline from the Devil Johnson! 2D platforming, digging, ores, crafting, bombs!!
Prison Architect: Island Bound Expansion – June 11
Prison Architect: Island Bound introduces more ways to build and manage your prison with helicopters, ships, and lots of water.
Project Warlock – June 9
Project Warlock is a first-person shooter that fans of Doom, Hexen and Wolfenstein cannot miss. It serves you an exploding cocktail of bullets, spells and monsters. Battle through 60 levels of non-stop action-packed with bloodthirsty enemies and challenging bosses.
Pushy and Pully in Blockland – June 9 (EU)
Pushy and Pully in Blockland is an endearing co-op arcade game that will take you and a friend through ever-challenging levels. Kill monsters, match blocks, defeats bosses. Recover your spaceship and escape Blockland.
Rooftop Runner – June 11 (US)
Super Soccer Blast – June 12 (US & Canada), June 11 (EU)
Kick-off! Super Soccer Blast is an arcade-style football game. Grind your way up, improving your soccer moves match after match, to crush your opponents and become the best.
The Elder Scrolls Online: Greymoor Expansion – June 9
Join over 15 million players in the award-winning online multiplayer RPG. Explore the frozen tundra and snowy mountains of Western Skyrim and stop a powerful Vampire Lord from enslaving Tamriel in The Elder Scrolls Online: Greymoor, part of the year-long gothic adventure The Dark Heart of Skyrim.
Warborn – June 12
Deploy for battle in the Variable Armour, a technologically advanced suit of war. With turn-based tactics and quick-fire clashes, lead a strike force of deadly mecha to bring peace to the solar system in a 40-mission campaign. Create your own maps, practice in skirmish, or battle across multiplayer.
Yoga Master – June 9 (EU)
Thanks to the collaboration of international professional yoga coaches, Yoga Master is the first wellness game of its kind built entirely in 3D and designed by experts to help you reach the perfect balance between mind and body. With a wide range of programs, lessons and more than 150 poses from classic to urban yoga, you'll be mentored by a coach who will accurately show you exercises step by step, performing them with you.
Ys: Memories of Celceta – June 9 (US and Canada)
World-famous red-haired adventurer Adol Christin awakens in the unfamiliar land of Celceta, remembering nothing more than his name. Join Adol and his new friends as he embarks on an adventure to map the wilderness and reclaim his memories in Ys: Memories of Celceta from Nihon Falcom.
Zaccaria Pinball – June 12 (US and Canada)
Zaccaria was founded by three brothers (Marino, Franco, & Natale) and was the 3rd largest manufacturer of pinball machines in the world (behind Bally & Williams). They had created and produced more than 35 different pinball machines between 1974 and 1987.