It seems as if we may be on course to get a Super Mario Maker-like experience with everyone's favourite ghost hunter, Pac-Man, that is if the latest Bandai Namco trademark filing comes to fruition.

Registered today, April 18, the filing gives little detail away bar the fact that the trademark status is 'under examination' and is for 'PAC-MAN Maker', a name that bears more than a passing resemblance with Nintendo's Super Mario Maker.

It's a stretch, sure, but it'd be smart to leverage a beloved IP in a more customization-based capacity, especially considering the mammoth success of Super Mario Maker and the recently released LEGO Worlds. Though Pac-Man is inherently a more linear concept – despite what its 3D failings may attempt to espouse – there's certainly some wriggle room with regards to what Bandai Namco could do.

Also, Nintendo's not yet shown its hand with regards to what it'll do with Super Mario Maker (we expect a Switch release at some point), so it makes sense for the Japanese publisher to get out of the gates as soon as it can and take some of the mindshare.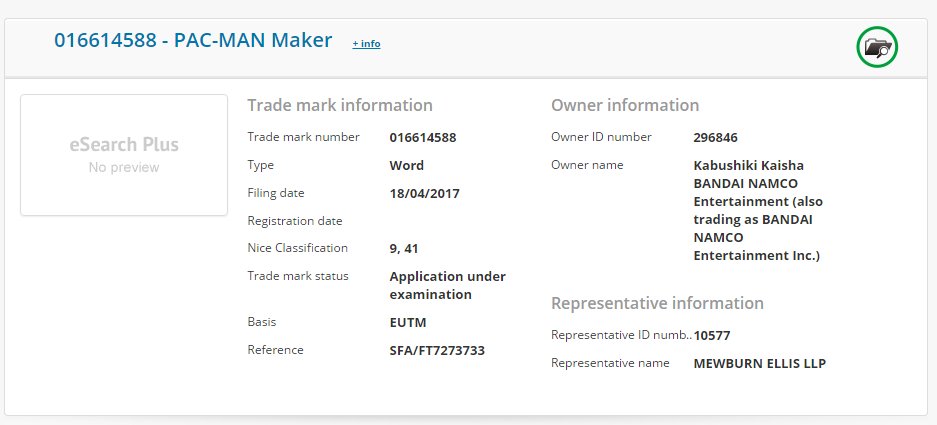 Pac-Man itself has received a little bit of a resurgence what with the success of Pac-Man 256, a mobile-turned-console game that cleverly combined the mechanics of a 'runner' with that of the original game's glitched state upon reaching level 256.

The sequel didn't fair as well but Pac-Man's stock is definitely higher than its been in a while so watch this space as news may arrive in the coming months.