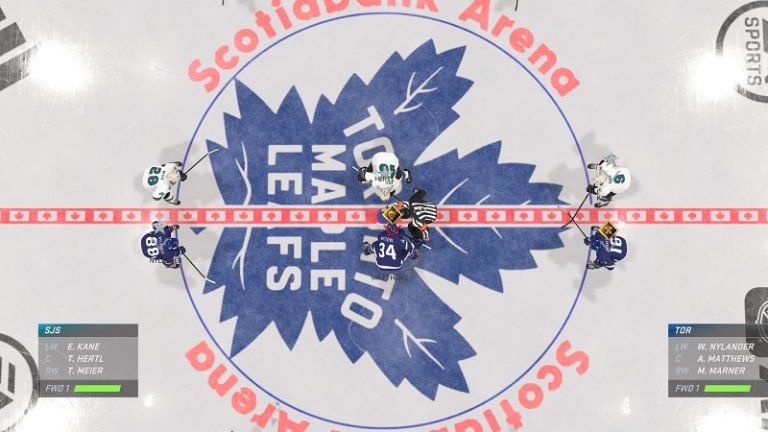 EA Sports has skated out with the NHL 22 update 1.20 patch notes for your to gawk at, which comes equipped with a series of new player likenesses and gameplay adjustments. Read up on the full NHL 22 patch notes below.
Related Content – Sony PS5 Complete Guide – A Total Resource On PlayStation 5
---
Players Likeness
—-
Added the following player likenesses to the game
Kirill Kaprizov – Minnesota Wild
Nico Sturm – Minnesota Wild
Torey Krug – St. Louis Blues
K'Andre Miller – New York Rangers
Gameplay
—-
Receptions, Pickups and Interceptions
—-
– Fixes for some rare cases where the puck would go through the players stick blade as they turn to intercept a pass
– Tuned AI reaction time to be more optimistic while carrying the puck, more human-like on loose pucks and how they defend against the puck carrier
– Improved some cases where players would attempt reaching disrupts that are risky when players could wait and block it more consistent
– Fixed an issue where players would unintentionally spin around when picking up a puck while continuing to hold vision control
– Improved bobble control to keep the puck closer to the intended receiver instead of it redirecting towards the initial pass direction when players who are back skating are unable to play a clean reception
– Improved defensive deflections to get a bigger piece of the puck and steer it further off course when possible to disrupt the play more effectively
– Changed logic for player reaction time on loose pucks so that they don't have to re-react and look clumsy when they were the last player to touch the puck intentionally
– Various animation improvements
AI
—-
– Improvements to cases where AI defenders were turning their backs on the puck carrier in the slot when it would be more ideal to be facing up the ice
– Improved cases where AI defenders would skate away from the puck carrier after grazing the back of the net
– Improvements where AI wouldn't choose to get the puck behind their net
– Improved a case on the rush where against the PK puck carriers were able to skate straight up the middle untouched consistently
– Fixed cases where the AI wouldn't hustle on potential breakaways
– Improvements to offensive AI looking for one timers that are parking themselves too close to the middle of the net
Goalies
—-
– Fix for cases where goalies would do a late save animation when not near the puck
– Fixed some cases where the goalie would start a push animation when the puck carrier is about to collide with them, causing pucks to go underneath for goals
– Fix for when the AI goalie would dump the puck into the bench consistently when pressured
– Improved cases where goalies would attempt covers through the side of the net
– General tuning for how the ai goalie tracks the puck
Physics
—-
– Further improvements to stick in physics regarding the strength of a defenders stick versus a puck carriers legs based on leverage and/or how much the stick impedes the player
– Fix to keep the stick in physics during one timers longer
– Fixed an issue where players could slingshot themselves forward after incidental contact with defender
– Reduced the arm swing & snap of the free arm when skating close to the boards with the free arm on the board side to minimize problems of arms getting stuck on the boards
– Fixed a case where player's arms would break as their stick collides with a player in poke check
Shooting
—-
– Added more variety to deflection location on deflections that push the puck down based off Hand eye rating
– Improved catch and release one timers from long distance that were not being treated as good quality shots
– Improvements to shot selections where reaching shots were being chosen instead of ideal shots from where the puck starts
– Fixed an issue where deflections could redirect the puck unrealistically if the original shot changed direction
– Tuned cases where players were able to react too quickly to a disrupted pass while in a one timer windup
General
—-
– Fix to just disallow goals instead of giving a minor penalty on goalie interference that does not knock over the goalie
– Tuned sticklift targeting in situations where players unintentionally were overshooting ideal stick lift target
– Improved cases where poke checks would sometimes stop on their way towards the puck resulting in weaker pokes than intended
– Fixed an issue where after hitting an opponent and causing a injury/fight, players would fail pickups on the puck for no reason
– Fix for time window being too short when accepting a fight after the whistle
– Fixed a few issues where players would remain stuck in unrealistic animations during offplay when attempting to share their stick
– Fix for users who were getting an excessive amount of penalties in EASHL drop-in was not resulting in that user getting kicked from game
– Various gameplay crash and desync fixes
World of Chel
—-
– Added additional content into WoC for upcoming Chel challenges. Check back often to collect the latest cool new content.
– Added new goal music and animations to creation zone
– Fixed an issue where the text is appearing the wrong color during the intermissions of a Threes Eliminator game
– Fixed an issue where some Creation Zone text was too dark to be legible
– Fixed the text color on Report content screen so it is visible against the light background in EASHL Drop-in
– Fixed the text color not being legible against the background during the intermission waiting to resume screen
– Fixed a debug text issue for a Zone Ability in the Edit Loadout screen
– Fixed an issue where max character names were overlapping X-Factors icons in the dressing room
– Fixed an issue where the World of Chel end of season screen text was illegible
– Fixed an issue where tabbing away from clubs was causing other text to change colors
– Fixed a legibility issue with the Ones Eliminator Accessibility screen
– Fixed a text issue that explains which divisions qualify to play in which cups during Club Finals
– Fixed an issue where black text was on a dark background when loading into a club finals match
– Fixed an issue where the instant replay interface would overlap in game after selecting it as the pause menu timer reached 0
– Fixed an issue where new users were receiving a message "you are no longer part of the club" when that user has not yet been on any club
– Fixed a desync that would occur during 6v6 EASHL matches
– Fixed an issue where the Club Finals history text remained on screen after tabbing away from the screen
– Fixed multiple issue where tabbing away from a screen quickly would sometimes cause text corruption
– Fixed several creation zone item identification issues
– Fixed an issue where button input functionality wasn't responding correctly after backing out of a Dressing Room
– Fixed an issue where the screen wasn't properly handling a user being removed from a dressing room if they were editing a loadout
– Fixed an issue where some Club Jerseys color selectors were not correctly reflecting the selected colors
– Fixed an issue where the Rewards tab indicator would be present when there was no reward bags to open
– Fixed an issue where the time stamp was missing in instant replay for Ones Eliminator
– Fixed an issue where removing a user from the home group while they were still in the post-game flow didn't remove that user
– Fixed an issue where the change jersey image in Post-Matchup Dressing Room was too big
– Fixed an issue so Private session Dressing room passwords are now displaying the case sensitive password
– Fixed an issue where applying a front logo to a club jerseys would disappear when the user returned to the World of Chel Hub
– Fixed an issue where the play by play names wouldn't update when a player of club name was changed
– Fixed an issue where the cache wouldn't refresh after a challenge card item was being claimed
– Fixed an issue where the warning wasn't being displayed after resetting attributes in edit loadout
– Fixed an issue where changing modes while editing loadout would cause World of Chel Hub Tabs to appear
– Fixed an issue where input would sometimes become laggy after changing your loadout in a dressing room
– Fixed an issue where the Social Widget option would disappear when changing Game modes
– Fixed an issue where players were not being removed from EASHL Drop-in games for poor team play if they got too many penalties
– Fixed the scrolling speed for edit player and creation zone
– Fixed an issue where the controller would lose down input functionality customize club from the club creation flow
– Fixed an issue where all modes became locked after joining an Club
– Fixed an issue where an X-factor icon would sometime light up for a player sitting in the penalty box
– Fixed an issue where a clubs Away Jersey would be displayed in the World Of Chel Hub instead of the Home jersey after exiting creation zone
– Fixed a hang that would sometimes happen when loading into a Threes Eliminator game
– Fixed an issue where accepting an invite while on a loading screen would lead to soft locking the opponent after matching up
– Fixed an issue where the World of Chel hub environment would break if the user accepted an invite during the post-game flow
– Fixed a first time user experience that resulted in the World of Chel hub environment lighting being too bright
Franchise Mode
—-
– Added X-Factor filter into Player search
– Fixed an issue where the free agent status on the contract offer overlay was sometimes incorrect
– Fixed an issue where the team abbreviation was not always showing on Full Career Stats
– Fixed an issue where an NHL goalie could have an AHL goalie mask assigned
– Fixed an issue where Career Goals was not always updating in the record book
– Fixed an issue with the Draft Lottery popup was not showing all 16 teams that missed the playoffs
– Fixed an issue in 33rd team Expansion where the 2021 Draft Class were already on their respective teams
– Improved line chemistry visibility
– Misc UI Fixes
Be a Pro
—-
– Fixed logic that caused long term storylines not to spawn
– Fixed logic that caused some storylines to spawn when they weren't supposed to
– Fixed X-Factor unlock progress that wasn't being properly displayed in the abilities screen
– Fixed an issue where Franchise Record conversations were showing in the rookie season when the user was drafted to Seattle
– Misc Conversation fixes
– Misc UI fixes
HUT
—-
– Added an option to Autofill Sets from the Trade Pile
– Added an option to Deactivate Abilities for all players in the Ability Limits screen
– Added the Item Type name in the Player Bio for non-Upgradeable Items
– Added the ability to Claim Objective Rewards from the Post-Game screen
– Fixed multiple issues with illegible text (white text on white background or black text on black background)
– Fixed an issue where Player and Goalie stats were not accurate when presented before a faceoff
– Fixed an issue in Edit Lineup where viewing Player Information would sometimes view the wrong player
– Fixed an issue where Inbox and Opened Pack counts don't refresh in the Manage Inbox popup after completing a Set
– Fixed an issue where Relist All appeared as an option when Comparing Prices from the Trade Pile
– Fixed an issue where the 'In Reverse' Ability text was not legible in the Player Information screen
– Fixed a crash that happened when switching from Compare Price to the Player Information screen in the Trade Pile
– Fixed a crash that would occur when changing profiles on a guest before advancing to a game
– Fixed a crash that would sometimes occur during Play of the Period in Squad Battles
Art
—-
Center Ice Changes
—-
Updated the following Center Ice layouts
– Updated Anaheim Ducks Center Ice Line
– Fixed Colorado Avalanche Ball Arena logo to be black
– Fixed Columbus Blue Jackets Nationwide Arena text to be black not blue
– Updated the Dallas Stars Center Ice Logo
– Updated the Florida Panthers Center Ice logo
– Fixed St. Louis Blues center ice circle and logo to the proper sizing
– Fixed Winnipeg Jets Center changed faceoff dot to blue
Uniforms
—-
The following uniforms have been added or updated in NHL 22
NHL
– Los Angeles Kings Alternate
AHL
– Chicago Wolves Alternate
– Providence Bruins Home, Away and Alternate
ECHL
– Kansas City Mavericks Home, Away and Alternate
– Orlando Solar Bears Alternate
– Rapid City Rush Home, Away and Alternate
– Tulsa Oilers Alternate and 4th Alternate
Canadian Hockey League
– Baie-Comeau Drakkar Home and Away
– Gatineau Olympiques Home and Away
– Kingston Frontenacs Home and Away
– Moose Jaw Warriors Away
– Prince Albert Raiders Home and Away
– Quebec Remparts Alternate
– Regina Pats Alternate
ICE Hockey League
– Dornbirn Bulldogs Home and Away
– EC GRAND Immo VSV Home and Away
– EC-KAC Home and Away
– EC Red Bull Salzburg Home and Away
– HYDRO Fehervar AV 19 Home and Away
– Moser Medical Graz 99'ers Home and Away
– HC TWK Innsbruck "Die Haie" Home and Away
– iClinic Bratislava Capitals Home and Away
– SPUSU Vienna Capitals Home and Away
– Steinbach Black Wings Linz Home and Away
Improvements
– Fixed the St. Louis Blues All-Star arena ice to show the proper art