No Man's Sky, the ambitious space-based survival game from Hello Games will get a major new free upgrade on July 24 called NEXT. Now we know that No Man's Sky NEXT is confirmed to contain a multiplayer component.
It sees Sony's exclusivity deal for console end as Xbox One will get No Man's Sky this Summer as well. The news was tweeted out by Hello Games' Sean Murray.
Play No Man's Sky with your friends online July 24th A free update for PS4, PC, and launch on Xbox. Explore together, meet random travellers, build shared bases, dog fight, race vehicles. We're so happy this is ༼ つ ◕_◕ ༽つFINALLY༼ つ ◕_◕ ༽つ happening
No Man's Sky NEXT: Is VR on the Cards?
Murray originally insisted back in March he only revealed No Man's Sky NEXT early to beat a potential leak. Back then it contained a further, quite sneaky hint that virtual reality is on the cards.
At the end of the teaser video, you see listed alongside the logos for PS4, Xbox One, Steam, and Tencent wegame (China's answer to Steam) is the logo for a Chinese virtual reality company W/ARE.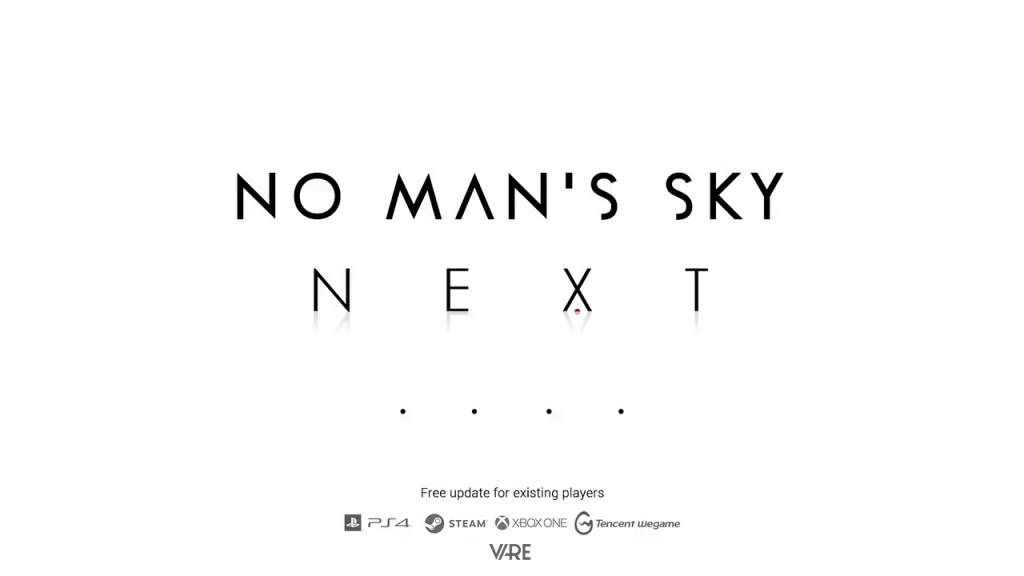 What's interesting about W/ARE is that it seems suspiciously like an AR marketing stunt by Hello Games. The tech involved is just that little bit far-fetched, and the text is littered with the word <CORRUPTED>. All things on the site suggest the next step in virtual reality.
It may mean that while we don't know exactly what VR device is being worked on for No Man's Sky, it does at least appear that VR is happening in some way, shape or form.
Hello Games' founder Sean Murray doesn't often post on Twitter, well not since the community was a little bit annoyed that No Man's Sky didn't quite live up to expectations. However, bak in March he tweeted something a bit cryptic that may well have tied into this announcement.
No Man's Sky NEXT: Content Hint
He shows a picture of his phone, which initially seems quite normal. On the phone are numerous games like Limbo, ThimbleWeed Park and Don't Starve. However, at the top are the words 'Telegram' followed by some characters and digits.
They read: 6d, 6f, 72, 70, 68, 65, 75, 73.
The cause is hidden
The effect is visible to all #oneonebst pic.twitter.com/NTl0BOq7Kt

— Sean Murray (@NoMansSky) March 28, 2018
This is Hex Code. The Hex translation of this is 'Morpheus'. Morpheus was the codename of PlayStation VR when it was in development. If you put two and two together it suggests that No Man's Sky will be PSVR compatible at some point.
Hex code for Morpheus… wasn't that the PSVR code name before it was PSVR?

— Ryan Hunt (@LimeCrushByron) March 28, 2018
PlayStation VR support for No Man's Sky has been rumored for some time. It became one of the most requested titles that fans wanted as a virtual-reality experience prior to the launch of the game in 2016.
When Sean Murray was interviewed by Kinda Funny Games in March 2016, he said that NMS would be an "exciting" game for VR.
"I think – I'm probably saying too much but – I think No Man's Sky would be a really exciting title for VR. I think it would be a cool thing, right? But we're like a tiny team working on this game right now," he told the show's host.
Something had awoken Murray. It was the first time he'd tweeted two days running for a very long time (not that we're stalking him or anything). Not sure if this has anything to do with No Man's Sky PSVR support….
#2012vs2018 pic.twitter.com/1ur5HoBuSW

— Sean Murray (@NoMansSky) March 27, 2018
For the record, despite some of the negative feedback, we like No Man's Sky. The potential was huge, and it vastly improved after some updates. The big reason for the backlash was because fans expected it to be something that it wasn't. As an exploration-based, sci-fi adventure, however, it's rather good.
Are you looking forward to finally getting No Man's Sky NEXT multiplayer? Will we still see VR?