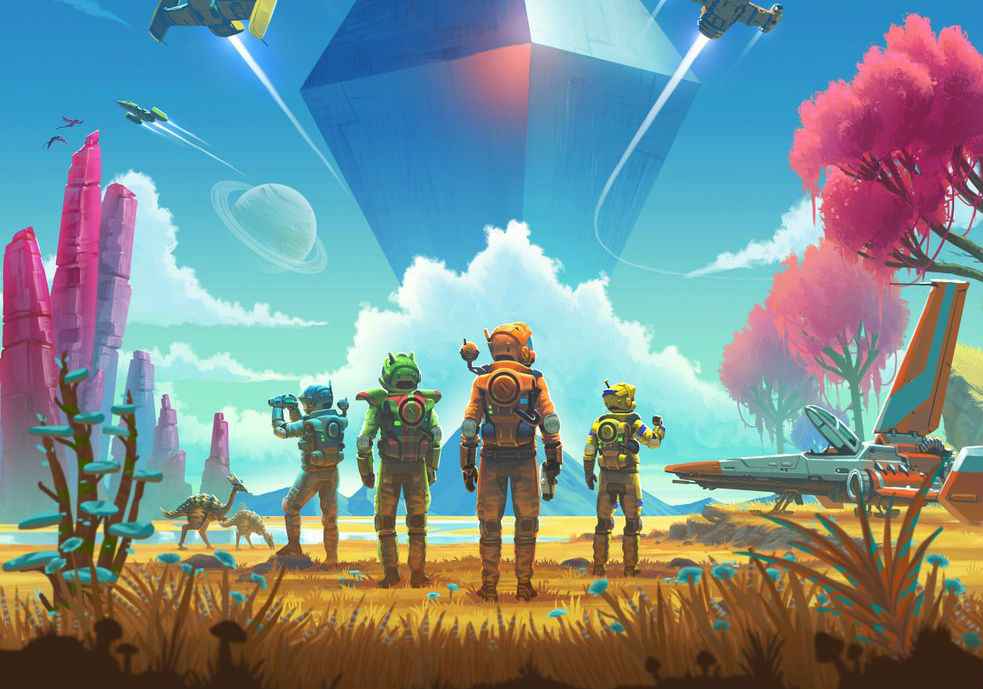 No Man's Sky, the ambitious space-based survival game from Hello Games has now received its major new free upgrade called NEXT. Though multiplayer was already confirmed, we finally get to see some of the changes in action in a brand-new trailer and patch notes.
Accompanying the first look at No Man's Sky NEXT is news that players can look forward to multiplayer missions, and a whole lot more.
There's updated visuals, a new third-person viewpoint and character customization. Base building is also extended and there's unlimited base building. They'll also freighter fleets.
The No Man's Sky update 1.5 patch notes have landed. Check out the changes.
No Man's Sky Update 1.5 Patch Notes
In-Game Community Content

Soon after the release of No Man's Sky NEXT, Hello Games has planned its first season of weekly content and community events.
This will be free for all players, with no microtransactions. Take part in these community missions to unlock new rewards and customisations.
Players will also be able to interact with Xbox One Mixer streamers by helping or hindering their gameplay.

Galactic Atlas Website

NEXT marks the launch of a new website dedicated to the community, which we're calling the Galactic Atlas.
The site features points of interest in the No Man's Sky Euclid Galaxy, and will grow in functionality and expand over time, in part through your feedback.
Key Regional Hubs are marked, with discovery statistics and community events appearing soon.

Crafting and Resources

All core substances and resources have been reworked and rebalanced to increase consistency and realism.
Planetary resources have been expanded, with unique substances and items to find and refine based on the planet's biome and weather, as well as stellar classification.
Deployable tech can be picked up and carried in your inventory.
Crafting is deeper with the addition of buildable refiners. Convert raw substances into more valuable materials for constructing advanced products and base parts.
Experiment with refiner recipes to discover all the possibilities!

Procedural Tech

Discover unique procedurally generated technology to upgrade your Exosuit, Multi-Tool and Starships.

Exploration, Fauna and Flora

Find and excavate buried ruins with the Terrain Manipulator to unearth locked ancient treasures.
Use the Terrain Manipulator to locate buried technology modules and turn the salvaged components into new base parts with the Blueprint Analyser.
Some creature types will herd together, grazing and fleeing from danger as a group.
Creatures now respond more enthusiastically to being fed, recognising you as a friend and alerting nearby creatures to the food source.
Creature movements now appear more natural and intelligent, with improved AI and entirely revamped animations.
Sentinel behaviours and animations have been improved. Players can stand their ground in combat, or take advantage of the time between reinforcement waves to escape and find a place to avoid Drone scans and searches.
No Man's Sky NEXT: Is VR on the Cards?
Murray originally insisted back in March he only revealed No Man's Sky NEXT early to beat a potential leak. Back then it contained a further, quite sneaky hint that virtual reality is on the cards.
At the end of the teaser video, you see listed alongside the logos for PS4, Xbox One, Steam, and Tencent wegame (China's answer to Steam) is the logo for a Chinese virtual reality company W/ARE. However, there is no mention of PSVR following the launch of No Man's Sky update 1.5.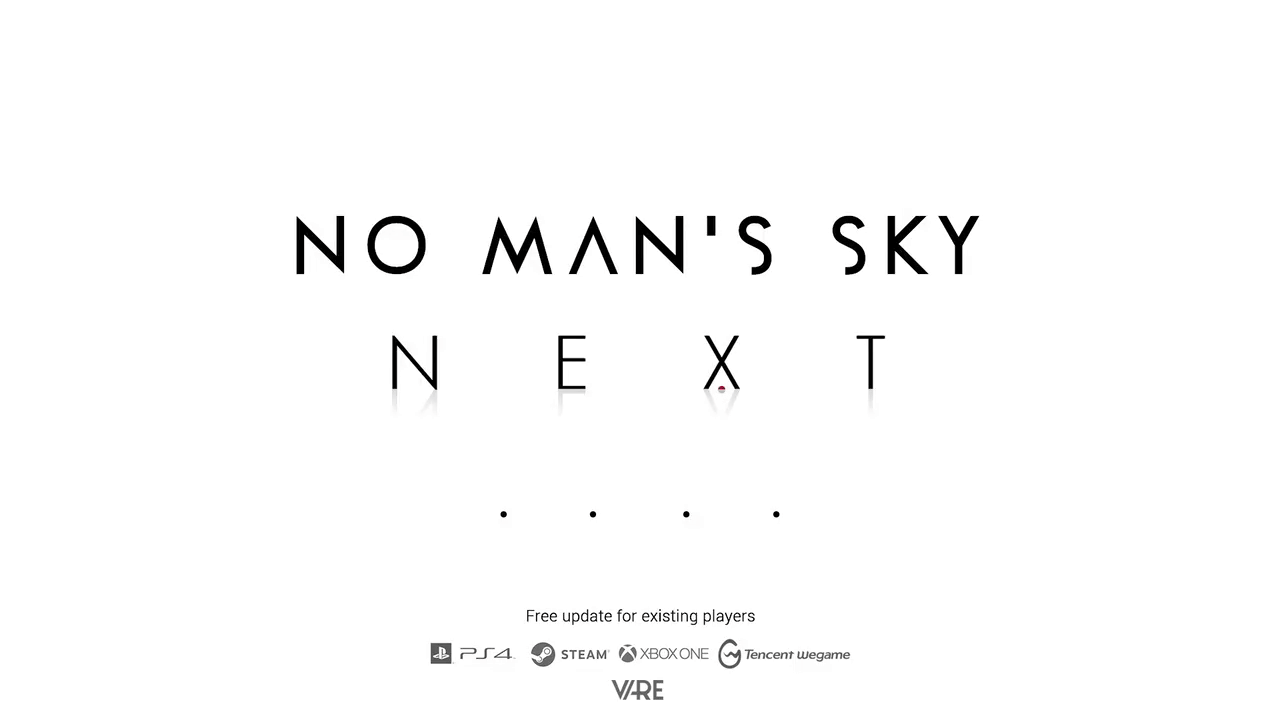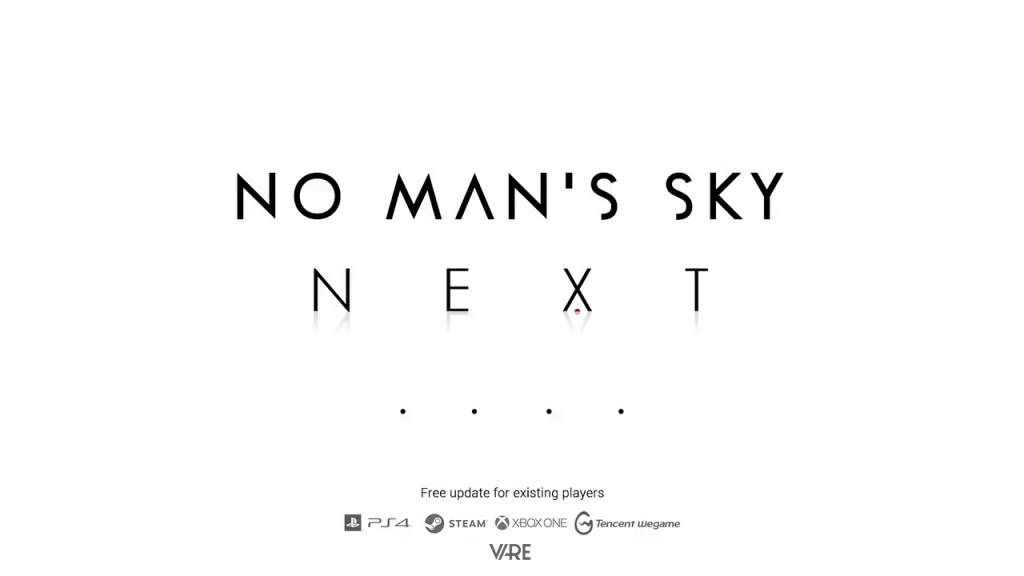 What's interesting about W/ARE is that it seems suspiciously like an AR marketing stunt by Hello Games. The tech involved is just that little bit far-fetched, and the text is littered with the word <CORRUPTED>. All things on the site suggest the next step in virtual reality.
It may mean that while we don't know exactly what VR device is being worked on for No Man's Sky, it does at least appear that VR is happening in some way, shape or form.
Hello Games' founder Sean Murray doesn't often post on Twitter, well not since the community was a little bit annoyed that No Man's Sky didn't quite live up to expectations. However, back in March he tweeted something a bit cryptic that may well have tied into this announcement.
PlayStation VR support for No Man's Sky has been rumored for some time. It became one of the most requested titles that fans wanted as a virtual-reality experience prior to the launch of the game in 2016.
When Sean Murray was interviewed by Kinda Funny Games in March 2016, he said that NMS would be an "exciting" game for VR.
I think – I'm probably saying too much but – I think No Man's Sky would be a really exciting title for VR. I think it would be a cool thing, right? But we're like a tiny team working on this game right now, he told the show's host.
Something had awoken Murray. It was the first time he'd tweeted two days running for a very long time (not that we're stalking him or anything). Not sure if this has anything to do with No Man's Sky PSVR support….
#2012vs2018 pic.twitter.com/1ur5HoBuSW

— Sean Murray (@NoMansSky) March 27, 2018
For the record, despite some of the negative feedback, we like No Man's Sky. The potential was huge, and it vastly improved after some updates. The big reason for the backlash was because fans expected it to be something that it wasn't. As an exploration-based, sci-fi adventure, however, it's rather good.
Are you looking forward to finally getting No Man's Sky NEXT multiplayer update 1.5 today?