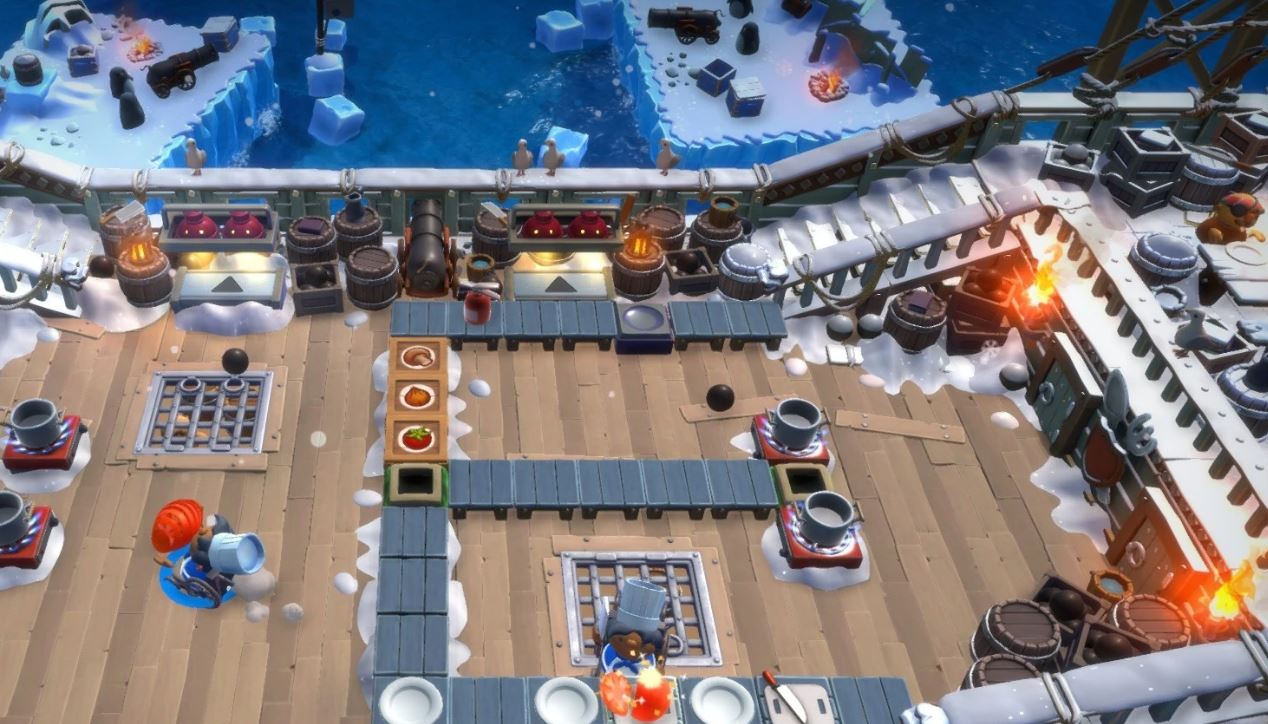 The Overcooked! All You Can Eat PS5 trophy list has been revealed, with a new set of trophies for both of the game's and it asks you to do a good variety of different tasks in the kitchen, clocking in at 43 trophies: 1 Platinum, 3 Gold, 11 Silver, and 28 Bronze.
Legendary Chef
Complete all Trophies
Platinum
Hero of Thyme
Complete Overcooked! and save the Onion Kingdom!
Gold
The Unbread
Complete Overcooked! 2 and save the Onion Kingdom…again
Gold
World Renowned Chef
Discover all locations/ levels in the main games
Gold
All You Can Eat
Complete The Ever Peckish Rises campaign
Silver
World Traveler
Complete the first level in all Worlds 1's
Silver
Hot Pot Shot
Throw 100 ingredients into a cooking pot
Silver
Rooting For You
Win a kitchen in Versus Mode
Silver
Would You Like Fries With That?
Complete an Extra Trimming world
Silver
Lettuce Begin
Complete Overcooked! and Overcooked! 2 tutorials
Silver
Fast Food
Complete 5 tickets in under 30 seconds in Classic Mode.
Silver
Clockwork Kitchen
Complete a level in Classic Mode by doing all the recipes in order.
Silver
It's Bean Emotional
Use every emote
Silver
If You Can't Stand the Heat
Extinguish a burning kitchen
Silver
Careful Driver
Run over Unbread 10 times
Silver
Kitchen Nightmares
Complete a kitchen in the Munch Mansion
Bronze
Out of this World
Complete a kitchen in Cosmic Canteen
Bronze
Pop!
Complete a kitchen on a Balloon
Bronze
Get Berried
Complete a kitchen in the Mines
Bronze
Racoon Magic
Teleport as the Racoon
Bronze
This is Fine
Have 10 tiles on fire at a time
Bronze
Clutz in the Kitchen
Respawn 10 times
Bronze
It's RAAW
Deliver a wrong dish 10 times
Bronze
It's COLD
Keep a finished meal 30 seconds before serving it
Bronze
It's a Cook-Off!
Finish 15 games in Versus Mode
Bronze
Bangers and Trash
Put 99 items in the bin
Bronze
Fire Hazard
Use the Flamethrower to cook 20 items
Bronze
Dinner Party Posse
Finish 15 kitchens in Arcade
Bronze
The All Seeing Fry-Cook
Play a level with 4 chefs wearing glasses
Bronze
Calculated Risk
Save An Ingredient From Burning At the Last Possible Second
Bronze
Bear Picnic
Play a level from Campfire with 4 Bear Chefs
Bronze
Boxing Champion
Get 3 Stars in a level where each player is a Box Chef. Only available in Classic Mode.
Bronze
Something Fishy
Play as a Aquatic creature in a Sushi Level
Bronze
New World Order
Play a level with 4 Reptile Chefs
Bronze
Monster Mash
Play Overcooked! 4-2, with a Werewolf, a Ghost and a Vampire Chef
Bronze
Space Jelly
Throw and Catch an Ingredient between 4 Alien chefs 15 times without dropping it
Bronze
Food Critic
Throw 5 Tomatoes at another player
Bronze
Infestation
Play Overcooked! 2-2, with 4 players all using the Rat chef
Bronze
They Suspect Nothing…
Play a level with 4 players, of which 3 are the same chef
Bronze
You're a Real Pizza-work
Push someone off a level
Bronze
Back in my day…
Attempt to throw something in Overcooked!
Bronze
Can You Pet The Dog?
Pet Kevin in Overcooked!
Bronze
Can You Still Pet The Dog?
Pet Kevin in Overcooked! 2
Bronze
Overcooked! All You Can Eat releases for PS5 on November 12, 2020, in the US and November 19, 2020, in the UK and EU.
Source – [PSNProfiles]