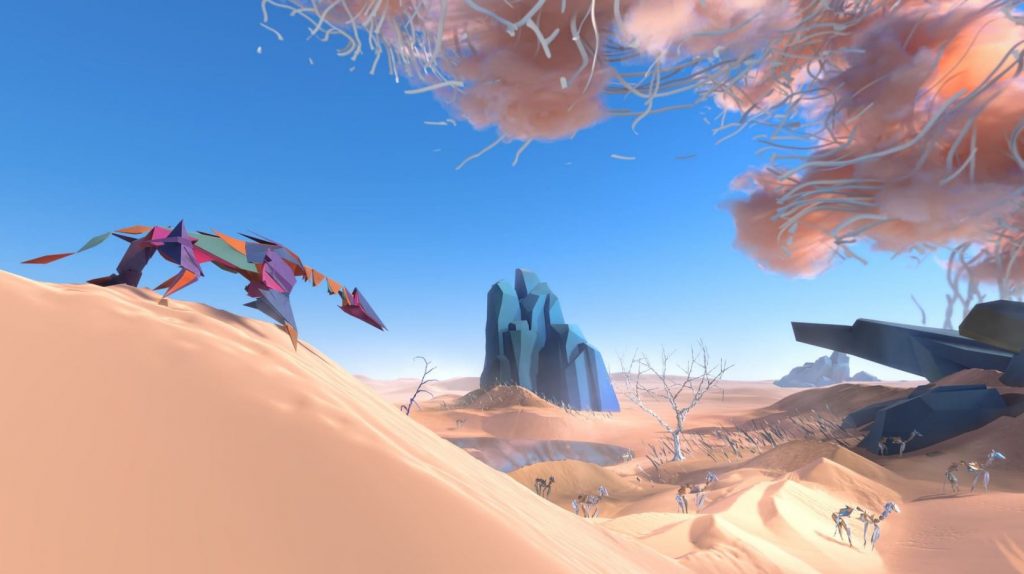 A new trailer for the upcoming PSVR adventure game, Paper Beast, has just gone live after the game was announced earlier in 2019.
Paper Beast is being spearheaded by Eric Chahi, who is known for his work on Another World and From Dust. His new studio, Pixel Reef, is creating this gorgeously stylised exploration game. Within the game, you will interact with wildlife located all around the explorable area. Interacting with the environment and wildlife will then cause it to adapt to your actions.
You can see some of those interactions below in the new trailer:
The game looks absolutely stunning and I can't wait to interact with everything I can and see just what happens when I do. The game has a lot of potential to create some stunning setpieces and offer a sense of scale that thrives so well in VR.
On top of that, Pixel Reef are focusing on creating the best possible audio with Paper Beast. A press release went into some more detail on just what the team are doing to perfect the atmosphere of the game:
Paper Beast is a poetic fusion of VR technology and immersive gameplay experiences. A deep simulation system has been developed to bring the game universe to life. To emphasise the experience three talents are working full time on the spatial audio. The original soundtrack from British music artist Roly Porter highlights the immersion as you find your way in this colorful and poetic universe. And like the icing on the cake The Japanese All Girl Art Punk Rock Band TsuShiMaMire also took part in the adventure!
Paper Beast is set to launch for PSVR later in 2019.
What are your thoughts on Paper Beast? What features stand out to you the most? Did you play Eric Chahi's previous games, Another World and From Dust?