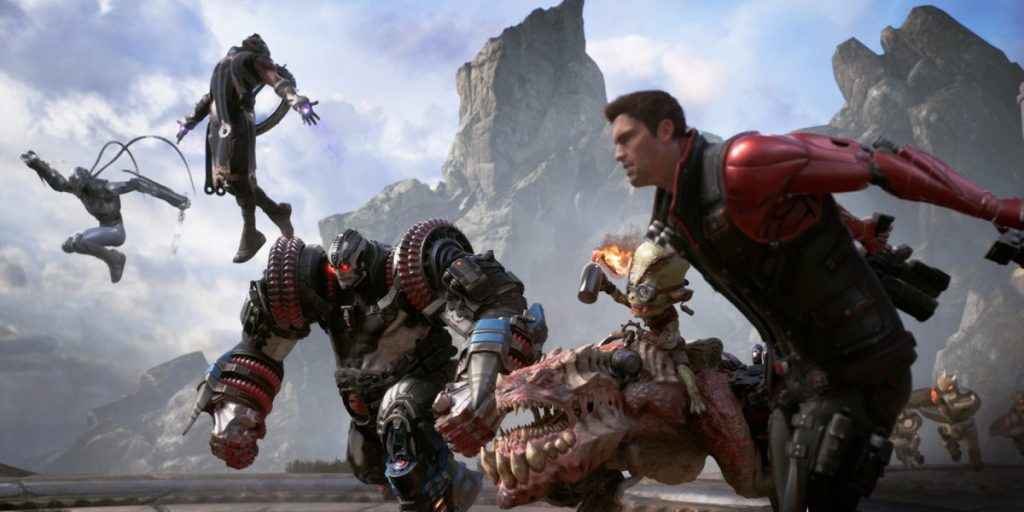 The future of free-to-play MOBA Paragon isn't looking good. Epic Games has released a statement explaining that future updates may be much slower due to the outstanding success of its survival multiplayer game, Fortnite.
Posting on Reddit, the developers says the success of Fortnite has caused them to ponder the future of Paragon. He admits that progress on the game has been slow recently because some of the team members have switched over to working on Fortnite tweaks and updates.
Paragon Updates Will Be Slower
Here inside Epic, we're talking about the future of Paragon in pretty much the same terms as you're talking about it. The core challenge is that, of new players who try Paragon, only a small number continue to play regularly after a month. Though Paragon has evolved, no iteration has yet achieved that magical combination of ingredients that make for a sustainable game. (As an aside, the problem isn't marketing or how to make money with Paragon. We have good ideas that would solve those problems if we can find a way to make Paragon grow.)
Epic Games do go onto to say that they'll be having an internal meeting about Paragon to work out if they can evolve it further, but says that Paragon's release cadence will be slower.
In the meantime, the Paragon v45 update is due to launch this week and includes the new Mountain Forge Terra skin, as well as hero adjustments and other tweaks.
Paragon update v45 update patch notes
Mountain Forge Terra
Withstand the breath of a thousand dragons with the new Mountain Forge Terra skin.

STORE CONTENT

Added:

Mountain Forge Terra Skin

HEROES

Jump Pad animation added for all Heroes.

AURORA

Frozen Simulacrum
Aurora is now untargetable until she lands.
Hoarfrost
Damage increased from 88/117/146/176 to 99/146/193/240.
Scaling increased from 1.04 to 1.67.
Polish and Bug Fixing
Minor animation improvements to Sword Sculpture emote.

COUNTESS

Feast
Countess will now deal damage to heroes that are Unstoppable if they are near Countess after the initial stun.
CRUNCH
Polish and Bug Fixing
Minor improvements to Crunch's sound effects.

DEKKER

Slow Bubble
Damage increased from 123/176/228/281 to 135/220/305/391.
Scaling increased from 1.88 to 3.05.

DRONGO

Rad Rounds
Damage increased from 38/81/128/179/236/296 to 43/91/144/203/267/335.
Scaling increased from 1.54/1.68/1.82/2.04/2.14/2.36 to 1.71/1.89/2.11/2.29/2.43/2.64.

GIDEON

Polish and Bug Fixing
Minor improvements to Gideon's sound effects.

GREYSTONE

Reforged
Cooldown increased from 180/120/60s to 180/130/80s.
General Balance
Base Health Regen increased from 1.14 to 1.18.
Health Regen per level decreased from 0.13 to 0.11.

GRIM.EXE

Displacement Blast
Damage increased from 88/140/193/246 to 99/158/216/275.
Scaling increased from 1.88 to 2.09.
General Balance
Base Mana increased from 277 to 332.
Mana per level increased from 15 to 21.
Base Mana Regen increased from 1.02 to 1.21.
Mana Regen per level increased from 0.05 to 0.07.

IGGY & SCORCH

Polish and Bug Fixing
Improvements made to Basic Attack effects.
Minor visual improvements to the So Sleepy emote.

KWANG

Light of the Heavens
Armor granted decreased from 20/40/60/80 to 15/27/39/51.
General Balance
Base Health decreased from 686 to 652.
Base Health Regen decreased from 1.14 to 1.09.

BELICA

Polish and Bug Fixing
Various effects improvements.

MURIEL

Alacrity
Cooldown increased from 7s at all levels to 10/9/8/7s.
Serenity
Slow duration decreased from 3s to 2.5s.
Consecrated Ground
Cooldown increased from 9s at all levels to 12/11/10/9s.

NARBASH

Thunk
Damage increased from 88/140/193/246 to 99/152/205/257.
Polish and Bug Fixing
Minor visual fixes for all Tier 1 Narbash skins.

PHASE

Energy Lance
Total damage increased from 100/150/200/250 to 130/200/270/340.
Scaling increased from 1.8 to 2.1.
Hyperflux
Cooldown decreased from 130/115/100s to 120/105/90s.
Polish and Bug Fixing
Minor improvements and fixes to ability effects.

RAMPAGE

Rumble
Damage decreased from 94/152/211/269 to 94/140/187/234.
Scaling decreased from 2.09 to 1.67.
Enraged
Cooldown increased from 90/70/50s to 90/75/60s.
Duration decreased from 12s to 10s.
Polish and Bug Fixing
Minor improvements and fixes to ability effects.

REVENANT

Hellfire Rounds
No longer counts as an ability casted, in regards to Card interactions.
Polish and Bug Fixing
Minor visual improvements to the Master Revenant skin.
Minor improvements to reload animation.

RIKTOR

Electrocute
Mana cost decreased from 80/90/100/110 to 65/70/75/80.

SPARROW

General Balance
Base Basic Attack Damage decreased from 50.2 to 45.9.
Basic Attack Damage per level decreased from 3.4 to 3.2.
Polish and Bug Fixing
Minor visual improvements to the Zechin Huntress and Rogue skins.

STEEL

Bulwark
Mana cost decreased from 100 to 40.
General Balance
Base Health decreased from 741 to 725.
Base Health Regen decreased from 1.23 to 1.21.

TERRA

Counter Guard
Now blocks Damage and Crowd Control (CC) from Cards with CC
Cryo Agent is an exception as the damage and CC are separate instances.
Now blocks the Slow from Hunter's Sight (Black Jungle Buff) and the Damage-Over-Time from Stinging Orb (Orange River Buff).
Fixed an issue that was preventing Terra from taking card related self-damage while Counter Guard was active.
Cooldown decreased from 12/10/8/6s to 8/7/6/5s.
Mana cost decreased from 50 to 25.
Ruthless Assault
Mana cost decreased from 80/90/100/110 to 60/65/70/75.
Minor fixes and improvements to ability effects.
Deafening Command
Mana cost decreased from 90 to 75.
Will no longer go on cooldown if it is interrupted before dealing damage.
Unstoppable Force
Cooldown decreased from 120/110/100s to 110/95/80s.
Polish and Bug Fixing
Minor visual improvements to Terra's recall animation.

THE FEY

Harvest Nettles
The Fey now gains Mana based on how much she spent to cast Harvest Nettles when using the Tireless Reaper card.

WRAITH

Polish and Bug Fixing
Changed the way we detect when Back It Up! fails to teleport its target. Added improved feedback for players when a failure occurs.

WUKONG

Has been re-enabled.
Staff of Legend
Fixed an issue causing this ability to be exploitable.
Damage decreased from 117/170/222/275 to 105/152/199/246.
Scaling decreased from 1.88 to 1.67.
General Balance
Base Basic Attack Damage decreased from 62 to 58.

YIN

Polish and Bug Fixing
Yin is no longer able to target enemies behind a Fog Wall without having vision.

CARDS

NOTE: All updates are based on Level 1 Card values, but will affect Cards of all levels.
All Cards
Polish and Bug Fixing
Minor visual improvements to overhead card pop-up animations.
Fixed an issue where cards with targeting modes were being cancelled when bound to circle button on PS4.

CHAOS

Deathcrawler
Fixed an issue where Deathcrawler would no longer function after being swapped to a different card slot while dead.
Pressure Hunter
Increased Bonus Damage per Vitality differential from 2.5 to 3.
Fixed an issue where Bonus Damage as being triggered by Damage Over Time effects.
Thorned Yomi
Can no longer be activated while Stunned.
Improved audio feedback for enemies hit by reflected damage.
Improved visual clarity.

DEATH

Awaken the Emeric

No longer grants Health Regen.
Now grants 240 Max Health.

Grinning Spectre

Fixed an issue where Grinning Spectre could previously be intercepted by non-targeted enemies causing both enemies to be executed.

Nukeblood Mutant

Fixed an issue where Serath's Heaven's Fury would not proc the passive.

[Reworked] Numbing Rogue

Siphon Speed (New Active)

ACTIVE – Each of the next 5 Basic Attack hits within 10 seconds steal 8 Attack Speed from Enemy Heroes. Lasts 5 seconds. (50 Mana) [30 second cooldown]

Attack Speed Debuff Aura: Reduced Attack Speed Slow percentage from 20% to 6%.

Possessed Spry-Kin

No longer grants Power.

Vampiric Blade

Improved visual clarity.

Warlock's Burden

No longer able to be interrupted – Stuns and Silences will no longer automatically cancel and toggle off the card.

Wicked Riposte

Reduced Mana cost from 75 to 50.

Reduced cooldown from 90 seconds to 45 seconds.

Withering Shadow

No longer able to be interrupted – Stuns and Silences will no longer automatically cancel and toggle off the Card.

GROWTH

Coursing Zephyr
Reduced Mana cost from 75 to 50 .
Reduced cooldown from 65 seconds to 35 seconds.
Flame of Zechin
No longer grants Attack Speed.
Growth Totem
Reduced Health gained per minute from 20 to 18.
Reduced Power gained per minute from .75 to .65.

Pack Leader

Increased Power from 8 to 9.

Reduced cooldown from 50 seconds to 40 seconds.

Pensive Shaman

Increased Health Regen per Mana restored from 20% to 25%.

Increased Mana Regen from 84% to 100%.

Trapper

Reduced Slow percentage per hit from 5% to 4%.
Reduced Attack Speed from 32 to 30.
[Reworked] Unbroken Spirit
Reactive Regeneration (Updated Passive)
Heal for 3% Max Health every 0.5 seconds while affected by Hard Crowd Control.

KNOWLEDGE

Arcane Dancer

Increased Max Health from 205 to 255.

Black Ice Routine

Increased Max Health from 240 to 270.

Cryo Agent

Fixed an issue where Cryo Agent would activate twice if blocked by Greystone's Deflect ability.
Fixed an issue where Cryo Agent would occasionally have an incorrect cooldown.
Fixed an issue where Cryo Agent was not working with Drongo's Rad Rounds ability.
Fixed an issue where Cryo Agent was not activating when Serath dealt damage with Heaven's Fury.

Echelon Soldier

Increased Power from 12 to 15.
Mana-Flow Acolyte
Increased Power gained per Intellect point from .5% to 1%.

O.P.D. Militia

No longer deals bonus damage if the Basic Attack is blocked (Example – if blocked by Terra's Counter Guard ability).
Fixed an issue where O.P.D. Militia was not working correctly with Steel's Shield Bash or Drongo's "Old Rusty" if they were on cooldown.
Now works with Grux's Double Pain and Serath's Heaven's Fury.

Power Tap

Can no longer be activated while Stunned.
[Reworked] Shipyard Scavenger
Picked Clean (New Passive)
After killing an Enemy Unit your next Basic Attack deals 25 Bonus Damage.
Removed 'Lone Bonus Gold' passive.

Stasis Rune

Increased Power from 14 to 16.
Now grants 12 Basic Armor.

Static Trap

Fixed an issue where only one trap could be placed at a time.
Thaumaturge
Increased Max Mana from 105 to 155.
Wetware Virus
Increased Ability Armor from 18 to 24.

ORDER

Domain of Stillness

Increased Power from 16 to 20.

Form of Grubbish

Improved consistency and feel when being knocked back while Morphed.

Lamp Lighter

Fixed an issue where players could still place wards after unequipping Lamp Lighter.

GEMS

Onslaught

Fixed an issue where the cooldown of Steel's Shield Bash ability was not being reduced correctly.

Spell Shield

Improved visual clarity.

UI

Polish and Bug Fixing
Status Effect Area will now correctly track effects that are stacked while active, always reporting the expected end of the effect.
Minor visual improvements to draft lobby.
Minor grammatical fixes in deck builder, gem selector, and card inspect screen.
Fixed an issue with Crunch not animating on the featured hero home page.

MONOLITH

AI

Will now place a higher priority on attacking Fangtooth & Orb Prime. When attacking these camps, AI Heroes will now only leave if they are close to dying.
Are now more aggressive about finishing off the Enemy Core when it's vulnerable.
Will now attempt to end the game without necessarily having to take down all three Inhibitors.
Improved behavior of Jungle AI Heroes.
Improved behavior regarding recalling.
Improved flee behavior logic.
Improvements to ability unlock order.
Difficulty improvements made to the Introductory and Easy difficulty levels.
Tutorial
Minor improvements to pacing.
Delayed respawns of enemy minions by a few seconds to make it easier to push the lane.
Brought minion & tower health numbers more in line with the normal PVP.

Polish and Bug Fixing

Minor fixes and improvements to map collision and visual consistency.
If a player has the Shield of Zechin (Green Jungle Buff), their own targeting abilities will no longer be interrupted by the buff's explosion.
Improved interactions when Area-of-Effect Crowd Control intersects with tower collision.
Fixed an issue with Heroes not consistently being affected by Area-of-Effect Crowd Control when the ability hits both them and their own tower.
Fixed a potentially exploitable ledge near both Gold Grubbish camps.
Fixed an issue where Banners were blocking the hero camera on spawn/respawn and recall.
Minor improvements to consistency of spawn pad location based on selected role.
Fixed some inconsistencies with Fog Wall trigger locations.
Updated names for all Jungle Minions:
Previously "River Guardian":
Red River Buff -> Amp Grubbish
Orange River Buff -> Stinging Grubbish
Blue River Buff -> Swift Grubbish
Purple River Buff -> Shadow Grubbish
Previously "[Color] Guardian":
Aqua Lane Buff -> Healing Grubbish
Gold Lane Buff -> Gold Grubbish
Green Buff -> Zechin's Guardian
Black Buff -> Hunter's Guardian
Small White Jungle Minion -> Sentinel
Large White Jungle Minion -> Elite Sentinel

LOOT CRATE

Added:
Legendary

Velvet Gold Bones Undertow Gideon

Sky Gold Bones Undertow Gideon

Rare

Jungle Gryphon Knight Terra

Bronze Gryphon Knight Terra

Removed:

Legendary

Glacier Born Rampage

Copper Beast Rampage