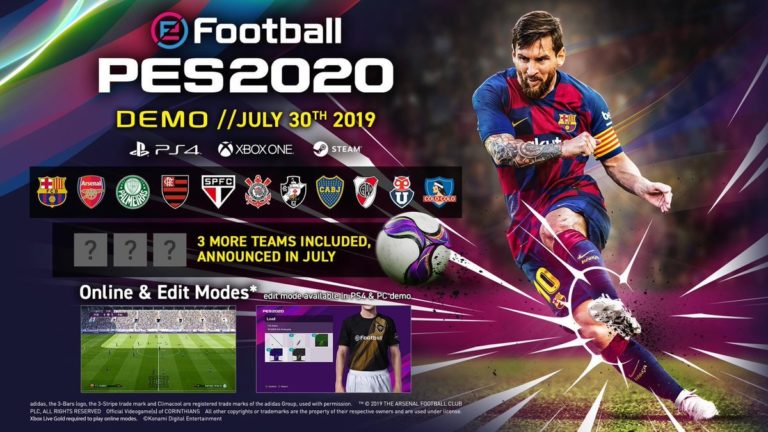 Konami has provided details on the PES 2020 demo, which will launch for PlayStation 4, PC, and Xbox One on July 30 complete with online functionality. The teaser for this year's entry in the venerable footie franchise will also include edit modes, and a choice of 14 playable teams.
PES 2020 Demo Details Confirmed
The demo will include teams such as Arsenal, Barcelona, and Boca Juniors, and Konami has teased that three other teams set to be announced this month will also be featured in the demo. That's about all we know so far, but stay tuned for more details as they become available.
PES 2020 has been confirmed for a September 10 release on PlayStation 4, PC, and Xbox One. As with every year, Konami is implementing a number of improvements for this latest outing, including improved tripping mechanics, context-sensitive kick accuracy, a new foul move, and the Finesse Dribble, which is a brand new dribbling system.
In addition, PES 2020 is making some huge changes to the Master League, among which includes the ability to pick from several legends to mange your team, such as Diego Maradona, Johann Cruyff, and Zico.
Also new to the game is the Matchday Mode, while confirmed stadiums include Camp Nou (Barcelona), Emirates Stadium (Arsenal), Allianz Parque (Palmer's), El Monumental (River Plate), and La Bombonera (Baco Juniors). The PES 2020 cover star has been confirmed as Lionel Messi for the standard edition of the game, while Ronaldinho will be featured on the Legend Edition of the game.
Meanwhile, confirmed leagues so far include Jupiler Pro League, Superliga, Premier League, Skybet Championship, Ligue 1 Conforama, Domino's Ligue 2, Serie A & B, and Liga NOS.
Note that Konami is calling it eFootball Pro Evolution Soccer 2020, as it's placing an increased focus on online gaming with PESLeague and eFootbal Pro Tournaments.
Stay tuned to PSU.com for more details on PES 2020 as they become available.