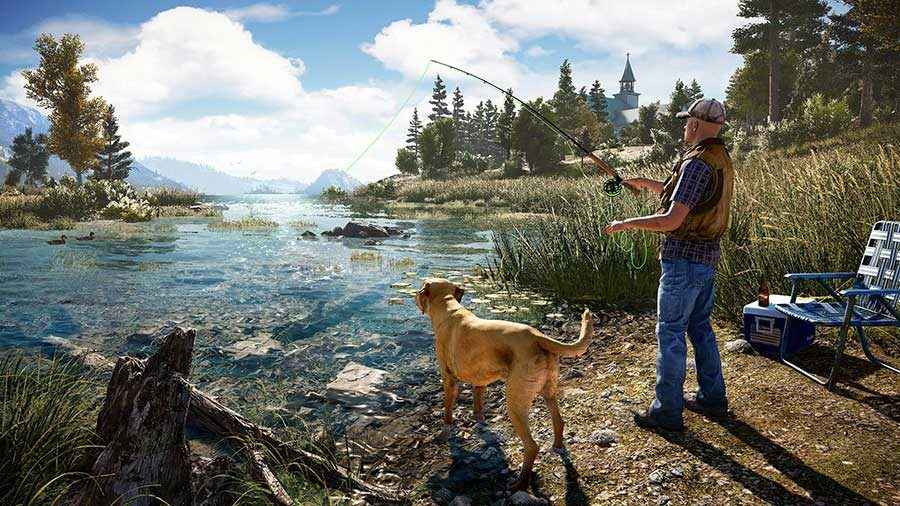 Animal rights activist group, PETA, have turned their attention to Ubisoft's Far Cry 5. In particular, the fishing in the game.
You might remember the debacle over Roger the Kangaroo, who was cut from Tekken 7, due to animal activists getting upset? Or PETA voicing their opinion quite frequently on a host of games, like Assassin's Creed Black Flag (for whaling), Call of Duty: World At War (shooting a dog) and the Warhammer franchise (for characters wearing animal skins).
Well, Far Cry 5 fishing is now under the spotlight from the activist group. It's quite a strange activity in the game to target when there's actually violence against many animals, including bears, eagles and hares.
The latest condemnation comes from the German arm of PETA. In a statement released on April 18, the group criticizes "unethical content". They're concerned about the "glorifying and banalizing the hunting and killing of fish or other animals."
"Fishing means luring fish into a trap, exposing them to fear and shortness of breath for minutes or even hours, as well as to an agonizing death struggle before being killed or often cut alive," said Tanja Breining, marine biologist and specialist for fish and marine animals at PETA. "Today we know that a fish is somebody, not something, and it is an indictment to promote fishing. Fish are curious vertebrates with individual personalities. "
It's doubtful much will come from the condemnation of Far Cry 5. Essentially, PETA are appealing to Ubisoft GmbH to no longer market games in Germany that "glorify killing as a pastime." That's pretty much every game they make!