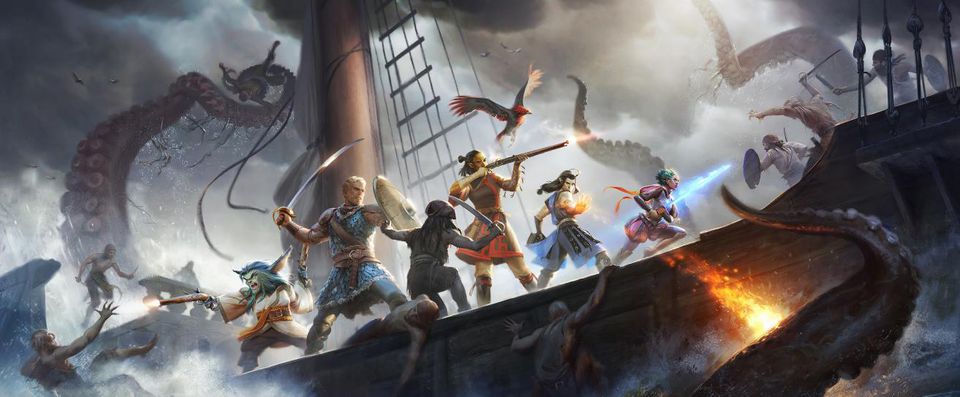 Pillars of Eternity II: Deadfire Ultimate Edition is coming to PlayStation 4, Nintendo Switch, and Xbox One, developer Obsidian Entertainment has announced. There's no release date confirmed yet, but the re-release includes all post-launch content and expansions for the critically acclaimed RPG.
Pillars Of Eternity II: Deadfire Ultimate Edition
Pillars of Eternity II: Deadfire Ultimate Edition includes a wealth of content out of the box. In addition to main game, players will have access to the Beast of Winter, The Forgotten Sanctum, and Seeker, Slayer, Survivor DLC. Combined with the core campaign, this offers over 100 hours of game time, so it's fair to say you had better put your social life on hold for a while.
The rogue god Eothas awakened within the stone titan sleeping below your castle, killing your people, and stealing a piece of your soul. Only you and your companions can uncover the rogue god's machinations as he traverses the Deadfire Archipelago.

The critically-acclaimed RPG from the masters at Obsidian Entertainment finally arrives, featuring all major updates and expansions.

Bend the world to your will as you explore the depths of infinite possibilities, including detailed character customization, total freedom of exploration, and more meaningful choices at every turn.

Featuring an enormous open world, a massive cast of characters, and a story you can play your way, Pillars of Eternity II: Deadfire Ultimate Edition redefines the role-playing game experience for a new generation.
Pillars of Eternity II: Deadfire was released for the PC back in May 2018, and was funded by crowdfunding in January 2017. It was a huge success, reaching its funding goal within just one day.
Hopefully we'll get a release date soon enough for the Ultimate Edition, but you definitely want to keep your eyes on this one. We'll keep you in the loop on any fresh details as they become available to us. Check out the trailer.