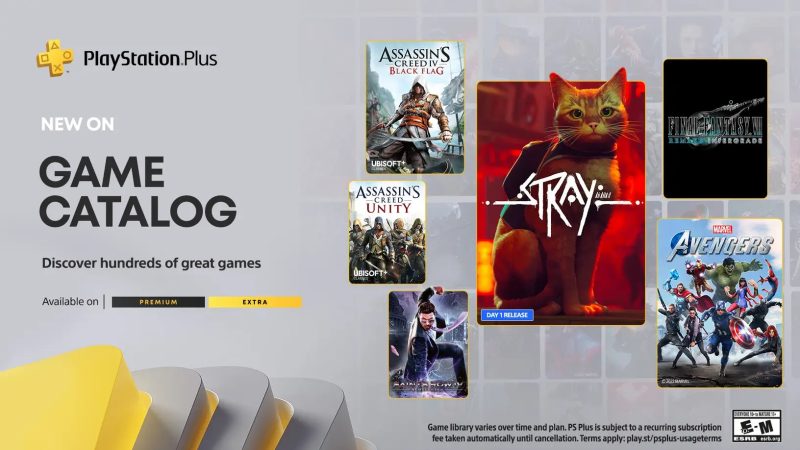 The games being added to the PlayStation Plus Premium and PlayStation Plus Extra catalogs for July 2022 have been revealed, and it seems that previous rumours were mostly right, and fortunately they were also wrong.
Fortunately because previous rumours seemed to indicate that there wouldn't be any retro games coming, though that's thankfully not the case.
There are also games listed that didn't leak, which is always good to see something come as a surprise.
Some notable additions for the month are of course Stray, which will launch as available for PS Plus Extra and PS Plus Premium subscribers.
Final Fantasy VII Remake Intergrade, Marvel's Avengers, and like previous rumours indicated, a whole whack of Assassin's Creed games.
As far as the retro games are concerned, there are only two additions for this month, and both of them are PSP games, with LocoRoco Midnight Carnival and No Heroes Allowed being added for PS Plus Premium subscribers.
You can check out the full list of everything coming this month, available starting July 19, 2022, here.
PlayStation Plus Premium, Extra July 2022 Games
---
PlayStation Plus Extra Games
Assassin's Creed Unity | PS4
Assassin's Creed IV Black Flag | PS4
Assassin's Creed Rogue Remastered | PS4
Assassin's Creed Freedom Cry | PS4
Assassin's Creed: The Ezio Collection | PS4
Final Fantasy VII Remake Intergrade | PS5
Marvel's Avengers | PS5, PS4
Saints Row IV: Re-Elected | PS4
Saints Row Gat out of Hell | PS4
Spirit of the North: Enhanced Edition | PS5
Stray | PS5, PS4
Ice Age: Scrat's Nutty Adventure | PS4
Jumanji The Video Game | PS4
Paw Patrol on a Roll! | PS4
ReadySet Heroes | PS4
PlayStation Plus Premium Games
No Heroes Allowed! (PSP)
LocoRoco Midnight Carnival (PSP)
Source – [PlayStation Blog]