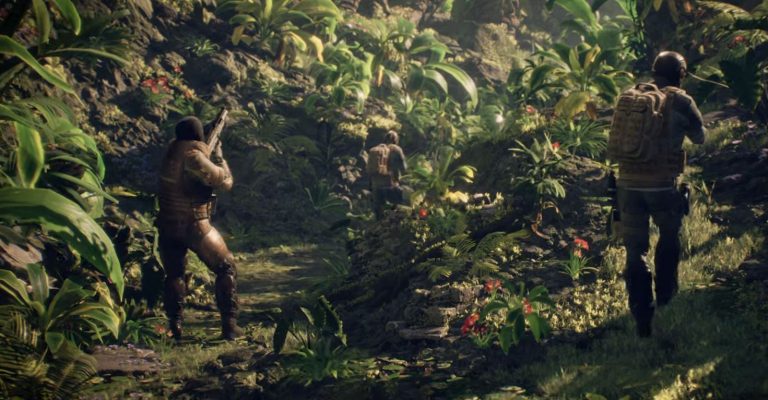 Illfonic has unleashed the Predator: Hunting Grounds update 2.19 patch notes, which is now available to download for PS4 and includes a bunch of new content, including the Airstrip map and support for paid DLC. The game is also now available for Steam.
Read up on the latest Predator: Hunting Grounds patch notes.
Related Content – Sony PS5 Complete Guide – A Total Resource On PlayStation 5
---
Predator: Hunting Grounds now available on Steam
We are on Steam! Order Predator: Hunting Grounds on Steam today, April 29, 2021. To get all Steam players caught up, we will be offering a DLC Predator Package – all four Predator DLC skins and abilities: Viking, Samurai, Valkyrie, and City Hunter; plus early access to 3 additional masks and 6 war paints. (*This DLC package is available on all platforms this month as well, if you have been waiting to add to your Predator collection.) Lastly, good news, Steam players do not fret; our game is crossplay friendly and allows for crossplay invites. One thing to note, all progress in-game is stored on a per-platform basis and is non-transferable.
Paid DLC
Predator Year 1 Bundle
Predator DLC Bundle Includes:
Early Access to
3 New Masks
Mr Black
City Hunter Rebreather
Saber (Dutch's Shoulder Pauldron)
6 New Warpaints
Waves
Sun
Erode
Cortex
Retch
Attend
Free Update
New Map – Airstrip
Norse Hammer is now available at Level 28
New Predator Specializations (more info below)
New Custom Private Match modifiers (more info below)
New Unlockable Cosmetics (listed below)
General
Various fixes for optimization
Various crash fixes
Reinforcements radio now only appears once the reinforcements mission is available
Specializations are now default equipped
Removed the option to have no specialization
Added images for mouse thumb buttons when using custom key bindings
Jumping in water now properly displays water effects instead of mud
Fixed an issue where audio got too loud when loading into a map
Fixed being able to shoot through tents on Excavation
Custom Private Matches
Big Head Mode now affects boars
Big Head Mode now affects cinematics
New Modifiers
Split movement speed modifier between Fireteam/Predator
Split starting ammo modifier between Fireteam/Predator
Split gear count modifier between Fireteam/Predator
Added jump height modifier
Added air control modifier
Added fall damage modifier
Added biomask health modifier
Added Predator scanning speed modifier
Added boar count modifier
Added weapon locker count modifier
Added ammo crate count modifier
Added secondary objective modifier
Fireteam
General
Last Man Standing will now begin when all your other teammates are downed/dead instead of only applying once your teammates are dead
Fixed an issue where Fireteam members would not get idle kicked if they are in a bear trap
Fixed an issue where the HUD hide everything option was not working properly with the 10x scope
Fixed an issue where firing at the Smart Disc would not produce hit markers
Fireteam members no longer attempt to reload right after breaking out of a net
Fixed an issue where full head covers were not displaying properly in certain cinematics
Predator
General
Fixed an issue where the Viking Predator's model was behaving erratically in the main menu
Fixed an issue where the Valkyrie Predator's Gold and Platinum tints were not unlocking correctly
Classes
Valkyrie
Reduced Perk points from 14 to 12
Reduced health
Increased stamina regeneration while attacking
Weapons
Smart Disc
Increased disc count from 1 to 3
Lowered audio from Smart Disc while not boosted
Reduced default speed
Increased maximum speed
Increased control time
Yautja Bow
Fixed an issue where arrows that have been fired at an explosive barrel were not affected by the explosion
Perks
Impenetrable
Fixed an issue where the Impenetrable perk was not reducing hip fire damage
Specializations (NEW!)
Fervent (Hunter, Jungle Hunter '87, Samurai, Valkyrie)
Increased damage while all fireteam are alive and standing
Tactician (City Hunter '97, Hunter, Jungle Hunter '87)
Increased damage versus enemies that are trapped, netted, or interacting
Tracker (Hunter, Jungle Hunter '87)
Target isolation ignores mud (No effect in Clash)
Enraged (Berserker, Viking)
Increased speed and stamina regeneration while at low health
Vicious (Elder, Viking)
Opponents you down bleed out faster and take longer to revive (No effect in Clash)
Wrathful (Alpha Predator, Viking)
After receiving enemy fireteam damage from behind, your next melee attack deals increased damage
Ghost (Samurai, Scout, Valkyrie)
Attacking with melee from cloak deals additional damage
Warrior (Alpha Predator, Samurai)
Reduced parry stun duration
Savage (Berserker, Valkyrie)
Claiming restores health (No effect in Clash)
Assassin (Alpha Predator)
Increase all damage when attacking from behind
Brute (Berserker)
Increased damage inflicted when an attack is parried
Stalker (Elder)
Increased damage while at full stamina
Analytic (City Hunter '97, Scout)
Increased damage to fully scanned targets (Limited effect in Clash)
Focused (City Hunter '97, Elder)
Gain movement speed and energy regeneration after activating target isolation (No effect in Clash)
Disciplined (Scout)
Removes clicking noises while cloaked
[Source – IllFonic]