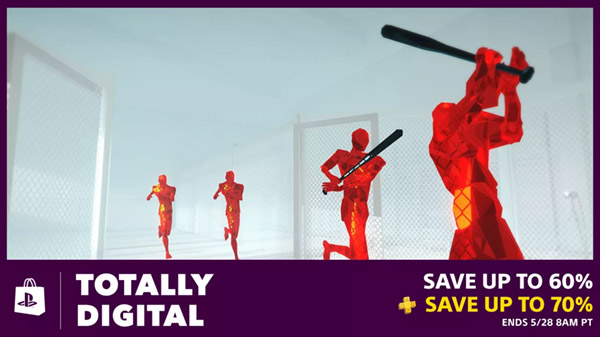 Sony Interactive Entertainment America has kicked off a new PS Store sale called Totally Digital, discounting a huge range of PS4 and PS3 games, including up to 70% off for members to PlayStation Plus. Even if you're not a PS Plus member, you can still nab up to 60% off the usual asking price.
PS Store Sale Is Massive, Major Discounts For PS Plus Members
The latest PS Store sale will run from May 14 to May 28, and includes price cuts for a range of major franchises and popular titles. So, if you fancy getting your paws on some bargains ahead of summer, this is your chance — time to break out your wallet.
Highlights for PS4 games include:
Dark Souls III Deluxe Edition ($14.99/$12.49 for regular users and PS Plus members, respectively), Dead Cells ($19.99/$17.49), Dragon Ball FighterZ Ultimate Edition ($65.99/$54.99), Hitman Game of the Year Edition ($14.99/$11.99), Lara Croft Go ($2.99/$1.99), Life is Strange Episodes 2-5 ($1.24/$0.99 each), Life is Strange Before the Storm Deluxe Edition ($9.99/$7.49), Outlast Bundle of Terror ($7.24/$5.79), Trine Trilogy ($11.99/$8.99), and Ys Origin ($9.99/$7.99).
Sony is also offering plenty of opportunities to snap up additional game content, too, such as DLC and Season Pass bargains. Here's some examples:
Alien Isolation Season Pass ($14.99/$11.99), Dark Souls III Ashes of Ariandel ($8.99/$7.49), Deus Ex: Mankind Divided Season Pass ($4.49/$2.99), Dragon Ball FighterZ Character Packs 1-10 ($3.49/$2.99 each), Overcooked 2 Too Many Cooks Pack ($2.69/$2.39), Person 5 Persona Bundle ($13.99/$11.99), Sonic Mania Encore DLC ($3.99/$3.49), and WWE 2K19 Season Pass ($17.99/$14.99).
Meanwhile, the PS3 sales is offering a bunch of solid discounts, including:
Alien Season Pass ($14.99/$11.99), Borderlands 2 Season Pass ($11.99/8.99), Grand Theft Auto IV The Ballad of Gay Tony ($11.99/$9.99) Just Cause 2 Ultimate Edition ($5.99/$2.99), L.A. Noire Rockstar Pass ($7.19/$5.99), Red Dead Redemption Undead Nightmare Pack ($5.99/$4.99), Sleeping Dogs Digital Edition ($4.99/$2.99), and Urban Trial Freestyle ($2.79/$2.09).
Finally, PS Vita also gets its share of price cuts, so have a look below at some of the more juicy offerings:
Age of Zombies ($2.49/$1.99), Doodle Kingdom ($2.99/$1.79), OlliOlli ($5.19/$3.89), Rogue Legacy ($6.79/$5.09), Skullgirls 2nd Encore ($9.99/$7.49), and Type: Rider ($3.19/$1.99).
The full lineup of discounts can be found here.