2007 was one of the greatest years in recent memory for the world of video games. Many blockbuster titles were released from almost every genre thinkable. Halo 3 broke sales records, Uncharted brought a beautiful world to life, and Super Mario Galaxy brought the kid out of everyone. All of these games were exclusive and that's where the problem lies. PSU.com is here to give you its top 10 games that we're looking forward to most in 2008. We have narrowed this list down to only multi-platform titles, that way every reader can take interest in it. We've also included 3 runner-ups that just barely missed the cut.
Our readers can fully expect our top 10 list of PS3 exclusive titles for 2008 coming soon.
Runners Up:
Dark Sector
Developer: Digital Extremes

Dark Sector was one of the first next gen titles announced for PlayStation 3 way back in E3 2004. Then in 2006, the game was shown having a completely revamped graphical style going from spaceship sci-fi to a gritty post Chernobyl Eastern USSR .
Gamers will play as the CIA Agent named Hayden Tenno who is sent to an Eastern Europe city named Lasria to extract information. While there, Hayden is attacked by an unknown enemy and awakens to find part of his body altered by an infection, granting him inhuman abilities.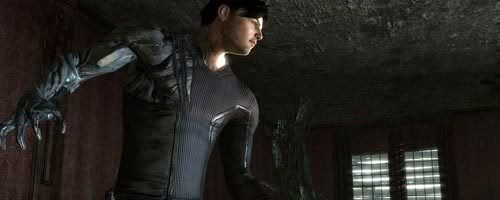 Based on our hands on time with the game, we'd have to say that Dark Sector will be one of the better 3rd person shooters to release this year. Combining eeiry sounds, beautiful blood filled graphics, and a great science fiction storyline, this is definitely a title to keep an eye on.

Frontlines: Fuel of War
Developed by Kaos Studios

If you thought you couldn't be fed anymore oil propaganda than you have already, you're only kidding yourself. Frontlines: Fuel of War is just that. A game based around WWIII and the eventual fight for whatever little is left of the pure black gold substance. Countries would inevitably kill for it and you're about to start doing just that. What this game comes down to is the Western Coalition Army Vs the Red Star Alliance. Prepare for some heavy hitting action both off and online.
With offline play featuring a non-linear format where you're allowed to complete missions however you'd like so long as you complete the objectives and an online system that features 64 players per game, it's almost guaranteed to be a title you can't pass up. Even with a slew of war games released every year, this one looks to definitely set itself apart from the rest. If any of the top 10 games were to be removed, this would surely replace it.

Condemned 2: Bloodshot
Developer: Monolith Productions

Condemned 2: Bloodshot is not for the faint of heart, nor the young and innocent. In a world where macabre environments reek with sadistic mutilated hobos, players must deal with their surroundings and investigate mysteries of missing persons including their lost partner.
Now if you are a fan of Condemned, you'll be familiar with the creepy environments of the original; however instead of rundown subway stations and schools, players will now tour such locations as a flame engulfed Doll Factory. Dave Hasle, the games Senior Producer stated, "Because of the attention to detail and the in-depth storyline that we want to provide to the players, we are still mostly linear. We have opened up our environments though, to allow the player to move around complete environments to find more forensic events, to complete secondary objectives and even bonus or secret areas."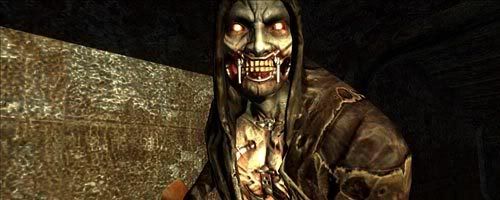 Also other major improvements featured in Condemned 2 include:
– Ability to throw glass bottles, debris, bowling pins, etc
– Improved A.I. which will take cover and used ranged weapons
– Online Co-op and multiplayer modes including one called "Circle of Death"

Top 10 Multiplatform Titles of 2008:
10. Mercenaries 2: World in Flames
Developer: Pandemic

Hitting the PlayStation 3 as a sequel to 2005's Mercenaries: Playground of Destruction, Mercenaries 2: World in Flames is expected to provide bigger environments, more weapons, and more destruction. Playing as one of three characters (all of which return from the first title), Mercenaries 2 will take place in Venezuela, where an evil drug lord has become dictator and must be overthrown by taking contracts from anti government guerrillas.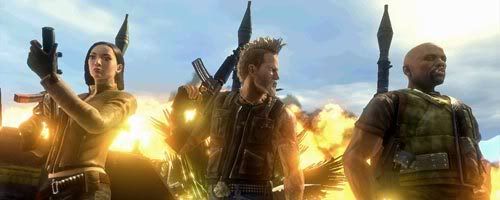 Mercenaries 2: World of Flames will include the following features:
– Realistic behavior in fire and explosions
– Use watercraft or swim across oceans, rivers, and lakes
– Everything you see is destructible (powered by Havok 4.5 physics)
– Co-op Multiplayer (Jump in and out at any time on or offline to play with your friends.)

9. Tom Clancy's EndWar
Developer: Ubisoft Shanghai

End War marks a change of pace for the highly acclaimed Tom Clancy series of videogames, taking the form of a real-time strategy title. Developed by Ubisoft's Shanghai branch, End War takes place in the year 2020, where tensions between the United States, Russia and European Federation have reached breaking point, plunging humanity head first into Word War III.
Players will be able to take control of any single one of the three nations, and, much like Command and Conquer, endeavour to master each sides own unique strengths and weakness to utilize in combat against their enemies. For example, those who prefer cold hard steel and strength may go for Russia at the cost of speed, while those who tend to favour a more nimble strategy may wish to opt for the European Federation. Each faction has 150 unique upgrades, allowing gamers to customize their war machine to their liking.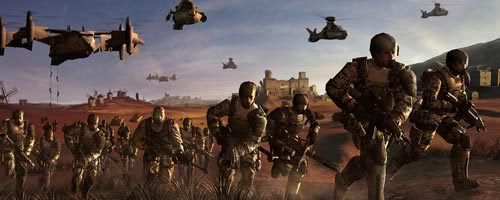 As a Massively Online Multiplayer Real-time Strategy (MMO RTS) game, players can also look forward taking part in extensive online campaigns in over 40 different battlefields, and command up to seven different unit types, each with six different levels of experience. Building on the pedigree of a trio of truly excellent titles, including Ghost Recon, Rainbow Six and Splinter Cell, Tom Clancy's EndWar looks to be yet another must have outing in this venerable brand.

8. The Last Remnant
Developed by Square-Enix

The Last Remnant is the next RPG in line to be delivered to us from Square-Enix. Not only will this be the first title from them to release simultaneously in Japan and North America but it will also be the first SE title to utilize the Unreal Engine 3. This also marks another first for SE, as this will be the very first time that Square has been forced to adapt to new technologies and ways of development. One of the best things going for the development of this game is the idea to broaden it away from the Final Fantasy-style creationism. Due to the way the battles will be handled, they have not tried to gear this game towards gamers of all ages, which can only work out for the best in the long run.
The story revolves around a young kid named Rush Sykes. His little sister has been kidnapped and he's doing everything he can to retrieve her. The problem is, he accidentally gets pulled into a global conflict taking place over the "remnants." Remnants just happen to be powerful sources of magic that have caused handfuls of wars throughout the world's time. Accompanying Rush, is David Nassau; another young teen who happens to also be a Marquis but fighting for independence from a nation called Celapaleis.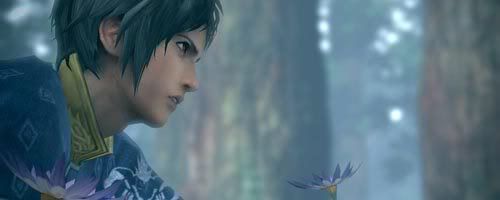 The new battle system implemented in The Last Remnant is being called, "Turn Burst." It's described as being a command-based system that utilizes symbol encounters. You may be familiar to something similar to this had you ever enjoyed Shenmue, Kingdom Hearts II, or even Final Fantasy VIII. The new party system is being labeled as a "Union" and features members of varying characteristics that can change depending on the battle situation, in turn giving it a more realistic feel. Developers have leaked that you will have battles with more than 70 people in the field of battle. This is turning into one title you won't want to miss.

7. Burnout Paradise
Developed by Criterion

Next-Generation games should always have true next-generation gameplay, wouldn't you agree? The lead developers of Criterion sure think so and they're positive you'll agree. Burnout Paradise is set to release February 2008 and will be the 5th installment into the already hit franchise. Outside of being one of, if not, the best racing game in this next-generation of gaming, Burnout Paradise is set to deliver an even more mesmerising experience than the last.
Paradise is going to be just that. It will feature amazing 60FPS quality throughout the entire game. On top of that, you'll notice absolutely next to no loading times whatsoever. This will definitely save a lot of time. The entire game is open-ended and has no boundaries for what you can do. Though in order to achieve this, they did have to compromise a bit with night and day settings and weather conditions, however, this shouldn't detract from the experience at all.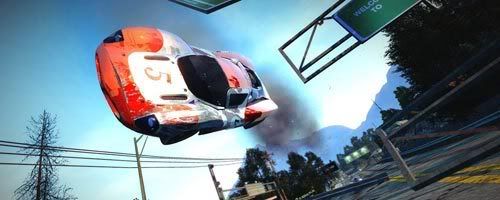 One of the new implementation is the Mugshot feature, which will enable you to use your own mugshot or your PS3 avatar icon. This will be unique for when you take down other players online. Your photos will be exchanged and you'll be able to keep a library of people you've taken down one by one. Additionally, you can start over 100 different race structures that can be enabled at any streetlight, ensuring you have a title that has almost endless replayability. This will definitely be a game not to miss in 2008.

6. Devil May Cry 4
Developer: Capcom

Since it's unveiling at E3 '05, fans have been anxious for Devil May Cry 4 and its release on the PlayStation 3, Xbox 360, and PC. Based on the time we've had with the game, this is definitely a title to be excited for; presenting some of the same distinguished controls and feel known to the series while also offering a twist in both the storyline and new gameplay elements.
As most of you may already know, Dante will not be the leading role in the story, with players instead assuming the role of a member from the Order of the Sword, named Nero. When Nero finds all the members of the Order murdered and blood on Dante's hands, the two become adversaries, and the story kicks off from there.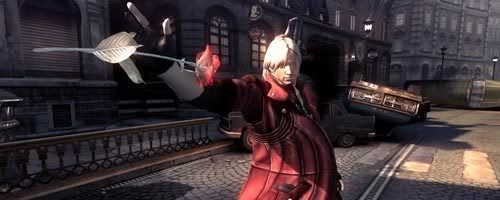 Other the past few months, many details have been revealed such as:
– Special Edition Box set (includes art book)
– Exclusive PS3 features including 5.1 LPCM audio, PSN support, and Zero load times (with 5GB HDD install)


5. Battlefield: Bad Company
Developer: DICE

Battlefield has been a long running series brought to you through Electronics Arts; however, this will be the first time in the games history that it has been based and created for the next generation of gaming. BF has always had a strong following of supporters through each of its installments and we figure this will be no different. This title will feature a ton of new implementation to the Battlefield series and will sure leave gamers more than satisfied.
Unlike previous installments, the single player aspect of this game is going to be a focal point of the action. With what is shaping up as a strong storyline, users will probably immerse themselves in it before stepping directly online where Battlefield usually shines. The story follows a group of misfit renegades that have been thrown into a special unit called, Bad Company. When they realize a truckload of gold is being transported nearby, they come to the conclusion that the army doesn't pay enough and it's time to get theirs. This leads them throughout a majority of Eastern Europe and the world.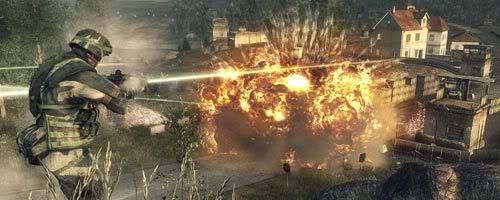 Bad Company will also finally feature completely destructible environments. Fans of the series have always wished for this to be added each and every time and it's finally arrived. It's being reported that the classes will be minimized for the sake of adding greater customization for the rest of the classes that make the cut. The game is also set to feature some modern weaponry with a mix of future weapons since the game is placed a couple of years into the future. Enthusiasts won't have to fret though, as these weapons will not be highly unrealistic as that would slant against the rest of the game. You'll have to wait and see if Battlefield: Bad Company can live up to its predecessors when it hits store shelves on March 24th.

4. Fallout 3
Developer: Bethesda Softworks

Developed by the creators of The Elder Scrolls series, Bethesda Softworks, Fallout 3 is a post-apocalyptic RPG title set in the wastelands of what used to be Washington D.C, North America. As a member of fallout shelter Vault 101, your character awakes one day to discover his father has mysteriously vanished, venturing out into the desolate wastelands alone. With no explanation for his disappearance, you leave the relative comfort of the shelter and explore the outside world to locate your missing father at all costs.
Due for release later this year, Fallout 3 incorporates some fundamental gameplay aspects that should be familiar to anyone who has played The Elder Scrolls IV: Oblivion, such as the ability to view the action from either a first or third person perspective, in addition to creating your own character. The creators promise that gamers will be able to unlock multiple, unique endings depending on their actions employed throughout the game, as well as a specialised combat system, described by the developers as a combination of both real-time and turn-based battles.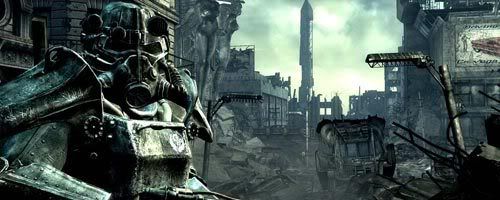 Long time fans will also be pleased to know that the game utilizes a Perks and Skills similar to previous instalments, along with an entirely new health and radiation system, allowing players to determine an objects radioactivity level by examining it, thus learning the effect it will have on your character.

3. Star Wars: The Force Unleashed
Developed by Lucas Arts

We're sure you're wondering how many Star Wars related videogames could they possibly think of, right? Well, we know of at least one more that they already have. Star Wars: The Force Unleashed is set to release in 2008. For those of you who can't get enough of this saga, you'll be pleasantly surprised and/or saddened by the storyline that occurs throughout the title in question.
With a year of firsts, this game is no exception. You will be privileged with the opportunity to be Darth Vader's young apprentice. In a world that takes place between the 3rd and 4th episodes of the saga, to be exact, seven years after Star Wars III and the rise of the Galactic Empire, you'll be guided to kill any remaining Jedi that breathe. The story is a thrilling continuation of the prequel trilogy and involves the aftermath of Order 66. From your own standpoint, you'll be able to watch Darth Vader evolve into what he later becomes.
The game is full of new technology including Digital Molecular Matter from Pixelux Entertainment, which will be the main force behind destructible objects. It also introduces Havok's system for rigid body physics and Euphoria. Euphoria gives each character its own individual nervous system, so their movements will mimic their actual surroundings individually. This is something a lot of gamers have been waiting for in other blockbuster titles, so it'll be good to see how it was out for The Force Unleashed. Even if you dislike Star Wars, this game will be worth more than a look to see how these things stack up.


2. Resident Evil 5
Developer: Capcom

Set ten years after the events of the original 1996 survival horror epic, Resident Evil 5 casts players in the shoes of former S.T.A.R.S. member, Chris Redfield, as he embarks on a secret mission for an organisation known only as 'BSAA'. After arriving at a seemingly ordinary village on the sun-baked plains of Africa, Redfield soon discovers that an insidious biohazard has befallen the local residents, turning them into blood thirsty, malevolent killers. Alone and outnumbered, Redfield must defend himself at all costs to uncover the root of the disaster if he is to make it out alive.
As one of the most celebrated videogame series of the past decade, Resident Evil has already successfully reinvented itself within the mainstream gaming consciousness with the release of the critically acclaimed Resident Evil 4, and this latest sequel is shaping up to be nothing less than yet another stellar entry in Capcom's venerable franchise.
Fusing action, horror and puzzle elements, Resident Evil 5 utilizes the famed 'over-the-shoulder' viewpoint of its predecessor, pitting gamers against literally dozens of crazed, dexterous foes on-screen at any one time in a desperate fight for survival. Furthermore, the game will introduce a number of innovative features to the series, such as heat exposure and its affect on your character, as well as including one of the most sumptuous visual affairs this side of Metal Gear Solid 4.
While we're still left waiting in the wings for substantial details on the game, you only have to glance at the gorgeous E3 trailer to comprehend just how crucial of a release this will be for the PS3's vastly growing library in 2008.

1. Grand Theft Auto IV
Developer: Rockstar

The venerable crime romp returns for its first next-generation outing with the highly anticipated Grand Theft Auto IV. In this latest instalment, players assume control of Eastern European Niko Bellic, who, after being persuaded by his cousin Roman, decides to depart for North America in search of a better life and arrives in the game's fictitious setting of Liberty City. However, upon arriving, Bellic soon finds himself in the midst of his cousin's dodgy dealings and is inducted into a life of crime – far from his hopes of the fabled "American Dream."
As one of the most successful videogame franchises ever released, Grand Theft Auto pioneered the sandbox style of gameplay to mainstream audiences, and this latest instalment looks set to rework the formula by placing more emphasis on realism, where players must think twice about their actions. No longer can players just walk up to a parked car and speed off without so much as a glance from the unsuspecting public; Bellic will now have to smash the windshield and hotwire the vehicle before he is able to drive it – and that's provided nobody is witness to the crime. Furthermore, players are now able to utilize cell phones and surf the Internet to facilitate their mission objectives, a feature which again aims to expand upon and solidify a more realistic approach to the GTA experience.
In terms of locations, GTA IV promises to be one of the biggest yet, with the New York City-inspired metropolis comprised of five different boroughs, featuring its very own takes on some of the Big Apples most iconic land marks, including the Brooklyn Bridge and the Statue of Liberty. In fact, the sprawling Liberty City is so vast, that developer Rockstar North has promised it will take players roughly one whole hour to drive from one side of the city to the other.
Simply put, Grand Theft Auto IV is turning out to be one of the most hyped releases of the decade, let alone in 2008. Day one purchase? You better believe it.