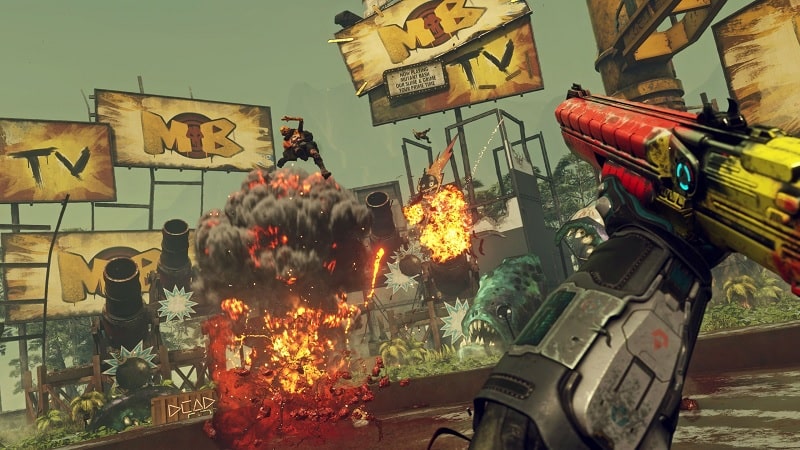 Bethesda has confirmed an extensive post-launch Rage 2 DLC lineup for the upcoming shooter, which includes both free and paid-for content spanning the most of the year.
Rage 2 DLC Lineup Confirmed, Is Free and Paid-For
The Rage 2 DLC lineup begins this month with the addition of new Wasteland Challenges, Weapon Skins, and a World Event called Bring the Ruckus. Meanwhile, June will see a new title update, Wasteland Challenges, Weapon Skins, a new World Event, and extra Cheat Codes. July adds the One-Wheeler, Wasteland Challenges, Weapon Skins, and the Global Worming event.
All of the above content will be free, although Bethesda's not stopping there. Rage DLC will continue into summer and autumn, with August offering up new Wasteland Challenges, Weapon Skins, and the Mutant Derby World Event. Furthermore, there's a paid expansion also coming out this month, called Rise of the Ghosts.
Finally, autumn 2019 will add the following free content: a new World Event, Wasteland Challenges, and Weapon Skins. Expansion 2 is also lined up for release this month, which like the previous one will be a paid-for experience adding a new story, weapons, abilities, and more.
Rage 2 is scheduled for release on May 14 for PlayStation 4, PC, and Xbox One. The game takes place in a post-apocalyptic landscape known as the Wasteland, where much of the globe's population has been decimated following the impact of an asteroid. Players control a ranger known as Walker, who, having lost his home to the ruthless gangs that now rule the landscape, embarks on a mission of revenge.
The sequel has been a long time coming, with the original Rage having been released on PS3, PC, and Xbox 360 way back in 2011.