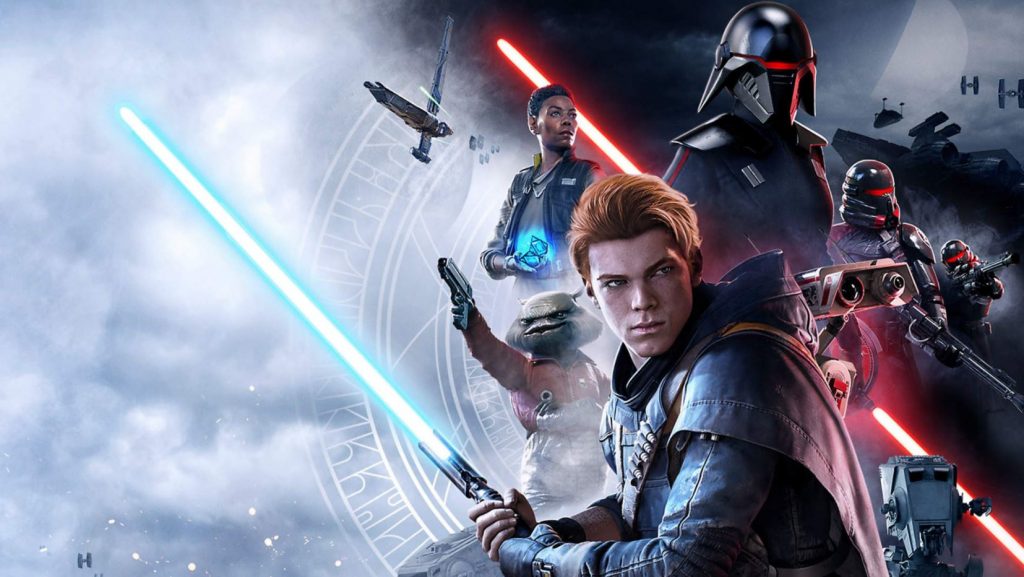 Last year we saw a resurrection of sorts for Star Wars games. Star Wars Jedi: Fallen Order was the answer to many a Star Wars fan prayers, that we would one day again see a narrative-focused single-player Star Wars game. That title was a smash hit, with fun and challenging gameplay, an extremely compelling Star Wars story, and of course, an incredible soundtrack to take the player through it all.
I had the privilege to talk with the two people behind the music of the game, Gordy Haab and Stephen Barton. Both incredible composers, their work on Star Wars Jedi: Fallen Order has been loved by fans and critics alike, garnering multiple nominations and award wins. The most recent accolade for the soundtrack is that it will now be a Disney Records release, a feat previously achieved only by Kingdom Hearts titles.
These Are Your First Steps
This new dynamic duo didn't just leap forward into the vast array of Star Wars music from nothing, however. Both had their start in music from a very young age and it can be seen as nothing short of the will of the Force that brought them together for this project.
"I got my start pretty early on in life actually I remember the first time I saw the film E.T, I really took to the music, I probably was about 6 years old and I knew all the music but none of the characters names. So my parents thought it would be good to sort of nurture this interest in music so, pretty early in my life I started becoming interested in writing music and writing songs and that kind of thing. Then you know one thing leads to the next and I ended up in grad school at UFC here in Los Angeles and just stuck around and tried to sort of force my way into the industry. I had scored this little Star Wars fan film called Ryan vs. Dorkman that was a little YouTube sensation back in the day and I think it caught the attention of some folks at Lucasfilm who were making an Indiana Jones game at the time and I ended up getting that gig, one thing led to the next and here we are" – Gordy Haab
After his work on Indiana Jones and The Staff of Kings, Gordy would go on to his first foray into Star Wars music writing for the Star Wars: The Old Republic video game, and since then has worked on multiple Star Wars games leading up to Fallen Order. Incidentally, I remember watching that Star Wars fan film, and watching it again after this conversation put me back to being 12, doing nothing but playing Lego Star Wars The Complete Saga, and watching The Clone Wars TV show. Ah, simpler times.
"I came from the UK and I was a professional singer when I was a child, from there I came to LA when I was about 18 or 19. I started working for Harry Gregson-Williams who's a composer who did the Shrek and Narnia movies amongst many many others. I started working for him as his assistant and worked for him for about seven or eight years and gradually sort of started working on my own projects with a video game funny enough, Call of Duty 4: Modern Warfare which was with the same developers when they were all at Infinity Ward. When they set off and formed Respawn Entertainment I ended up getting a phone call from them saying hey we got this new company called Respawn and we're making Titanfall, would you like to do the music for it. One thing led to another, I've done three or four games with them now, so yeah I remember a few years ago they said they had this other project, they were like oh that's gonna become a Star Wars game and I was like oh interesting, and that's where Nick Laviers our intrepid and brilliant audio director came to me and said I got this idea where I want sort of six or seven hours of music and its just more that can be done by one person and I'd like to team the two of you up and it's been one of the greatest experiences of my career" – Stephen Barton
It's clear from their already star-studded careers that they had both more than earned a seat at the table for Star Wars Jedi: Fallen Order. Even more clear is just how right they both were for the job. One aspect about Star Wars music for me is that it has the ability to be so expansive and unique, not just in the final sound and feel but also in its creation. Each new addition to the Star Wars universe comes with its own sound, whether it be a new game, TV show or film, and each one has an individuality to it that fits, yet all of it is so recognizably Star Wars. Scoring music for games specifically allows for all sorts of risk-taking and exploration, something both Stephen and Gordy are not just familiar with doing but actively try to experiment more with each new project.
"Initially, a lot of video game composers started playing with stuff mainly because in the early days of video game scoring we didn't really have the budget to play with. Often you just had one musician so might as well make something interesting, something quirky and different. It's about finding some of the expanded palettes and the expanded sounds and pushing beyond the orchestral tradition, its a really interesting way of giving colour and flavour to something and has always been something that interests me, but then I was overjoyed to find that me and Gordy very much had the same sensibilities so when we said oh let's find a double contra-based clarinet you know, we had some weird and wacky stuff on this, and that finding your palette thing and having an open mind as to what that can be I think is a terrific thing and definitely for Star Wars as well, is where things are going and even with Ludwig with the Mandalorian is doing some similar things, so the rulebook's out the window".- Stephen Barton
Made A Lot Of Special Modifications Myself, Kid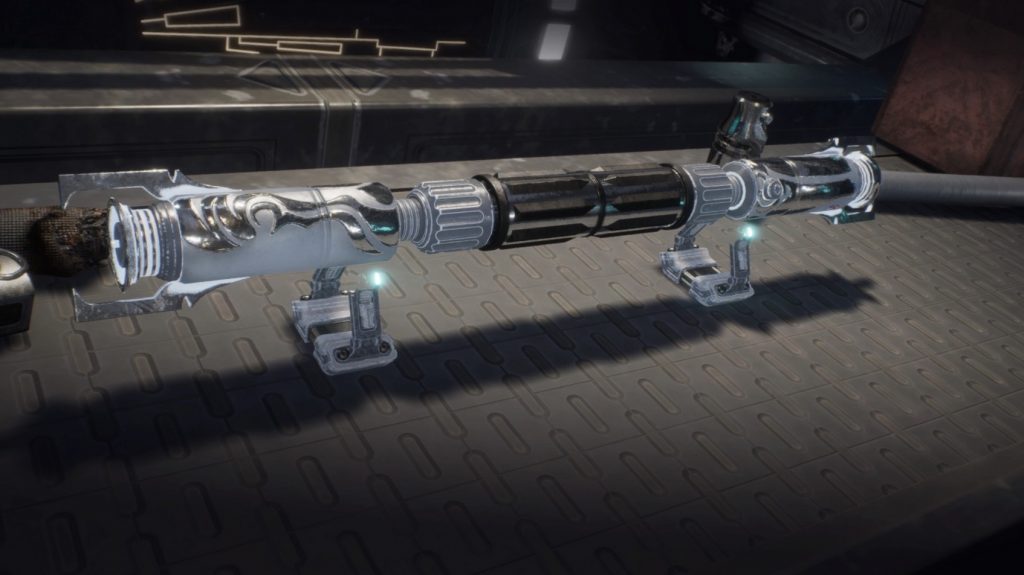 As they say, necessity is the mother of invention, and both Gordy and Stephen are no stranger to the truth of that.
"It's something that I always had an interest in doing even long before I got into scoring video games. When I was scoring music for films, I would always actually make it a goal to even go as far as to invent an instrument that didn't exist before and feature it in the score in some way. I did this documentary about espresso cappuccino and I featured an instrument I built that was a tub of water, that had these metal spikes coming up from the bottom suspending coffee cups upside down in this water, and you could take a small hose and remove some air from inside the cups, because they were sealed by the water and change the pitch, and make a fully tuneable chromatic xylophone out of coffee cups, and that was the feature in the score. I would always try to find something like that to do" – Gordy Haab
Star Wars Jedi: Fallen Order was no exception when it came to Gordy and Stephen's want for uncommon and interesting sounds, heavily featuring instruments like a contra-based flute, double contra-based clarinet, and a newly invented 'bass slide whistle' made out of PVC pipe. "I had this concept of doing a bass slide whistle, so imagine a regular slide whistle just five octaves lower doing these sort of long, slow descending glimpses with the rest of the orchestra and actually none of this existed so we had a percussionist in London invent and build one for us out of PVC pipe. So we're always trying to expand the sonic space of the orchestra and make something unique happen, and add character" – Gordy Haab.
Now, this wasn't Gordy Haab's first time playing within the Star Wars universe. He's been working on Star Wars music since 2011, not just on Star Wars: The Old Republic, but also EA's Star Wars: Battlefront I and Battlefront II. For Fallen Order, however, I asked him about his approach to this game, seeing as how it is unlike the large expansive multiplayer Star Wars titles we've been seeing of late.
"With each of the Star Wars game projects I've had in the past, they've all had their own sort of direction, musically. For example when I worked on Star Wars: The Old Republic, which was the first Star Wars game I worked on, the concept for the music we were writing would be the predecessor to the original music from the films, so in a sense if what they made in the films was the modern orchestral music, we were writing the baroque music for Star Wars. That was kind of a unique challenge. With the Battlefront series the first Battlefront was supposed to be based in the original trilogy sound and the second one was gloves off do what you want. Then this game offered probably the most unique scoring situation for me which was to score a narrative. With the past games they're very action driven, a lot of fighting and combat so the music needed to sort of accompany that but here we had this story with this great narrative, it offered this opportunity to develop themes, and create mood and atmosphere and emotion. That was a cool and unique challenge for this game in particular"
I've Never Seen So Much Green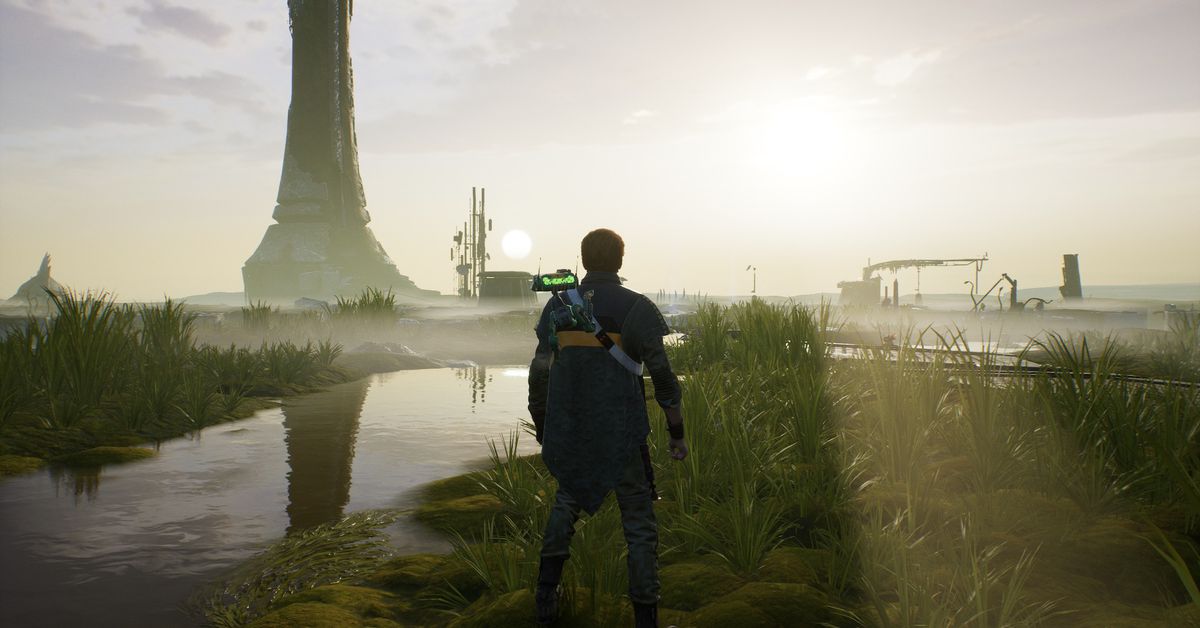 Though Gordy had already been through the initial jitters of what it feels like to get to work on music within the Star Wars universe, Star Wars Jedi: Fallen Order was Stephen's first time getting to play in that space.
"The biggest help for me was that you know, you're absolutely coming into this thing where its this incredible legacy of music and I always saw it kind of like someone saying here's the Great Pyramid, we'd like you to add 10ft to the top of it, please. Don't screw it up, because everyone will be very cross. So there is a little bit of that, and that's where having Gordy was great because there were a lot of places where I would get stuck in a corner, but I could just send it over to him and he'd come back to me a few minutes later and say 'Oh, just do this'. He'd think of something I'd never have thought of and perfectly got me out of a particular spot. So it was terrific in that sense and also the vocabulary of this music, once you get into the mindset of it then you sort of know where you're going with it, it sort of comes fairly fluidly but certainly, my initial things I was working on and sort of still finding my feet it was great to have Gordy who's done so much and can just go straight there, that was terrific."

As a long time Star Wars fan I'm always looking to dig deeper into the lore of Star Wars and explore new things within the universe. One of the draws for me with Star Wars Jedi: Fallen Order was how we were going to get to explore some never before seen worlds within the Star Wars universe. Planets like Bogano and Zeffo were brand new for fans, while other planets like Ilum and Dathomir that have only had small showcases in the Star Wars Clone Wars series were explored on a much deeper level. I asked them what it was like to create the sound for some of these new environments. "Writing for the environments is always cool, to create the sound of what is a brand new environment, and we wanted to make sure that each of the environments had a very unique soundscape that set them apart from each other and it really made you feel like you were plopped onto a completely alien planet"
Among Good Company
As I mentioned earlier, the soundtrack for Star Wars Jedi: Fallen Order is now a Disney Records release. This puts the soundtrack for the game in the company of some of the best music from Disney titles across generations, and will forever engrave this amazing soundtrack's place among them. Both Gordy and Stephen admit this is a huge milestone for their careers and something they've been striving for.
"Its such a great moment, something that we both hoped for, really something everyone who worked on the project would happen and to see it come to fruition is pretty remarkable. And to be able to include so much of the score. It's a three and a half hour soundtrack, which is pretty uncommon I would say for soundtrack releases so, that makes it kind of cool in a its own way". – Gordy Haab

"I remember buying the Episode I soundtrack when it came out, so 20-something years later, to have a Star Wars soundtrack album with your name on it is pretty cool" – Stephen Barton
This Is Where The Fun Begins
Of course, my biggest question for them both of them was 'What's next?'. Fans of the battle-royale Apex Legends can continue to look forward to hearing more music from Stephen, as he is the game's main composer. You'll also be able to hear more of his work in Ubisoft's upcoming Watch Dogs Legion, and we can expect to hear more epic Star Wars music from Gordy in Star Wars: Squadrons.
In regards to a Star Wars Jedi: Fallen Order sequel, they couldn't say, though Stephen did say "You can rest assure that Respawn is a company where they're always looking to push the bar higher". With the success of the first game, it's almost certain that we'll see a sequel release most likely on next-gen consoles by the time it's ready, though nothing has been confirmed yet.
In the meantime, I cannot recommend enough that you go listen to the Disney Record's release of the Star Wars Jedi: Fallen Order soundtrack. It is an incredible addition to the plethora of music within the world of Star Wars. Going back and reliving Cal's adventure from top to bottom through as each track is nothing short of amazing.
Star Wars Jedi: Fallen Order is out now on PS4. You can find the soundtrack on all digital platforms, available to stream or download.
A sincere thank you to Gordy Haab and Stephen Barton for taking part in this interview.