Star Wars: Jedi Fallen Order PS5 review. Though it's seemingly the done thing these days for developers to hastily re-release PS4 games on PS5 with the appropriate dollop of polish, it's fair to say that the breadth of improvements that Sony's current-gen console brings varies from one release to the next. With Star Wars: Jedi Fallen Order, developer Respawn Entertainment has crammed in a Hutt-load of visual improvements which amply elevate the game on PS5 above and beyond its last gen counterpart.
In a similar vein to our other PS5 reviews of previously reviewed PS4 games, this critique will be largely focused on the technical merits of the PS5 version of Star Wars: Jedi Fallen Order. For the complete skinny on the story, game mechanics and everything that works (and doesn't) from a gameplay perspective, you can check out our original PS4 review of Star Wars: Jedi Fallen Order right here.
Star Wars: Jedi Fallen Order PS5 Review
---
A New Layer Of Visual Polish On An Already Great Star Wars Adventure
What's remarkable is that despite releasing back in November 2019 (which thanks to events in the world now feels like an *age* has passed since then), Star Wars: Jedi Fallen Order has aged extremely gracefully to say the least. The deft mixture of the old trilogy Star Wars setting coupled with endlessly compelling Dark Souls style combat firmly ensconced in classic Metroidvania design, made Star Wars: Jedi Fallen Order one of the best games of 2019. Now, in 2021, Star Wars: Jedi Fallen Order is just as great to play as it ever was – except now, it also ranks among one of the best looking PS5 games you can buy as well.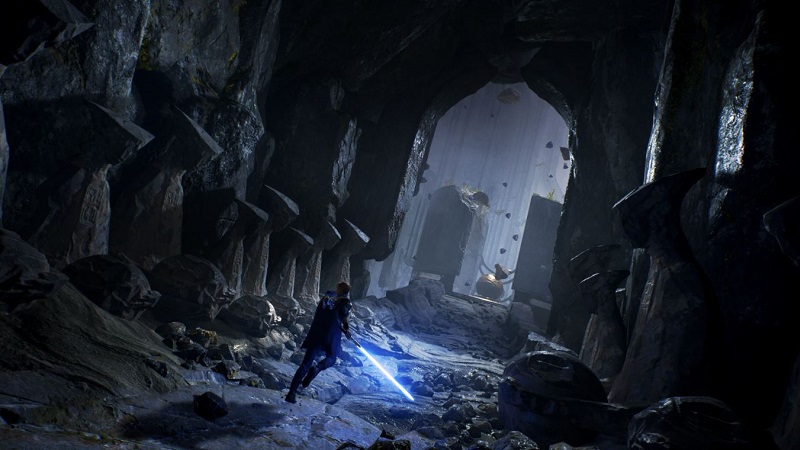 There's no getting around the fact that if you played Star Wars: Jedi Fallen Order on the base PlayStation 4 console that it didn't run quite as well as it perhaps should have. With a 30 frames per second cap, 1080p resolution and much lower levels of screen density and detail, Star Wars: Jedi Fallen Order arguably pushed the limits of what Sony's beloved last generation PlayStation was capable of.
Even the previously mighty PlayStation 4 Pro struggled. Though a performance mode was offered on Sony's mid-gen console refresh, it could never really hold a framerate higher than 45 frames per second, which in turn led to a wildly inconsistent experience and level of responsiveness.
On PlayStation 5 however, no such limitations exist. Though a fidelity mode is available which allows players to play through the game in 4K resolution but at 30 frames per second, it's really in the enhanced performance mode that Star Wars: Jedi Fallen Order on PlayStation 5 properly separates itself from the last gen versions of the game.
Running at a largely locked 60 frames per second, Star Wars: Jedi Fallen Order has never felt or played better. By virtue of the increased framerate and the greatly improved responsiveness resulting from it, combat and platforming now feel much more fluid and satisfying. Whether you're duelling with a Sith Inquisitor or leaping around the wooded areas in the Wookie home world of Kashykk like a madman, Star Wars: Jedi Fallen Order is nothing less than a delight to play on PlayStation 5 – so long as you go for the performance mode.
Beyond just how it feels to play, Star Wars: Jedi Fallen Order simply looks incredible on PlayStation 5. Regardless of whether or not you're playing on fidelity or performance mode, the PlayStation 5 version of Star Wars: Jedi Fallen Order is absolutely rife with fresh detail, including improved texture quality and greatly improved lighting and shadow effects.
In practice, this means that character facial detail is much more pronounced than ever before, while generally each of the very different worlds that you'll travel to in the game look much more vibrant and overall, when combined with the 60 frames per second performance mode, it all combines to make Star Wars: Jedi Fallen Order a gorgeous PS5 game with style to spare.
Then there are the trophies. If you're lucky enough to have played through the game previously on PlayStation 4 and want to go back through it all again on PlayStation 5, Star Wars: Jedi Fallen Order will autopop PS5 versions of all your previously earned PS4 trophies. So that's… y'know, nice. Where Star Wars: Jedi Fallen Order on PS5 slips slightly is in the use of the DualSense controller.
Though force feedback is present and accounted for in all the ways you might expect (such as taking hits, striking the enemy and so on), it doesn't really add much to the experience above and beyond what you got with the PS4 version of Star Wars: Jedi Fallen Order. Perhaps more disappointing though, is the fact that the adaptive triggers aren't seemingly supported at all – which is a shame when you consider how they could implement real, physical resistance in regards to using blasters, force powers and more.
Star Wars: Jedi Fallen Order then is a perfect fit for PlayStation 5. Using Sony's monstrously powerful hardware to get the most from Respawn's toweringly beautiful visual design, this is the best way to play one of the best games of 2019 and easily one of the best Star Wars games of the last decade. A great PS5 port, this is.
Star Wars: Jedi Fallen Order is out now on PlayStation 4 and PlayStation 5. PlayStation 4 owners can get a free upgrade to the PlayStation 5 version of the game.
Original code kindly provided by PR.